If You Wake Up In The Middle Of The Night, Try Not To Do These 13 Things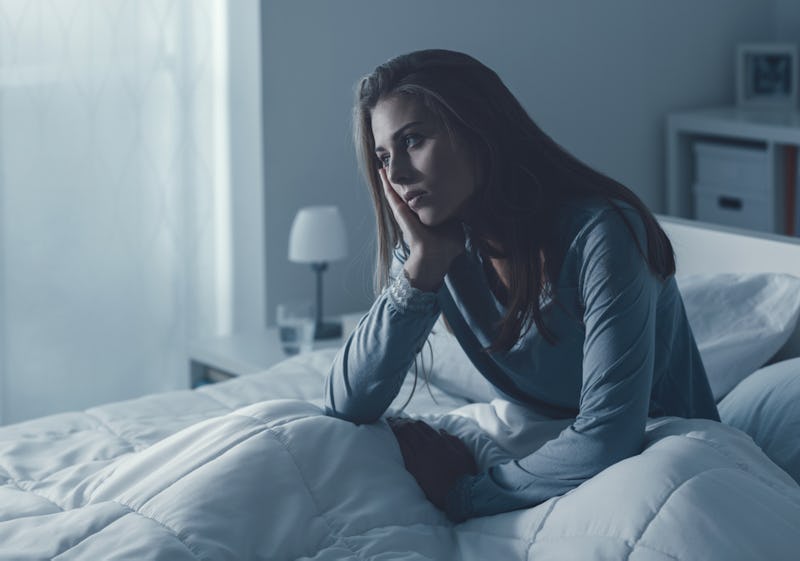 Stock-Asso/Shutterstock
If you tend to wake up in the middle of the night, then you know it can be mighty difficult to fall back to sleep. Many times, it seems like the more you want and need to be asleep, the more awake you feel. But that's exactly why there are a few things you need to avoid doing if you wake up — including trying to fall back asleep.
To get tired again, "we need to keep our brains and bodies prepared for sleep," Chelsy Castro, JD, MA, MSW, LCSW, a psychotherapist and consultant, tells Bustle. "[Your brain doesn't know] that you plan on going back to bed after checking your email, going on social media, watching TV, or attempting to 'be productive,'" which is why these are just a few activities you may want to keep from doing.
"Once those systems get fired up, it is very difficult to quickly bring them back down to 'sleep mode,'" Castro says. "If we engage in activities that tell [us] it is not time for sleep then our brains and bodies chemically follow suit. Thus it's important to set ourselves up for 'sleep success' by avoiding these things and activities [...] and [instead] focusing on the things and activities that keep us in sleep mode."
With that in mind, read on below for a few things you shouldn't do if you happen to wake up at night, in order to get back to sleep.