Starbucks Is Giving Away Free Reusable Holiday Cups — Here's How To Get One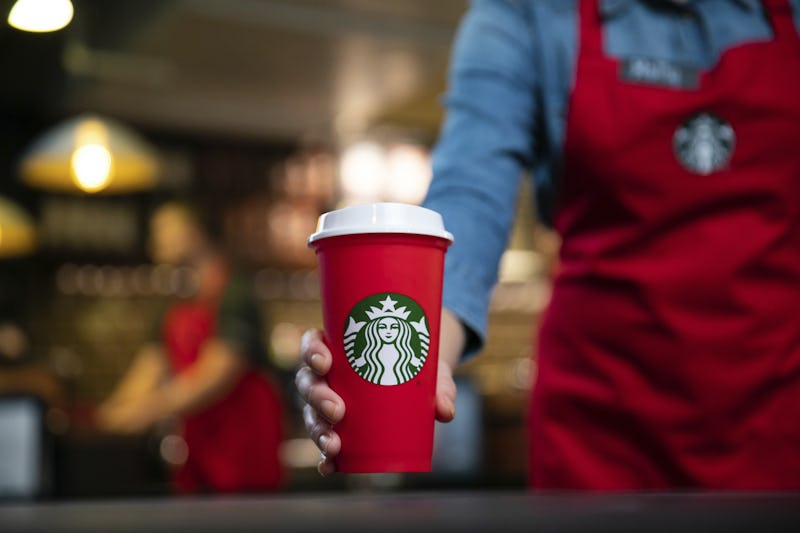 Courtesy of Starbucks
Starbucks fans will have something special to celebrate soon. As of tomorrow, Nov. 2, the coffee chain is all decked out for the holiday season in the U.S. and Canada. Not only will festive decorations fill the stores, all sorts of delicious seasonal drinks are returning, such as Peppermint Mocha, Toasted White Chocolate Mocha, Caramel Brulée Latte, Chestnut Praline Latte, Gingerbread Latte, and Eggnog Latte. You can also imbibe your cozy beverages from a number of adorable, holiday-themed cups. And, in even more exciting news, the chain is also giving away a totally free reusable Starbucks holiday cup to help reduce environmental impact and lessen waste. Because who doesn't want to revel in some unabashed holiday glee while also saving the environment? Win-win!
How do you get a free cup, you ask? If you order your favorite holiday beverage on Nov. 2, you'll get your free, limited-edition reusable cup in that ever-so-fetching shade of iconic Starbucks red. Seriously, all you have to do is order that Peppermint Mocha you've been craving since last year, and you'll get yourself a reusable cup (while supplies last, of course). Additionally, if you visit a Starbucks store from Nov. 3 through Jan. 7, and purchase a beverage with your trusty reusable cup after 2 pm, you'll also receive 50 cents off your drink order.
According to a Starbucks press release sent to Bustle, four new holiday cup designs are being rolled out, and they are super retro and festive. Think Mad Men-inspired Christmas sweaters.
"We started this season by looking to the past," Kristy Cameron, from the Starbucks Creative Studio said per the press release — and this year's rollout is definitely all about nostalgia. The Starbucks team gained inspiration from their Starbucks Christmas Blend, the press release reads, by passing around a one-pound bag of the 30-year-old brew and reminiscing about the chain's history. The beloved blend will be back in stores tomorrow alongside a bevy of holiday merchandise, such as stunning cold cups and tumblers, mugs, holiday foods, packaged coffees, and hot chocolate blends. You can also snag "whimsically decorated" greeting cards for the Starbucks fans in your life.
"Looking back on our heritage, we found something lovely in our own story, with beautiful coffee and flavors that come together to make the season magical," Cameron said.
In order to come up with this year's holiday designs, the Starbucks team "snipped pieces from Starbucks holidays past — a star, a branch of coffee cherries, a flame. They added doses of vintage colors and patterns, like mint green and argyle and reinterpreted them with graphic flair, and a dash of glitter and shine," the press release reads. "When you come to Starbucks, there's a festive vibe," said Cameron.
So, whether you're grabbing a Holiday Turkey Panini, shopping for gifts, or rejoicing in the 16-year run of the iconic Peppermint Mocha, Starbucks has something for everyone this holiday season. With so much attention paid to every last detail of this year's holiday rollout, the chain is also making strides in adopting sustainable packaging options. Enjoy your Gingerbread Lattes.