Starbucks Just Announced Its Holiday Grocery Products & You'll Want To Try EVERYTHING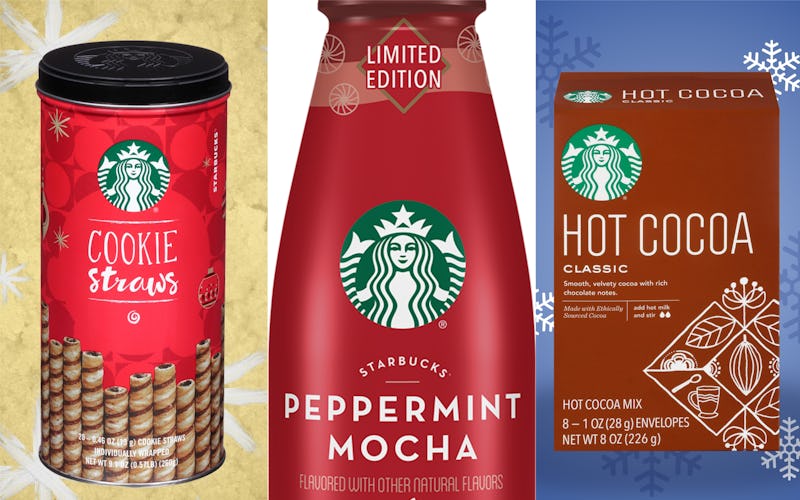 Courtesy of Starbucks
Friends, it is with a heavy heart that I acknowledge that the sun is soon setting on the internet's favorite autumnal drink; October is winding to a close, and with the passing of Prime Pumpkin Month, the PSL will likely burrow back into Twitter hibernation and off of the Starbucks seasonal menu until 2019. This blow is especially brutal, considering there isn't an official release date on the rest of Starbucks' seasonal fare — but never fear. Here to ease the transition between the different themed drinks is Starbucks' 2018 holiday drink offerings in grocery stores, which have officially hit shelves in anticipation of the winter holiday season.
First and foremost is one of my favorite inventions of humankind, which is the humble cookie straw. You know them, you love them, you ate way too many of the Pumpkin Spice Latte version of them, and now the festive holiday ones are back — a rolled wafer cookie with dark chocolate that you can sip out of to your tastebud's content.
And just in case you are in want of something to pair it with, Starbucks has your back there, too: the holiday product lineup includes K-cups, instant coffee, ready-made drinks, ground coffee, and enough hot chocolate options to make your head spin.
The K-Cup flavors this year will include Peppermint Mocha Caffé Latte, the iconic Starbucks Holiday Blend, and (be still my chocolate-guzzling heart) Starbucks Hot Cocoa, so no matter what level of caffeinated you're hoping to get this holiday season, there's something to suit your needs and jazz up for your usual office Keurig fare.
Also hitting shelves are ready-made drinks, which include the Starbucks Peppermint Mocha Iced Latte and Starbucks Peppermint Mocha Iced Espresso Classics — both are sold in the chilled section of grocery stores, and are perfect for people celebrating the holidays in warmer climates (or for certain coworkers of mine, who insist on drinking iced coffee even when the sidewalk itself is iced — y'all know who you are).
Truly, though, the crowning jewel of the Starbucks holiday product lineup this year is that they are offering not one, not two, but five kinds of hot chocolate mix. There's Classic Hot Cocoa Mix, Double Chocolate Hot Cocoa Mix, Salted Caramel Hot Cocoa Mix, Marshmallow Hot Cocoa Mix, and Peppermint Hot Cocoa Mix, which is basically the Starbucks mermaid's way of bluntly informing all of us that we are required to host at least one extremely extra Hot Chocolate Party in our apartments this year.
No official word yet on when the winter holiday beverages are going to hit, but we can make an educated guess based on the last few years of Starbucks' releases — they typically launch at the beginning of November. It's worth noting, though, that Starbucks' peppermint syrup, unlike its pumpkin one, is available year-round — so technically, if you wanted to cheat the seasons, you could enjoy some minty goodness now. But if you don't feel like rocking the boat at your local 'bucks, these in-store grocery options ought to tide you over until the seasonal menu hits.