Getting 'Strictly' Tickets Is Actually SO Simple, Apart From This One Catch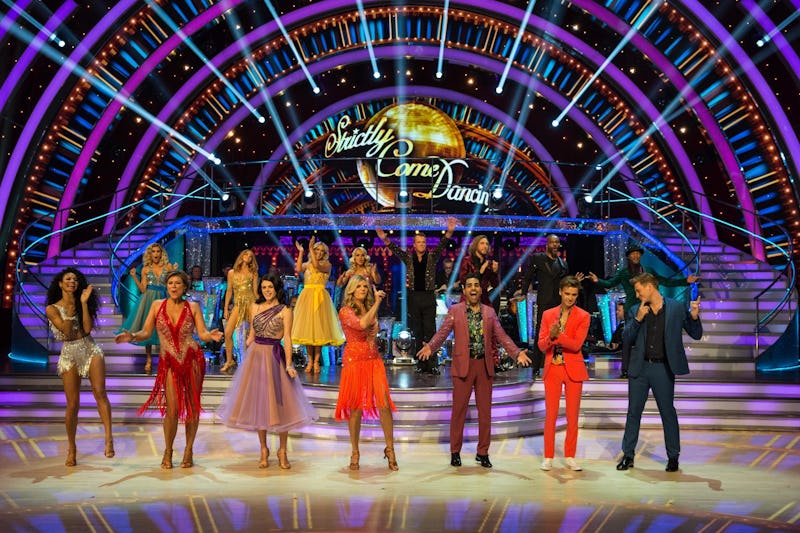 Strictly Come Dancing / BBC
Seveeeeeeeeen! OK sorry, I got carried away there. Just the thought of all those amazing moves, sparkly dresses, famous faces, and cutting comments from the judges. Yes guys, it's that time of year again, everyone's favourite ballroom show is back. But how can you get involved? How do you get audience tickets for Strictly Come Dancing? Because really you want to be able to see those sequins IRL, am I right? Damn straight.
Well, the sad news is, applications are closed for this season. Yep, you're just a little bit too late to get in on this series' action. Yes, I know less-than ideal. You can totally understand why they do it ahead of time. Got to be organised right?
However, the dream is not entirely over, there will of course be a Christmas special this year. Yes! So if you want to get a piece of the festive fun, best join the BBC mailing list. It provides a general update from broadcaster, so to ensure you're in with a chance of tickets and a salsa with Santa, tick the "entertainment" section. How festive though?! Christmas with Craig. Sigh. Anyhow, as tickets are hard to come by, with very few available, you can only apply for two. So it's not going to be one for a big gang of you.
The first live show of Strictly 2018 will be on a TV set near you at 6.15 p.m. on BBC One, Saturday Sept. 22. Are you ready for it? I know I am. Best save an extra bit of money this week for a take away and wine. Perfect night in with pals if you ask me.
This season is back with all the usual action as well as some new changes to the show. Contestants will now be able to do less traditional dance styles, like jazz or street dancing. Woah. That is pretty huge. But who can blame them for keeping the show fresh? Lucky members of the audience might not be getting exactly what they expected but hey, if you get in the audience for the Christmas special, you could get to see something as spectacular as a jazz rendition of Rudolph The Red Nose Reindeer. OMG, actual shivers RN. And I'm not just talking about the chilly December weather.
This year's contestants are shaping up to be super exciting and fun, with '90s icon Faye Tozer from Steps and Lee Ryan from Blue. Guessing Tozer will be hoping to avoid "Tragedy" and Ryan will be hoping the judges "All Rise" to applaud his dancing.
And it looks like even the PM is getting involved with Strictly this year.
Yes, Theresa did an attempt at funny there, referencing her daddy long legs impression, I mean dancing. No matter what your political views, got to admire a woman for having a sense of humour, I guess?
The music line-up for the first live show has been announced, including "Perfect" by Ed Sheeran, "Dancing" by Kylie Minogue ,and the romantic and soulful "I'm Kissing You" by Des'ree. With new contestants, new looks, new rules, and of course new on-screen drama, I'm sure this year's series will be even more popular than the last.