You Can Get Free McDonald's Fries Every Single Friday This Year — Here's How
by Callie Tansill-Suddath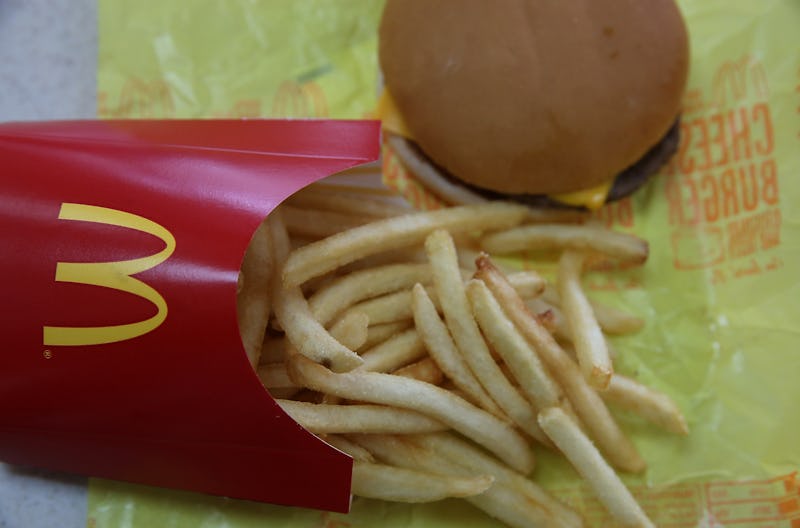 Justin Sullivan/Getty Images News/Getty Images
Few brands exude Americana quite like McDonald's. Since its founding in the 1940s, the fast food chain has grown into an empire. The golden arches are one of the most recognizable logos in the world, and the food is loved for its simplicity and universal appeal. Perhaps the most loved menu item is not the iconic hamburger, though. Rather, it is the crispy, salty, golden french fries. So, good news for all the french fry stans out there: there's an easy way to get free McDonald's french fries every Friday for the rest of the year.
Per Statista, there are currently around 14,000 McDonald's locations in the United States, alone. Not to mention, at least one restaurant is located on every continent except Antarctica. So, chances are you can find one ~relatively~ close to where you live or work. With the free fries promotion, you'll want to go a little bit out of your way, anyway. Beginning July 13 through Dec. 30, the fast food chain is offering an order of free medium fries with every purchase of more than one dollar EVERY. SINGLE. FRIDAY. McDonald's figured out how to do the impossible: Make the end of the work week even better.
So, you may be wondering: "What's the catch?" No catch — just a simple step you need to take to get your free fries. To qualify, you must first download the McDonald's app. Then, you can place your order and choose the free fry deal by selecting the "Add Deal to Mobile Order" button. Once you have added your payment method, you choose the McDonald's location where you would like to retrieve your delicious snack, and voila! Congratulations, you just earned yourself a free medium order of fries.
McDonald's appears to have finally realized the real star of their menu is made from potatoes, not beef. The company is reportedly experimenting with spicing up the *already perfect* classic in certain parts of the country. Food news and culture website Chew Boom reported last month that McDonald's headquarters in Chicago is serving a number of new globally-inspired menu items, including Wasabi Fries. The Wasabi Shake Shake Fries are an order of McDonald's classic fries served with a wasabi seasoning packet, and housed in a bag for customers to shake the fries and seasoning packet together, ensuring maximum and even flavor dispensation.
The new eatery, which opened in April, is located in the hip West Loop neighborhood of Chicago, CNBC reports. The new location and its amenities, as well as the more inventive international menu options, are part of a push to update and modernize the McDonald's brand. Some features of the new dining establishment include self-service kiosks (which are being added to many locations across the country), table service, mobile app ordering options, and curbside pickup. One can assume the free fries promotion is somehow linked with the initiative to get more customers to use the mobile ordering app.
Other items being offered on the international menu include a French Blue Cheese Bacon Burger, an "I'm Greeking Out Salad," a Spicy Buffalo Chicken Sandwich, a German Sausage McMuffin, and a Baci McFlurry. But as of now, unfortunately, these eats are only available at the McDonald's located under its corporate headquarters.
But, if you're happy to settle for McDonald's regular fries (OK, it's hardly settling) you have a few months to snag a free order of medium fries with any purchase that amounts to $1 through the chain's app. Wasabi fries sound pretty exciting, but who can say no to the classic that is a french fry dunked in ketchup? Mickey D's had a hand in creating those little dunk cups, too!