How To Get The New Father's Day Stickers On Instagram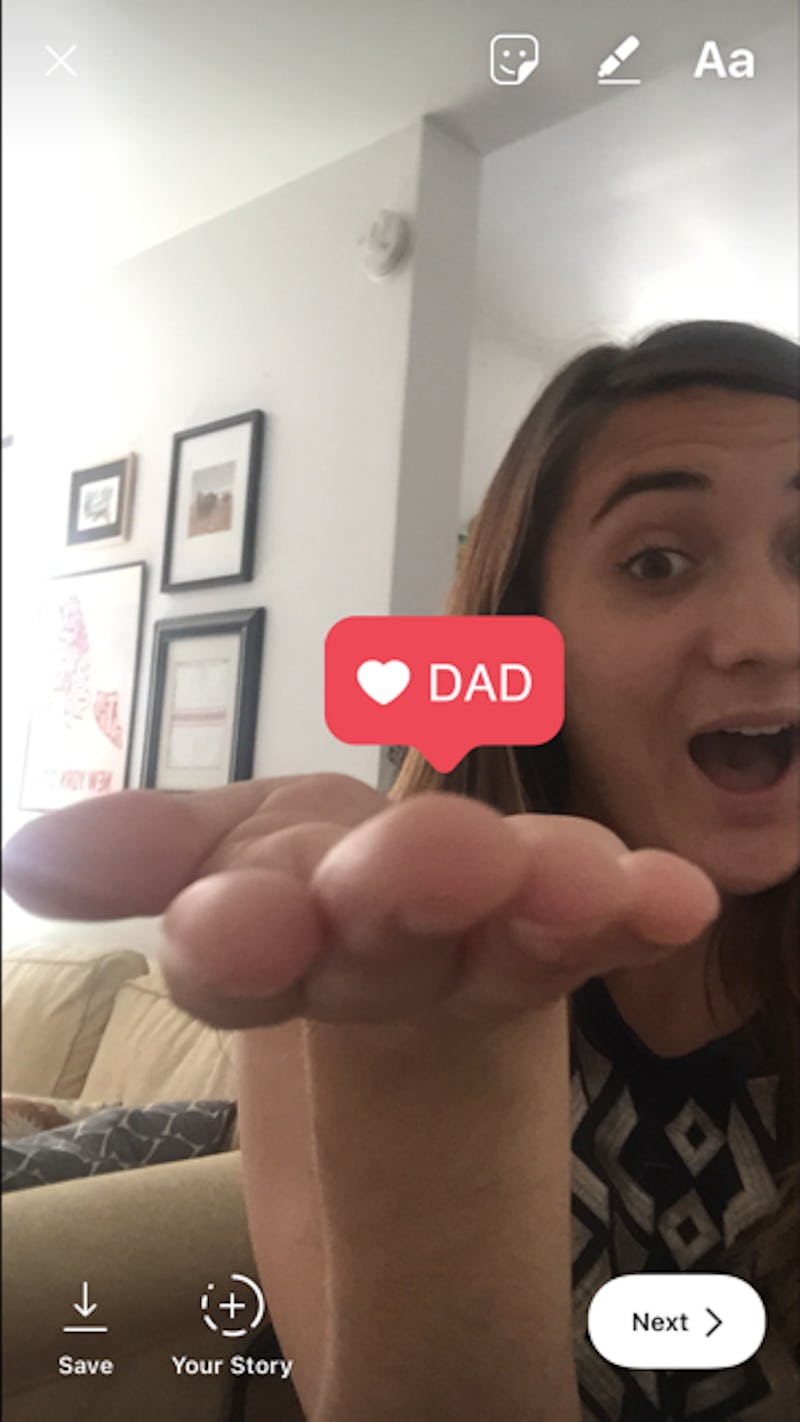 Megan Shepherd/Bustle
Here's a fun fact about me: I'm all about festivity. I love decorating for parties, I'm the first to both suggest and fully embrace a well-timed costume party, and I love to jazz up my Instagram stories. I'll admit, I was not an early adopter of the trend. I'm usually slow to embrace new social media technologies — mostly because I can never remember my Apple ID and updating (often required to fully utilize new bells and whistles) is therefore out of the question. But once I discovered the magic of face filters and hashtag stories, I was hooked. And now there's more good news on the festive Instagram front: Instagram just released new Father's Day stickers to coincide with the holiday on June 18, and they are adorable.
Seasonal stickers have long since been a thing, but Instagram has added a sentimental edge to their offerings with stickers designed specifically to help you celebrate dad. That's right -- Father's Day Insta-stickers are a thing, and they're just what you need to make your pops feel special on his big day. Want to give dad a sticker shout out this Sunday? Here's how to get Father's Day Stickers on Instagram.
1. Make Sure Your App Is Updated
To enjoy the magic of the full catalog of Instagram stickers, you're going to want to make sure you're running the most recent version of the app. It's quick and easy! And once you do it, your Insta life is going to be way more bangin'. Just head over to the app store and select the "update" feature.
2. Strike A Pose
(Ideally with dad). Once you've got Insta updated, time to have some fun. Open the app and swipe right to reveal the story camera feature. This is also accessible via the camera icon in the upper left hand corner. If you and your papa are in the same place, pull him in for a photo op. If he's somewhere far away, make him a funny shout-out sign and hold it in your photo.
3. Add A Sticker
Instagram has plenty of options for you to choose from, like "#1 Dad!" and "Happy Father's Day!" Choose the sticker that speaks to you, and slap it on your selfie with gusto. To add a sticker, tap the smiley face next to the drawing tool in the upper right hand corner. From here, an array of stickers should pop up for you to browse. Once you find the one you like, tap it to add it to your photo. Don't like the size or shape? Use your finger to reposition it to your liking. Voila!
4. Share Your Ode To Dad With The World
Once you've sufficiently scrapbooked your selfie, add it to your story. If your dad's a cool dad, you can choose to send it to his Insta directly. Otherwise, snag a screenshot once you've shared and send it via text. Happy dad's day!
Image: Megan Shepherd/Bustle