5 Ways To Get Over Micro-Cheating In A Relationship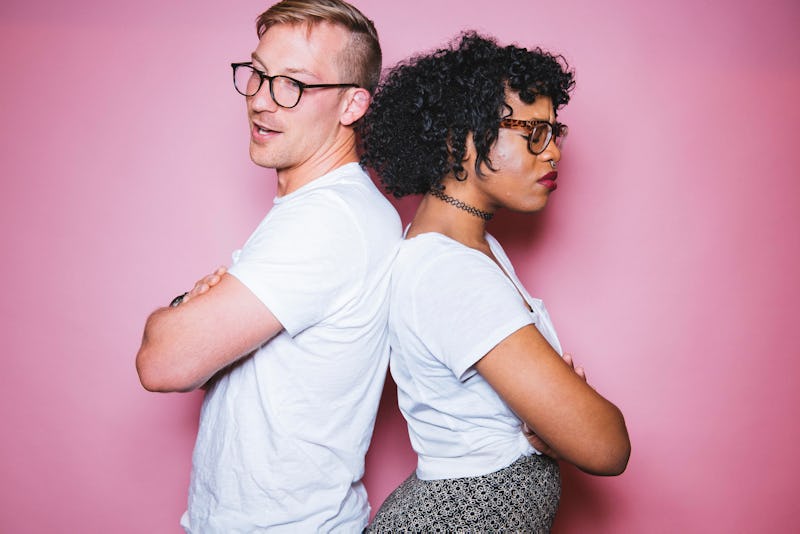 BDG Media, Inc.
If you've somehow yet to hear of it, micro-cheating is a new term for a relationship behavior that, unfortunately, isn't at all new itself. In an article for HuffPost Australia, dating expert Melanie Schilling defines micro-cheating as "a series of seemingly small actions that indicate a person is emotionally or physically focused on someone outside their relationship." For example, if your partner is being shady about how much they communicate with a certain friend, or if they downplay how serious your relationship is to someone else, that could fall under the micro-cheating umbrella. And, while some people don't necessarily agree that micro-cheating is a real thing — after all, every couple has different boundaries for their relationship — the issue at the heart of micro-cheating is very real.
"I think the root of micro-cheating is deception," Bruna Nessif, Founder of The Problem With Dating, tells Bustle. "If you're feeling the need to lie about something to your partner, whether it's small or big, then ask yourself why? We hear that communication is key time and time again, and yet so many of us struggle with opening up to our partners about issues, either within ourselves or our relationships, and that's what snowballs into bigger problems."
While not as overt as a full-blown physical or emotional affair, micro-cheating can nonetheless have a significant impact on your relationship. It's OK to have close relationships outside of your romantic relationship, but if you feel the need to hide aspects of your other relationships from your partner, that's a sign that there are bigger problems in your relationship that need work.
"Having intimate connections in the form of friendships with both sexes outside of your relationship can be very healthy," Nessif says. "Often times, we tend to expect our partner to meet our every need, sexual and emotional, forever — but that's a lofty ask and can become very suffocating. Seeking emotional guidance or clarity in someone else is not synonymous with cheating on your partner. The key is to have open communication with your significant other about your relationships with these people, so they're not caught in the dark about who you're confiding in, while also setting clear boundaries with those you create connections with so nothing is left for interpretation."
If you feel that your partner has engaged in behavior that qualifies as micro-cheating, here are five expert tips that will help you and your partner to deal with the fallout, and rebuild your relationship so it's even stronger going forward.