7 Ways To Get Over A Crush Who Doesn't Like You Back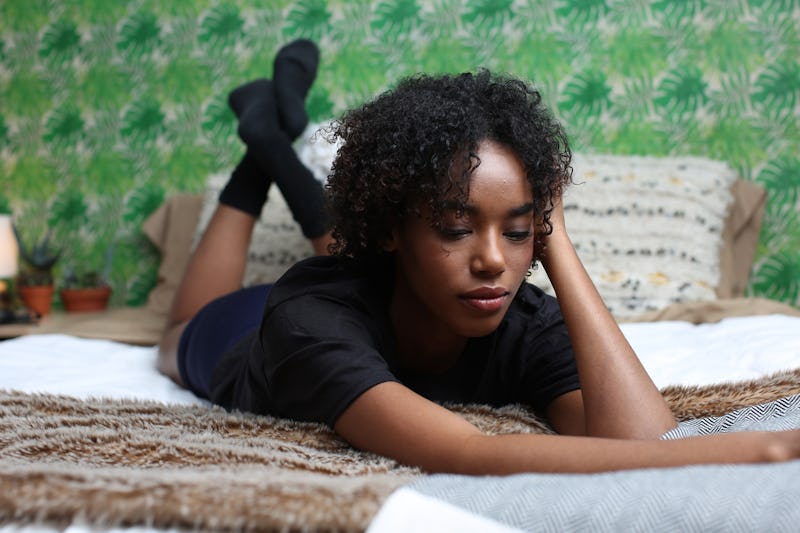 Ashley Batz/Bustle
Being in love with someone who doesn't love you back is undeniably painful. Maybe they're an ex you never got over or a friends with benefits that you suddenly caught feels for. Regardless of who it is, it's tough to feel so deeply for someone and then realize they don't feel the same way. In a perfect world, everyone's love and affections would be returned. But unfortunately it's not. So it makes you wonder, why does unrequited love happen in the first place?
For some of us, unrequited love seems to happen more often than it should, Dr. Tarra Bates-Duford, PhD, Founder and CEO of Family Matters Counseling Group, tells Bustle. Although there are many theories surrounding the psychology behind unrequited love, she believes it all boils down to individual attachment styles. Do you typically feel secure in your relationships or do you tend to get paranoid that your relationships won't last?
"Studies conducted on the topic of relationships suggest that people who engage in relationships anxiously are more likely to experience unrequited love than those who go into relationships confidently," Dr. Tarra Bates-Duford says. It should also be noted that people who try to avoid relationships are less likely to experience unreciprocated love, but enjoy "idealized romantic feelings" from a distance. People with secure attachment styles were found to be the least likely to experience unreciprocated love, she says.
But attachment styles aren't the only thing to be aware of. "We are also more likely to experience unrequited love when we have already fallen head-over-heels in love with the 'idea' of being in love," she says. When you've experienced the overwhelming emotions you get when you're in love, you're going to look for that again. That's why sometimes a seemingly innocent crush can turn into unreciprocated love.
As much as it sucks to admit, the best thing to do when your feelings aren't mutual is to try and move past it. After all, you shouldn't have to deal with anymore unnecessary heartbreak. So here are ways to get over unrequited love ASAP, according to experts.