How To Get Instagram's Superzoom So You Can Start Using This Hilarious Feature Immediately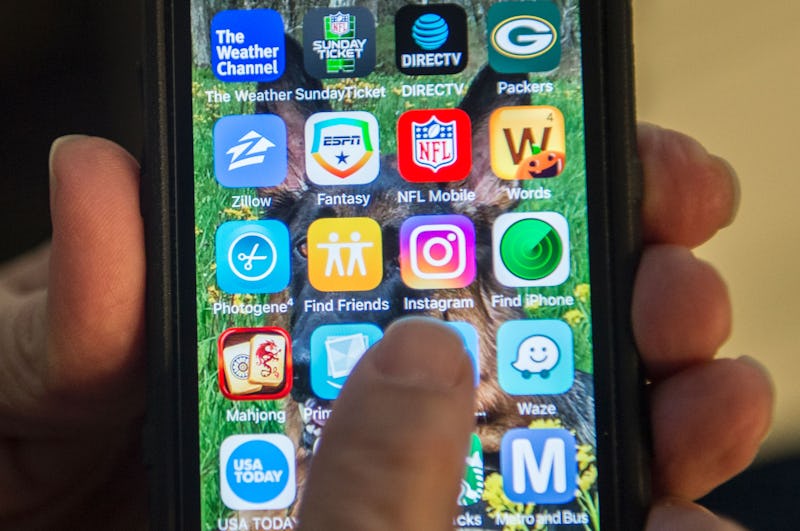 ANDREW CABALLERO-REYNOLDS/AFP/Getty Images
When was the last time you received a video via Instagram Direct Message in which the sender quite obviously wanted to slowly zero in on something with a little dramatic flair, but instead treated you to a series of jerky, uneven zoom movements as they attempted to simultaneously hold down the "record" button with one finger while manipulating the camera screen with the other? Yesterday? Got it. I thought so. I personally DM-ed a video like that just yesterday. And also the day before. (I'm sorry to everyone who has to be friends with me.) If this is a problem for you — either as a sender or a receiver — you'll definitely want to know how to get Superzoom on Instagram. It's going to make you look much cooler and also exponentially more tech-savvy.
Superzoom is part of the latest Instagram update, which rolled out on Oct. 26 at 1 p.m. EST, so all you need to do to get your hands on it is make sure that you have the update installed. If you're an iPhone user and you don't get automatic updates, you should be able to find the new version ready to download in the app store starting on Oct. 26. Android users can do the same in the Play Store.
Like Boomerang, the Superzoom feature lives within the Instagram app and allows you to create three-second videos (Superzooms, plural, if you will) that can then be posted to your feed, sent via Direct Message, or added to your Instagram Story. Superzooms, everywhere you look, everywhere you go.
Gone are the days of those jerky videos trying so hard to zoom in on a goofy facial expression or quirky sign. With Superzoom in your arsenal of handy Insta tools, those same videos will be clean and smooth. You know those directors or cinematographers who sit on a motorized seat behind their camera and effortlessly sweep around a movie set? That's basically you with Superzoom, except all you need is your phone and not millions of dollars worth of video equipment.
As if the visual element of Superzoom wasn't enough to spur you immediately to the app store or Play Store (don't worry, Android friends, I've got your back), there's an audio component too. Superzoom videos will automatically get their own soundtrack — a three-second clip of dramatic music that wouldn't be at all out of place in a horror movie. If you ask me, the music element makes Superzoom one of the most creative updates ushered in by Instagram yet. I'm excited to use it to add a crescendo and some theatrical flair to selfies and videos of my cat (because, of course).
Along with Superzoom, the Oct. 26 Instagram update includes a handful of seasonal goodies just in time for Halloween. After you get the new version of the app, you'll also have a fresh set of spooky face filters to choose from when adding to your Story. Add a flashlight, fog, night vision, vampire, or zombie effect to faces and you'll really creep your contacts out.
Also within Instagram Stories, the update will give you a selection of Halloween stickers that you can use to add a little extra decoration to your still snapshots and short videos (even your Superzooms!). The new sticker options include devil horns, candy corn emojis, a Jack-O'-Lantern, and eyeball candies. There are a variety of zombie hand emojis too. Ever wondered what a zombie looks like giving a thumbs-up? Intrigued by the concept of praise hands that come from the afterlife? All will be revealed in the latest Instagram update.
Getting access to these fun features is about as easy as it gets. Let your phone do the work for you, and before you know it, you'll be Supezoom-ing and zombie praise hand-ing from here to next Halloween.