This Is How You Can Be There When Westlife Reunite In The Flesh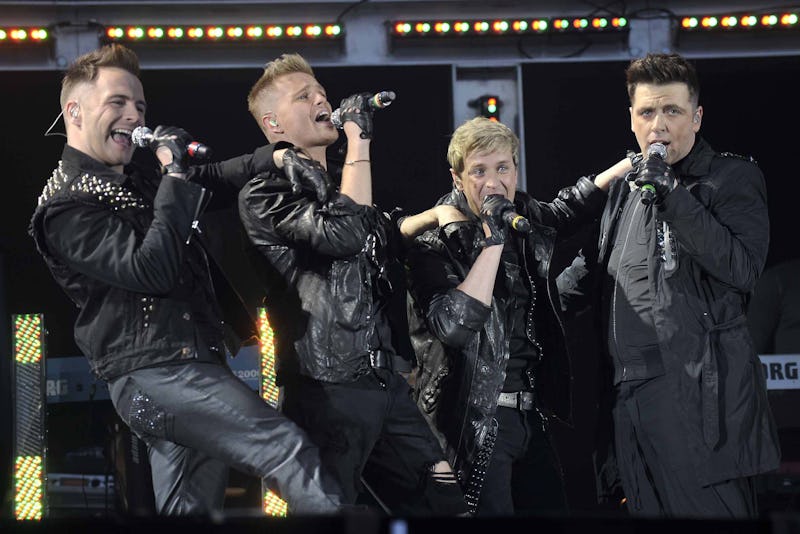 Shutterstock
Westlife fans, brace yourselves; Nicky Byrne, Kian Egan, Mark Feehily and Shane Filan have confirmed they are officially back together. Not only that, but the band will be releasing new music and going on a reunion tour in 2019. The lads took to the group's new Instagram account for the big reveal, adding that more information would be coming soon. If, like me, you're now wondering how to get tickets for the Westlife reunion tour, here's everything you need to know.
As of yet, the band haven't released any details as to when tickets will go on sale for their big comeback tour. However, there is a way to make sure you're the first to know when they do drop. If you sign up for a free account with Live Nation then add Westlife to your favourites list, you will get a notification the moment tickets go on sale. You can register by clicking here. You're welcome!
Speaking to The Sun, band Filan said the following of the band's reunion: "We genuinely missed each other and missed the buzz of performing on stage together for all our fans. We still have a lot that we want to achieve as a band and we want to bring our new music to fans all over the world."
Byrne added: "While we were away, we realised what Westlife really meant to the fans — and to us."
The Irish band have reportedly signed a deal with Universal, but you may notice something is a little different as someone appears to be missing from the line-up. Yes, that's right, Westlife is returning as a four-piece act without fifth member Brian McFadden. But why I hear you ask?
Well, for starter, McFadden has just signed up to 2019's Dancing On Ice, which is presumably at least one reason why he will not be involved in the tour and the new music Westlife will be releasing next year. However, it appears as though there may be some tension between himself and the other lads.
During an interview with The Irish Sun, he suggested he wasn't welcome to be back in the band. He said: "I was offered a big multi-million pound deal. It was the other boys in Westlife who said 'no'. They didn't want me back."
He continued: "How does that make me feel? It makes me pretty upset because I didn't realise they still had those feelings towards me."
"Those feelings" refers to the fact that McFadden quit the band in 2004 in a bid to forge his solo career. Opening up about him quitting the band all those years ago, Filan told the Metro that his relationship was never the same with the remaining members afterwards. He said: "I wouldn't speak to him to reminisce, not all all. We all had a good relationship with Brian then he just left the band very early on and I don't think we would ever reunite with him.
"I honestly see Westlife as being four people now; the four people who started and finished Westlife are what I consider the band."
Westlife split up in 2012 and bookended their 14 years together as a band with a farewell tour. Their final show saw 82,300 fans descend on Croke Park Stadium in Dublin; tickets sold out in just four minutes. All members of the band then went on to pursue solo projects, but now, six years later, they're back together, and I for one could not be happier.
Will you be buying ticket for the new tour?!