7 Hacks For Getting Your Dog To Pose For The Perfect Instagram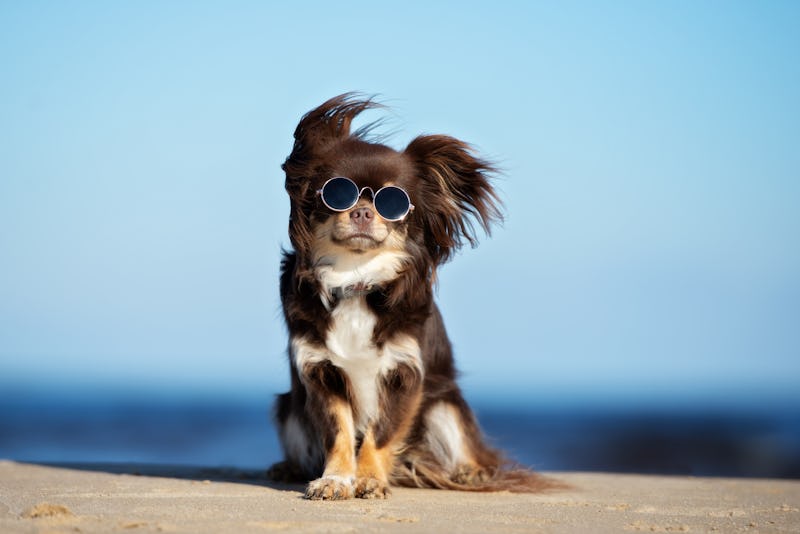 otsphoto/Shutterstock
In a sea of selfies and food pics, one category of photos emerges as the most adorable on Instagram — puppy pics. While a post of a poodle wearing a top hat or a pug with a flower crown is super cute, if you're a dog parent, you know that the behind-the-scenes work of getting a half decent pic of your fur baby is no joke. If you can't quite figure out how to get your dog to pose for IG, a couple of expert-recommended tricks should make all the difference.
First of all, you shouldn't force your dog to do anything, Russell Hartstein, CDBC, CPDT-KA, a certified professional dog trainer and founder of Fun Paw Care, tells Bustle. "Don't force them into position or shine lights in their eyes." If your pup seems super anxious or just doesn't want to cooperate, there's no harm in waiting until a better time when they're feeling more relaxed.
Don't expect to get the perfect photo on the first (or second, or third) try either. "Depending on your experience taking dog photos, lights, angles, etc., it can take a while," Hartstein says. "Especially if you have a black or dark colored dog. They are notoriously more difficult to get good pictures of because of lighting."
Whatever you do, keep things fun and don't stress too much about getting the perfect glamour shot for your pooch. At the end of the day, pretty much all dogs pics are good dog pics. But if you want your best shot at getting a good shot, here are some tips to try out.