How To Have The Perfect '90s Inspired V-Day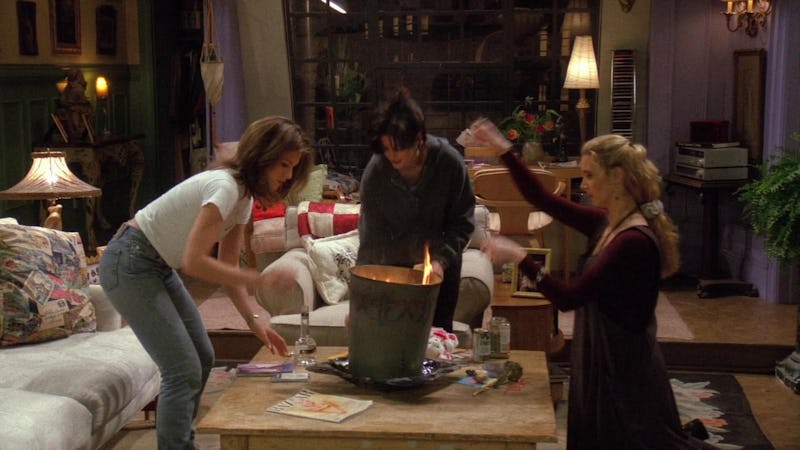 It's nearly time to have yourself the perfect '90s inspired Valentine's Day. It doesn't matter whether you're in a couple, with friends, or on your own — Valentine's Day can be celebrated by anyone, in any situation, and if you add a little '90s flavor it will be even sweeter. We've kind of accepted Valentine's Day as a Hallmark holiday, but in the '90s, it was a super big deal, maybe the biggest deal it's ever been. Cheesy couple stuff was having a real "moment" back then. Our dream couples in the '90s were an inspiration for our own lives, and of course, for Valentine's Day.
Since the '90s we've also been blessed with Leslie Knope's invention of Galentine's Day, so the whole idea of the day is shifting to a much broader idea of what "love", and the celebration of love, means. Valentine's Day is really your oyster, and it's not just buying '90s inspired Valentine's Day gifts that can make the day the perfect throwback. You can, for instance, accidentally reunite with an ex, sprinkle rose petals everywhere, and definitely shower yourself and others in candy hearts. There were lots of sweet ways we all celebrated Valentine's Day in the '90s, and here's how you can have the perfect '90s inspired Valentine's Day this year.
Start Obsessing Over Getting A Date If You Don't Have One
In the '90s, having a date on special occasions was essential. Christmas, New Year's — you'd always hear characters on TV and people in your life not only whining, but panicking if they weren't coupled during the holidays. Valentine's Day, obviously, was the cause of the most panic. So if you want to be super '90s this Valentine's Day, be Ross Geller level annoying about not having a date.
And If You Do, Start Obsessing About Having The Perfect Date
And for those who were coupled in the '90s, not wanting to miss out on the anxiety, stress revolved around planning the perfect date. So what are you waiting for, coupled person? Get to pressuring yourself into a state of hysteria over your date plans!
Equip Yourself With Candy Hearts As Though It's Your Business To Give Them Out
I'm not above bringing candy hearts back. In fact, I think we should bring candy hearts back ALL YEAR LONG, not just for Valentine's. Extra '90s points if you can get your candy hearts on a necklace or bracelet.
In Fact, Get Heart Shaped Everything
Gifts were heart shaped pillows, heart shaped boxes, heart shaped everything.
And Make Sure You Have A Bunch Of Red Roses With Those Little White Roses All Around Them In The Bouquet
I think you can still get these at your local bodega now, but red roses with those little white ones all around them in the bouquet were about the most romantic thing you could give or receive in the '90s.
If You Get The Opportunity, Engage In Some Shenanigans
Date twins. Schedule two dates at the same time on the same night at the same restaurant. Forget the present. Create shenanigans: the '90s would have.
If You're Having A Galentine's, Have A Cleansing Ritual
If you ask me, Galentine's doesn't have enough of a Wiccan flare. Ask yourself: what would Phoebe, Monica, and Rachel do? The original Galentines, they burned the property of ex-lovers and cleansed themselves of past disappointments. If you've been looking for a chance to get rid of your ex's Van's Warped Tour cap that's been sitting in the back of your wardrobe, now's your chance.
Make A Mix Tape For Your Valentine (Which Is Really Just Going To Be A Playlist On Your Computer)
In the '90s, a carefully curated and recorded mixtape could truly act as an expression of love. It's probably impossible for you to record one now (or for the person you're giving it to to listen to it), so do the next best thing and make a '90s style Valentine's playlist for the one you love. You can send it over the Internet, put it on a USB, or if you want to be a 'lil old school, burn it to a CD (assuming you have a computer with a CD drive).
Get All Your Friends Together For A Group Or Double Date
The '90s were a big time for double, triple, quadruple, etc. dates. Bring back the community vibe this Valentine's day.
Wear Red, Or Go All Out And Dress As A Giant Heart
Everyone was dressing up as a heart in the '90s, from the Golden Girls to Screech on Saved By The Bell to Urkel. If you don't have the stones for somethin so bold, dressing all red will do.
Assign Yourself A '90s Couple That's "Just Like You"
Are you and your gal Romy and Michelle? Or are you and your guy Zack and Kelly? Choose your favorite '90s couple and be them for a day.