Taking These 5 Simple Steps Could Help Decriminalise Abortion In Northern Ireland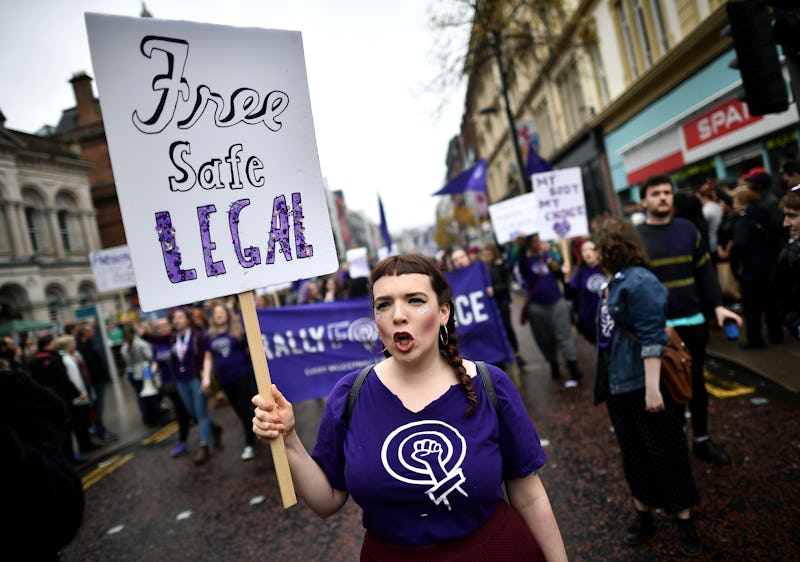 Charles McQuillan/Getty Images News/Getty Images
Over the past few days, talk of abortion on social media has rightfully increased. The awareness-raising is mainly down to a series of bills recently passed in the U.S.; in particular, Alabama's highly restrictive abortion law. Plenty of UK citizens have, however, pointed out that a place much closer to home is currently in a worse situation. People living in Northern Ireland are unable to legally have an abortion, unless there is a serious risk to their health. But you can help change Northern Ireland's abortion laws and ensure that every person living in the UK enjoys the same rights.
Right now, anyone involved in procuring an abortion in Northern Ireland can receive a punishment of life imprisonment. The only option for people wanting to terminate a pregnancy in the country is to do so illegally (usually by buying potentially dangerous pills online) or to travel to another part of the UK. In 2017, it was announced that people would be able to have a free abortion in England, reports the BBC. But for those who can't afford travel costs or want to remain close to their family and friends, this isn't a viable option.
"There seems to be a permanent block in the public's mind about the fact that in one part of the United Kingdom basic human reproductive rights are being denied to women," Mara Clarke from the Abortion Support Network told the Guardian.
Here's a few things you can do to ensure everyone knows what's really going on and, more importantly, to effect the change people in Northern Ireland have been seeking for decades.