How To Make Pink Popcorn For National Popcorn Day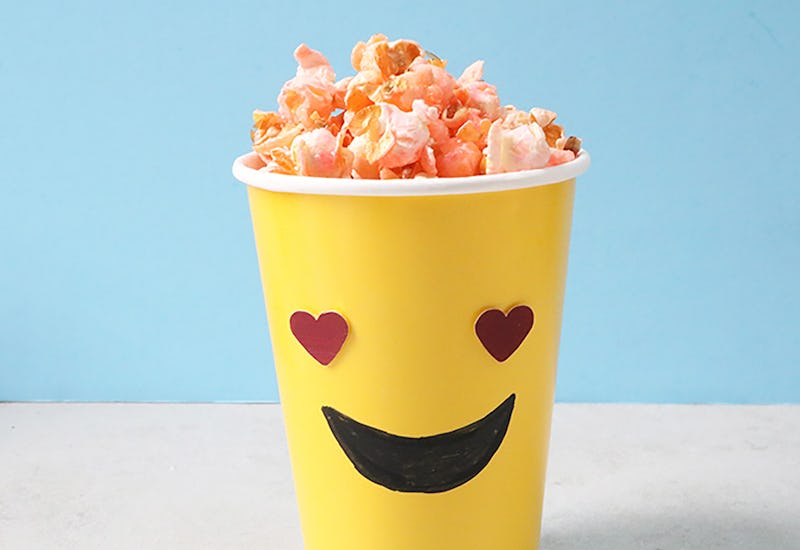 With the right colors and ingredients, any snack can turn into a holiday treat. And, with Feb. 14 coming up fast (as well as National Popcorn Day on Jan. 19!), it is totally appropriate to make pink popcorn for Valentine's Day. This easy recipe is perfect for Galentine's Day celebrations or lounging around with a loved one. You can also just make a huge batch and serve it in a big bowl. Something tells me no one will complain.
Since popcorn is pretty cheap, your wallet will adore this project. The other ingredients are just as affordable, too. You might even already have them in your kitchen. The secret lies within the red food coloring infused into a buttery sugar mixture. And while this version explains how to make pastel pink popcorn, you can easily make a bright pink or red version. It is totally up to you.
For a full Valentine's Day celebration, serve it in a festive container. These DIY heart eye emoji cups are obviously my first choice. You can also scoop them into little baggies for party favors. To top it off, it is an excellent snack for watching romantic comedies (or anti-Valentine's Day movies) on the big day. Your sweet tooth is going to love this one.
Ingredients:
4 cups popcorn
Red food coloring
2 tablespoons butter
1/4 cup water
1/2 cup sugar
Before starting, pre-heat the oven to 200 degrees Fahrenheit.
1. Melt the butter over medium heat.
2. Add the water and sugar. Keep mixing until the sugar has completely melted.
3. Add three drops of red food coloring. You can add more if you'd like darker shade. Mix well.
4. Pour the mixture over the popcorn. Mix well.
5. Line a metal baking sheet with aluminum foil. Scatter the popcorn in an even layer. Bake for 10 minutes.
Once the popcorn is cool and dry, it's ready to eat. Happy Valentine's Day!