Starbucks Has A Secret "Medicine Ball Tea" — Here's How To Order It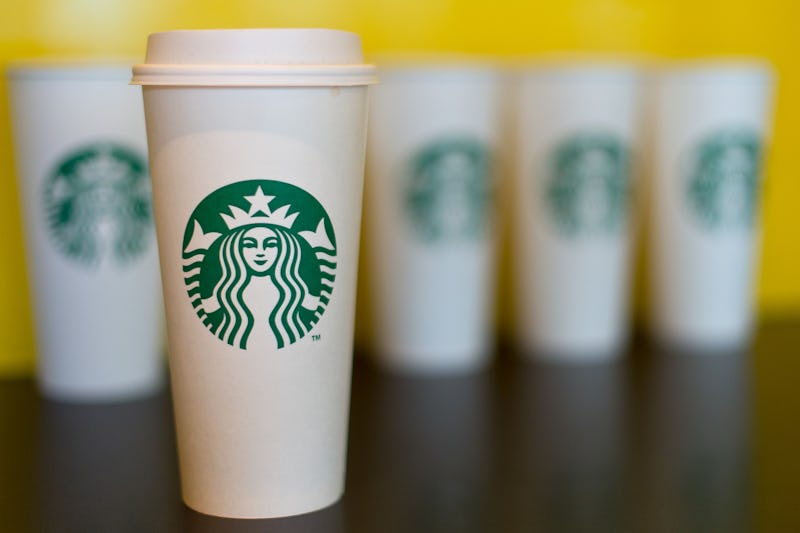 Ben Pruchnie/Getty Images News/Getty Images
You're probably familiar with the concept of the Starbucks "secret menu" by now — the name collectively given to the huge array of drinks you can order at Starbucks if you get a little clever with your customizations. Are you familiar with how to order a "Medicine Ball Tea" at Starbucks, though? Until today, I wasn't; heck, I didn't even know Medicine Ball Tea even existed. It turns out, though, that these days, you don't even have to hack the Starbucks menu to get yourself one — it's actually an official menu item now, albeit under a different name: Starbucks Honey Citrus Mint Tea. Talk about vital information for your everyday life, am I right?
Hilariously, not only is the drink not a "secret" menu item anymore, but moreover, the mere fact that it's officially on the menu now isn't new information, either — Honey Citrus Mint Tea made its triumphant debut back in March of 2017, according to USA Today. However, because the internet is… well, the internet, the drink began to resurface on social media recently, bringing it back into the public eye once more. So, in case you missed it the first time around, here's the lowdown on Medicine Ball Tea, Honey Citrus Mint Tea, and how the once-secret menu item became an officially sanctioned Sbux treat.
People have been hacking the Starbucks menu for almost as long as the coffee giant has been in business, creating everything from Frappuccinos that taste like Snickers bars to the infamous "Pink Drink" that swept the internet during the summer of 2016. Beginning around 2012, the Starbucks Secret Menu website (which isn't officially affiliated with Starbucks) gave creative fans a place to trade their unorthodox recipes, complete with catchy names — and as social media began to grow in popularity, the kinds of concoctions found on the Starbucks Secret Menu and other similar sites began to rocket around the internet at greater and greater speeds. Indeed, Medicine Ball Tea, which has also been referred to as "the Coldbuster," first appeared on the Starbucks Secret Menu in 2013, according to the Wayback Machine — but it wasn't until it arrived on Instagram that it truly went viral: It hit the bigtime in 2016 thanks to the photo-sharing platform, according to TODAY.
As creative as most of the Starbucks "secret" menu drink names are, the key to successfully ordering one is usually not to order it by name. Why? Because most baristas probably won't have any idea what you're talking about if you do. If it's not on the Starbucks menu, there's no official recipe for it, which mean that baristas won't have been trained to make it. Your best bet, therefore, is to order the specific components of the drink — for example, if you wanted to order a "White Drink" at Starbucks, you'd ask not for "a White Drink," but for "a Grande Teavana Shaken Peach Citrus White Tea Infusion, unsweetened, no water, light ice, with two pumps of sugar-free vanilla syrup and a splash of heavy cream."
Such was the case with Medicine Ball Tea. When the drink was still just a menu hack, you could get your hands on it by ordering a Venti cup filled with half hot water and half steamed lemonade, adding two different bags of Teavana tea — one of the Jade Citrus Mint Green Tea and one of the Peach Tranquility Tea — and finishing the whole thing off with a dash of honey and an optional pump of peppermint syrup. There were also a few variations floating around; according to one Instagrammer, for example, you could swap the Jade Citrus Mint Tea bag for a Mint Majesty one, skip the peppermint syrup, and still wind up with pretty much the same thing. The earliest iteration of the drink I've been able to find — the one that was posted to the Starbucks Secret Menu website in 2013 — has yet another recipe, largely due to when it was created: In 2013, the prevailing tea brand sold at Starbucks was Tazo. (The company sold Tazo to focus on Teavana in 2017.) As such, the 2013 version used bags of Tazo Refresh mint tea and Calm chamomile tea instead of the Teavana options that characterize the current iteration.
Interestingly, all of those variations partially explain why the drink eventually got added to the menu. According to Fortune, it all started when a store manager made a posting in the Starbucks internal messaging system during the height of the drink's viral fame: The manager noted that baristas at his store were constantly being asked to make "Medicine Ball Tea" by customers who had seen it on Instagram; however, there was some confusion over the recipe — since it was an unofficial order, no one was really quite sure what went into the drink. When dozens of other managers said they were experiencing the same demand for Medicine Ball Tea, though, the move was made to standardize the drink and officially add it to the Starbucks menu.
Now, you can get a Medicine Ball Tea simply by asking your Sbux barista for a Honey Citrus Mint Tea. According to its menu page, which calls it "a customer creation so popular it's now on the menu," the standardized version of the drink uses the Jade Citrus Mint Green Tea/Peach Tranquility Tea recipe; it also forgoes the peppermint syrup, although you could certainly ask for a pump or two (or three, or however many you like) of it when you place your order if that's your jam. That's the beauty of Starbucks: You can customize virtually any drink, making sure that whatever you get, it's exactly what you've been craving.
Although there's no guarantee that a Medicine Ball Tea will actually help you feel any better if you're a little under the weather, it does still sound delicious — so, hey. Treat yourself. You deserve it — whether you're looking for a potential cold remedy or just something to brighten up your day.