The Best UV Protection For Every Hair Color & Type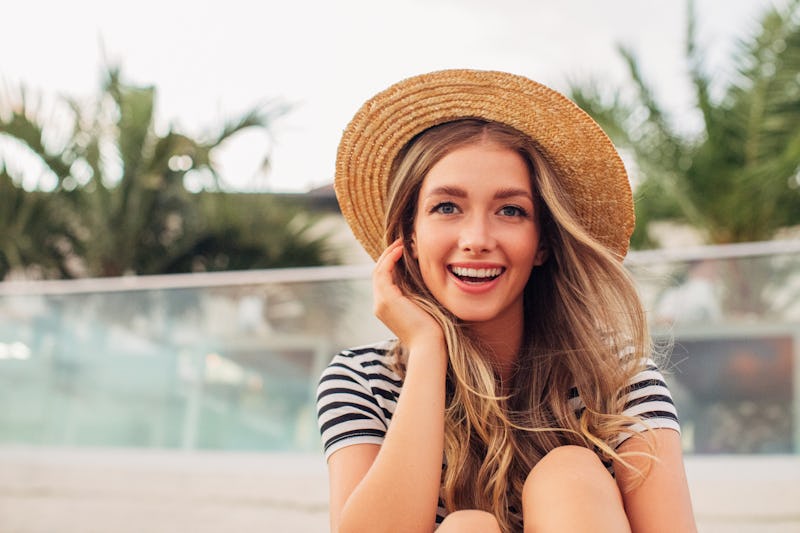 CoffeeAndMilk/E+/Getty Images
It's no secret that sun protection is critical for every part of you — even your hair. But do different hair types need different sun protection? With all of the different colors and textures, it seems like certain hair types might respond differently to sun exposure. But I'm no hair expert. So I emailed with a few to find out how you should protect your hair this summer.
Marissa Marino, celebrity stylist at Nine Zero One Salon; Ryan Richman, celebrity stylist; Jet Rhys, stylist and Cricket Co. Ambassador; and Eric Spengler, Senior Vice President of Research and Development at Living Proof, all let me know that, for starters, every hair type is negatively impacted by UV exposure. But the ways and extent to which each type is affected can vary. According to Richman, UV rays can cause protein loss which leads to dryness, breakage, and can even affect hair color. Especially on top of the damage that chlorine, salt water, and heat styling can do, he says something that everyone should do is use UV-protectant, heat-protectant, and conditioning products all summer.
When applying a UV protectant, Rhys instructs to comb the product through your hair from root to tip to ensure all of your hair is protected. And to protect your scalp? Rhys suggests pulling your hair into a ponytail, bun, or otherwise styling your hair so your scalp won't be exposed by a part-line. But how exactly is your specific hair type affected, and should you take any additional precautions? Here's what the experts have to say about these six hair types:
Unite 7Seconds Detangler, $13, Amazon
According to Spengler, research suggests that UVA light causes melanin degradation, which results in hair-color fading. The lighter the hair color, he says, the greater the color loss. For blondes, this means the sun can enhance highlights, causing them to become lighter and brighter, explains Marino. While this may seem like a perk, Spengler explains that pigment offers some antioxidant protection from UV exposure, so highlights "might make hair even more susceptible to damage from further UV exposure." To help protect light hair, Marino recommends using a leave-in conditioner like the one above.
Madewell Packable Mesa Straw Hat, $42, Madewell
Marino says that redheads can experience immense fading with sun exposure. While UV protectants help, she recommends "wearing a hat or wrapping your hair in a scarf while outside in the sun to receive the most protection."
Paul Mitchell Sun Shield Conditioning Spray, $14, Amazon
While brunette hair won't fade as quickly or as much as blonde and red hair, it will still fade if exposed to the sun for too long, says Marino. To keep your color rich and maintain your hair's natural antioxidant protection, use a hair sunscreen like the one above before going out in the sun.
MOP Lemongrass Volume Whip, $22, MOP
Even though UV rays will impact all hair types, because fine hair has a smaller diameter, it will have less protein and therefore be more prone to frizzing and susceptible to breakage, says Spengler. To keep it safe, try a UV protectant that will keep your hair smooth and add volume at the same time.
Living Proof No Frizz Humidity Shield, $22, Sephora
When exposed to damaging UV rays, wavy and curly hair will feel drier, become more prone to frizz, and become more frustrating to style, says Spengler. Before venturing out into the sun, try a UV protectant like the one above that will help manage frizz and control your style.
Oribe Masque for Beautiful Color, $63, Nordstrom
Especially if you want to maintain your color-treated hair though, UV protection is extremely important. According to Spengler, UV exposure can increase your hair's porosity, making color-loss from sun-exposed areas much more obvious. So your color stays true, try a mask with color-protecting UV filters like the one above. You can even couple it with a spray-on UV protectant for extra defense against sun damage.
Whatever your hair color or type though, some sun protection will always be better than none at all.