How To Protest Trump's Trans Military Ban No Matter Where You Are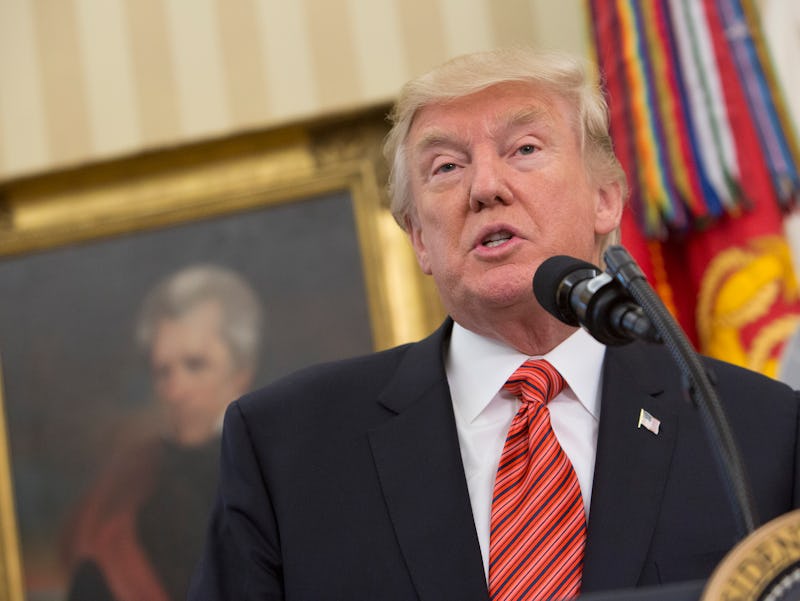 Pool/Getty Images News/Getty Images
On Wednesday, Donald Trump announced on Twitter that he is reinstating the ban on transgender people serving in the U.S. military that was reversed just last year. It's a huge blow for transgender rights — for human rights — but we will not accept it quietly; we will pull out all the stops to protest Trump's trans military ban through every means we have available, and then some. To say that this move is unacceptable is putting it mildly. It cannot stand, and we will fight it with everything we've got.
During President Obama's two terms, huge strides were made for LGBTQ rights in the military. The "Don't Ask, Don't Tell" policy was formally ended in 2011, finally allowing gay people to serve openly. In June 2016, the Pentagon announced that it would no longer ban transgender people from openly serving. At the time of the reversal of the longtime ban, as many as 11,000 trans people were serving on active duty, according to CNN; however, as The Atlantic noted, the military had previously recognized them only by the gender they were assigned at birth and required them to "adhere to uniform standards of that gender."
In a press conference addressing the Obama decision on trans service members, then-Secretary of Defense Ashton Carter stated:
Our mission is to defend this country and we don't want barriers unrelated to a person's qualification to serve preventing us from recruiting or retaining the soldier, sailor, airman or Marine who can best accomplish the mission. We have to have access to 100 percent of America's population for our all-volunteer force to be able to recruit from among them the most highly qualified and to retain them.
Although relatively few in number, we're talking about talented and trained Americans who are serving their country with honor and distinction. We invest hundreds of thousands of dollars to train and develop each individual, and we want to take the opportunity to retain people whose talent we've invested in and who have proven themselves.
Now Trump has announced his plan to undo this important change, claiming that "our military must be focused on decisive and overwhelming victory and cannot be burdened with the tremendous medical costs and disruption that transgender in the military would entail."
As Bustle's Jenny Hollander notes, Trump actually doesn't have the ability to make this decision; it falls to Trump's defense secretary, Gen. James Mattis. Unfortunately, though, it's likely that Mattis will reinstate the ban, as Hollander writes:
If Trump is confident enough in the new policy to openly announce it as fact, then it's likely that Gen. Mattis and himself had already discussed the rollback — and Mattis had already shown reluctance to implement the Obama administration's transgender plan.
And so, those of us opposed to the ban do what has become standard during Trump's administration: We resist. Here are a few things you can do to protest Trump's trans military ban, no matter where you are. Remember: Protests work. Keep at it.