How To Support People With Disabilities Right Now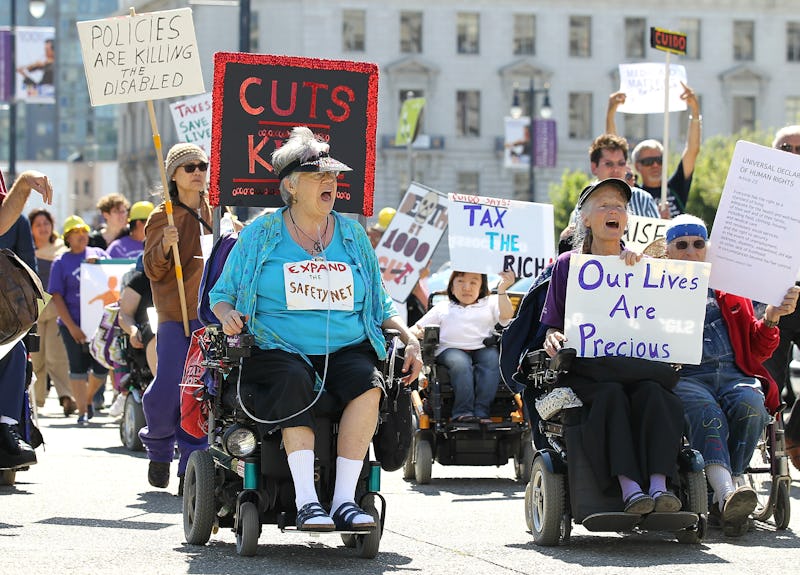 Justin Sullivan/Getty Images News/Getty Images
In his first week in office alone, Donald Trump has signed numerous executive orders that have dire consequences for millions of Americans. It's more important than ever now to stand up for all people at risk under his policies, including the disability community. There are many ways to support disabled people under Trump and his administration, which has shown very little regard or care for what is at stake for one of the most overlooked marginalized groups when it comes to discussions of diversity and inclusion. As someone who's lived with a disability for 24 years, I'm absolutely enraged with the way Trump and his administration have been treating my community's needs — and, to be perfectly honest, I'm terrified of what the next four years might bring.
Consider, for example, the Affordable Care Act: During his first week as president, Trump took the initial steps toward repealing repealing the ACA, a decision that could potentially take away health care coverage from 18 million people who need it (not to mention the fact that health care should be a fundamental right, not a privilege). While it's not yet clear exactly what Trump is planning to replace the ACA with, Tom Price — the president's nominee for the Department of Health and Human Services — has previously made suggestions for a health policy where people with "pre-existing conditions" would have a difficult time getting health coverage. As TIME recently explained, Price's "continuous coverage" provision would mean that "if you have a pre-existing condition but haven't had a recent gap in your health coverage, insurers could not discriminate against you" — but if your coverage lapses, it could be much harder to get covered again later. Although this would of course be a concern for many people, people with disabilities would be particularly vulnerable in this situation.
And that's just one example. Trump's cabinet is full of people who spell bad news for people with disabilities. During Betsy DeVos' confirmation hearing for the Department of Education, for example, she appeared to have little knowledge of a major federal law called the Individuals with Disabilities Education Act (IDEA), which ensures all students with disabilities the right to an education. Additionally, Trump's pick for Attorney General, Jeff Sessions, slammed the IDEA in 2000. In his lengthy statement in front of the Senate, Sessions called for the government to "take our schools back from this small group of children who feel it is their right to endanger the education of every other child in school" — simultaneously "othering" children with disabilities and placing less value on their right to an education compared with the right to an education of children without disabilities.
These are just a few of Trump's team members and policies that could harm people with disabilities for years to come. If you, like me, are angry about what Trump's presidency could mean for the disability community, here are seven ways to support people with disabilities: