You Can Stream Trump's Address To Congress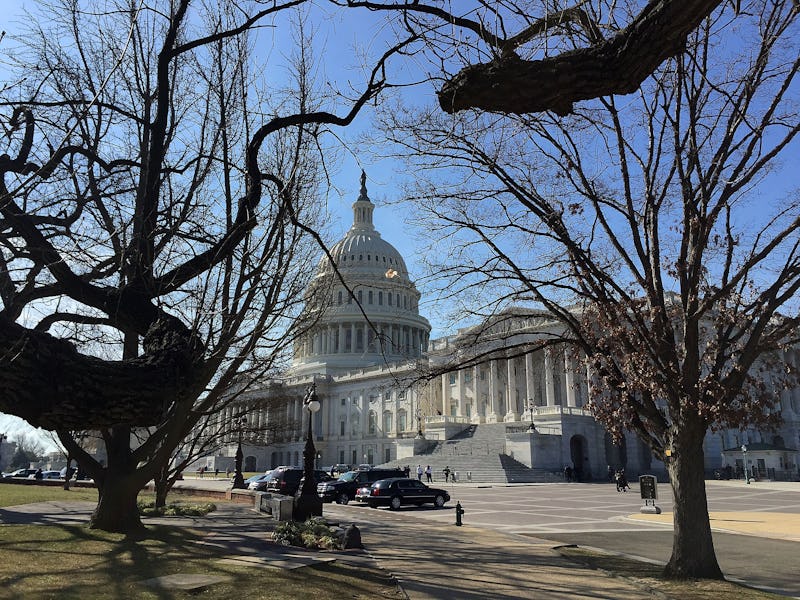 Alex Wong/Getty Images News/Getty Images
On Tuesday, President Donald Trump will address the U.S. Congress and other governmental officials to reflect on his desired agenda for the country. Trump's speech should be interesting to watch, to say the least. If you wish to tune in online, there are many ways to stream Trump's address to Congress.
Trump will deliver what is known as an "address to the joint session." He will give a speech to both houses of Congress as well as to the Supreme Court and his own Cabinet in the chamber of the House of Representatives. According to NPR, he will "talk about controlling immigration, cutting taxes, abolishing regulations, repealing the Affordable Care Act, pulling out of multinational trade agreements, and spending more on defense and homeland security." NPR also reports he may address social issues as well as his dislike for the news media.
The President's speech will begin at 9 p.m. EST and will last approximately 90 minutes. While the speech will be broadcast widely on television, there are also many online streaming options available.
Nearly all news networks are providing live streams of the speech on their respective YouTube channels or dedicated live stream pages. Participating networks (and their respective live stream links) include ABC, NBC, CBSN (CBS' digital news service) and Fox News. All of the networks plan to steam live coverage of the event and some will also broadcast pre- and post-speech coverage on their YouTube channels or live stream pages as well. You can check individual channels for details about when coverage will begin.
In addition to the network news YouTube streams, you can also watch Trump's speech through a unique partnership between PBS and Twitter, which previously partnered together to cover Trump's inauguration, resulting in record viewers, according to Twitter.
The PBS-Twitter stream can be watched in one of three ways: by visiting jointsession.twitter.com or pbs.org/newshour, or via the Twitter handle @NewsHour. The PBS-Twitter stream will be anchored by Judy Woodruff of PBS and will include a post-speech analysis, just like many of the news networks' streams.
Essentially, if you wish to watch Trump's speech but do not have access to television to do so, there are still a myriad of ways in which you can stream the joint session address live, as well as watch pre-speech coverage and post-speech analysis.
Regardless of your feelings on Trump and his presidency, this speech could be an important opportunity to learn more details about what the President and his administration are envisioning for the country in regards to a wide array of issues. It is always important to be informed about governmental policy plans and understand how they may affect your lives and the lives of others. Therefore, I strongly recommend tuning in to Trump's speech in order to inform yourself and to be better equipped to hold his administration accountable.