How To Support Sexual Assault Survivors Amid All The Kavanaugh News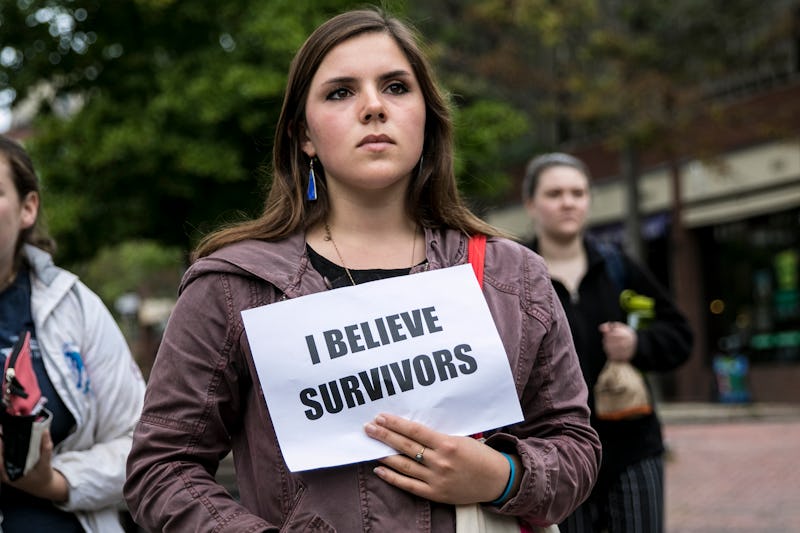 Sarah Rice/Getty Images News/Getty Images
The allegations against Supreme Court nominee Brett Kavanaugh have inevitably created a weeks-long news cycle focused on sexual assault. While it's emotionally draining to hear about assault allegations day after day, there are ways to support sexual assault survivors and channel those emotions into something positive.
Kavanaugh's confirmation has been derailed, at least temporarily, by the allegations against him, which led the FBI to reopen his background check. Christine Blasey Ford testified before the Senate Judiciary Committee last week that the judge tried to sexually assault her in high school. Before her testimony, Deborah Ramirez alleged that Kavanaugh exposed himself to her in college, and Julie Swetnick accused him of "targeting" girls as a teenager. Kavanaugh has repeatedly denied all three allegations.
Hearing GOP leaders defend Kavanaugh as "a good man," question why these women didn't come forward sooner, and say they'll vote for Kavanaugh even if they find the allegations to be credible can be re-traumatizing for survivors, as Vox reports. As one survivor told Sen. Jeff Flake (R-Arizona) on Friday after he confirmed that he would recommend Kavanaugh's confirmation to the full Senate, "You're telling me that my assault doesn't matter — that what happened to me doesn't matter — and that you're going to let people who do these things into power."
Let Friends Know You're There For Them
While the Kavanaugh news has made it easy to focus on survivors more broadly, it's just as important to check in on the people in your life. Gently let your friends know you're available to talk if the news is triggering.
"It may not be helpful to directly ask someone how they're dealing with the topics in the news — it might be most helpful to just make yourself available to them, like letting someone know you're thinking about them and that you're always happy to talk," Laura Palumbo, communications director for the National Sexual Violence Resource Center, told Bustle last month.
If you notice a friend is feeling down, buy them dinner, offer to keep them company with a cozy night in, or send them encouraging messages.
Call Out Friends Who Aren't Showing Support
There's no point in starting a Twitter fight with trolls who blame survivors, but being an ally means calling out victim-blaming language when you hear it from people you know. The Rape, Abuse & Incest National Network (RAINN) has a handy guide on the subject if you want statistics to bolster your argument.
Put Your Money Behind Organizations Helping Survivors
RAINN's sexual assault hotline received a record number of calls the day after Ford's testimony before the Senate.
"History shows us that when high-profile allegations such as these are in the news it often causes others to reach out too. This story has clearly resonated with survivors, and has led thousands to reach out for help for the first time," RAINN president Scott Berkowitz said in a statement.
You can donate to help the organization continue supporting survivors, or consider giving to the National Sexual Violence Resource Center, the National Alliance to End Sexual Violence, or End Rape On Campus.
Ask Your Senators To Stand Up For Survivors
The best way to let your representatives know how you feel about how the allegations impact Kavanaugh's nomination is to give them a ring. Even if your senators share your views on President Donald Trump's Supreme Court pick, letting them know can help confirm that they're accurately representing their constituents — and can encourage them to use their platform to speak out against propelling harmful myths about sexual assault, using victim-blaming language, and mocking survivors. Call the congressional switchboard at (202)-224-3121 to be connected with your senators' offices, or find their contact information here.
Regardless of what happens with Kavanaugh's confirmation, though, you can continue supporting sexual assault survivors every day, in ways big and small.
If you or someone you know has been sexually assaulted, call the National Sexual Assault Telephone Hotline at 800-656-HOPE (4673) or visit online.rainn.org.