7 Signs You're Bored In Your Relationship, And Not Just Too Comfortable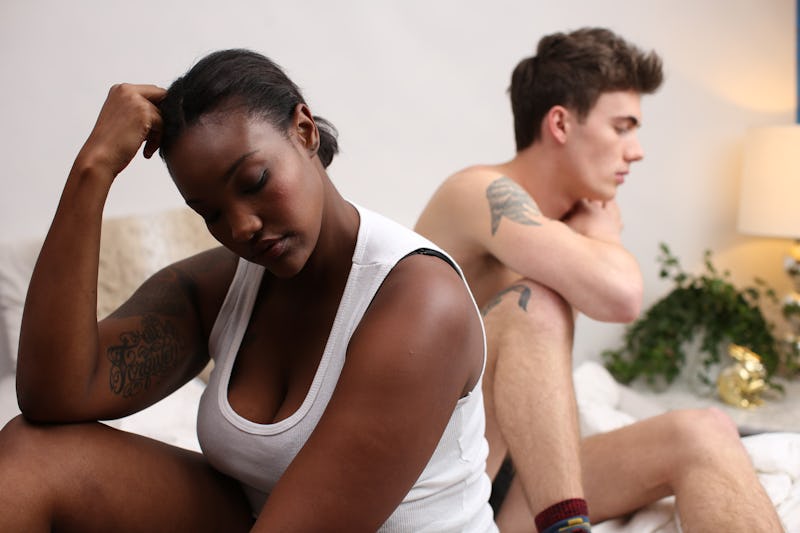 Ashley Batz/Bustle
As much as we would all love for the honeymoon phase to last forever, that's simply not the reality for most. At some point, the newness wears off and your relationship finally gets to a stable point. When you reach a certain level of comfort, the tendency is to stop trying. But as we all know, relationships take a lot of work in order to succeed. Without it, you'll find yourself too comfortable in your relationship or worse, bored. Because according to experts, there is a difference.
"Comfort and boredom are similar in that both imply a lack of growth, which is dangerous in a relationship," Lisa Concepcion, Founder of LoveQuest Coaching, tells Bustle.
The major distinction between the two, is that being too comfortable in a relationship may lead to taking each other for granted, Concepcion says. Boredom, on the other hand, is a lack of inspiration. "When people are comfortable, they are content with what they have and don't want to change it," she says. "When people are bored they are itching for excitement and something new." Either way, there's a rut. When your relationship loses that spark, it can lead to distance no matter how in love with your partner you still are.
If you're feeling like you're currently in a relationship slump, you do have the power to turn around. According to experts, the best place to start is to figure out where your relationship issues stem from. Are you just too comfortable or is it someting else? Here are some signs that your issues come from boredom and not from being too comfortable.