18 Tips For Traveling If You Have A Chronic Illness, From People Who Do It Regularly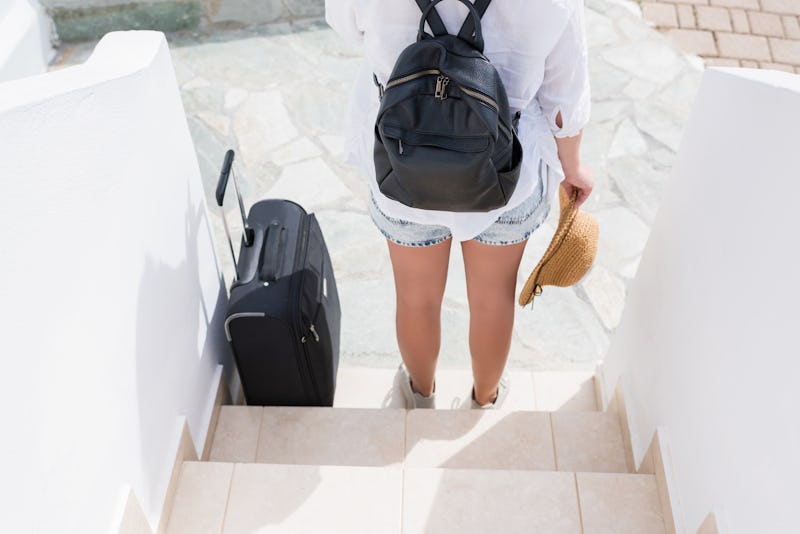 Shutterstock
Going on vacation, or even getting out of town on business, can be a necessary break from everyday life. But traveling to and from a destination and dealing with unexpected changes can be stressful. Flight delays, missed connections, lost luggage, and hotel reservation issues can all put a huge damper on a trip. For people who live with chronic illness, traveling means having to worry about these common issues on top of issues like inaccessibility, ableism, and health risks.
"The phrase, 'I need a vacation from my vacation' is very true. ... The fact that you have to plan in advance to take care of many things makes a vacation an anxiety-provoking event for many," Dr. Indra Cidambi, a psychiatrist and medical director at Center for Network Therapy, tells Bustle.
As someone who has attended many cross-country work conferences myself, I can say being disabled and traveling is not impossible, but it's not always an easy feat. Some companies have tried to remedy the discrimination that the disability community often faces when it comes to travel. On July 3, Airbnb released new guidelines that require hosts to list clearer information about the accommodations they are able to provide, and photos of their listing's "accessibility features." Yet, as Ace Ratcliff wrote for HuffPost, travel can be a nightmarish experience for people living with a chronic illness.
"The inaccessibility and ableism that plagues air travel is a reflection of the ableism everywhere else in our society. Back when I traveled as a nondisabled person, I didn't run into any of the issues I now regularly experience as a disabled traveler," they wrote.
Simply put, there's a long way to go before globetrotting, or simply flying two states away, is more accessible, and the onus should not be all on disabled people to find the solutions. Yet, people in the disability community have come up with creative ways to make taking a trip much easier. Here are tips for traveling from 18 women and nonbinary folks living with chronic illnesses.