How To Watch Both Of Meghan Markle's Hallmark Movies Right Now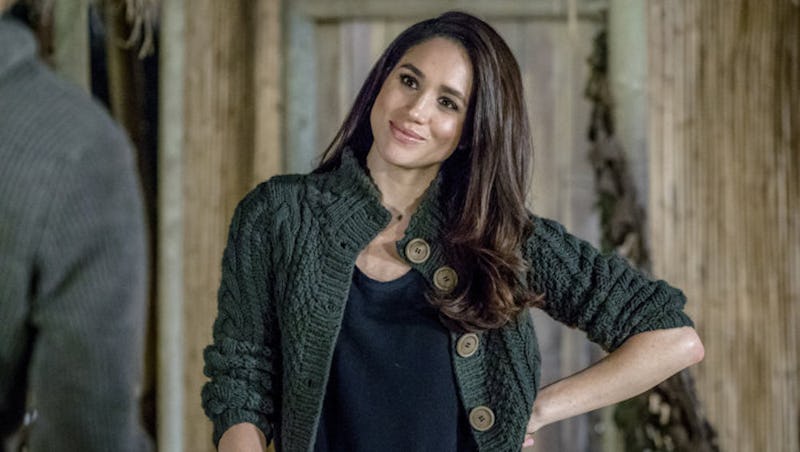 Hallmark Channel
Long before Meghan Markle got engaged to Prince Harry and became a British Royal-to-be, she was an actor. And what's an actor to do but star in a few Hallmark original movies? Markle starred in two straight-to-TV films for the network, and, though those days are far behind her, you can still watch Meghan Markle's Hallmark movies — but only if you look hard enough.
Markle is making news with her personal life as the first ever U.S. citizen engaged to a member of the British Royal Family, but her status as an American actor makes her even more of unique choice to marry into the monarchy. After all, how many royals can say they've starred in a Fourth of July Holiday movie on the Hallmark Channel? (Hint: not a one.) In fact, there are a lot of projects on Markle's resumé that no other royal could ever dream of. But, other than her series regular role in USA's Suits, her biggest roles have been in her two Hallmark Channel movies: When Sparks Fly, which aired in 2014, and the more recent Dater's Handbook, which premiered last year in 2016.
Unfortunately, neither of Markle's Hallmark movies are holiday themed, so fans probably won't be able to catch them during one of Hallmark's many Holiday movie marathons. That said, there are other ways to catch a glimpse of the future princess in all of her Hallmark glory.
Markle plays Chicago journalist Amy Peterson in When Sparks Fly, and her life is turned around when she is drawn back home for the Fourth of July wedding of her hometown best friend and her ex boyfriend. The movie, naturally, premiered in the summer of 2014, and, though it isn't available to stream, it is available for purchase and digital download. Fans eager to see Markle surrounded by fireworks can buy the film for $9.99 on iTunes and Amazon. Dater's Handbook, which premiered in early 2016, is similarly nowhere to be found on digital streaming platforms. This time around, Markle plays Cass, a young woman who decides to experiment with something called the Dater's Handbook, only to find herself in the middle of a love triangle. Like When Sparks Fly, Dater's Handbook is available for purchase for $9.99 via Amazon and iTunes.
Of course, fans both new and old of Markle's work can always turn on Suits and watch her in action as the smart young paralegal-turned-lawyer, Rachel Zane. However, those hoping to see Markle on the big or small screen after she ties the knot could be in for a major disappointment. The actor has confirmed that Season 7 of Suits will be her last (half the season aired in 2017, with the second half hitting screens in 2018), and it appears that, just like Grace Kelly before her, Markle will be leaving Hollywood behind as she takes on her new royal title.
The former Hallmark movie star hinted that she would be retiring from her acting career in her first public interview with Prince Harry, telling Sky News, "It's a new chapter, right? And also, keep in mind, I've been working on [Suits] for seven years. We were very, very fortunate to have that sort of longevity on a series." She added that the group recently aired their hundredth episode — a rare milestone in television. "I've ticked this box, and I feel very proud of the work I've done there, and now it's time to work with [Harry] as a team."
While promoting Dater's Handbook on the Hallmark Channel, Markle said, "You have to follow your heart to find your true love." And, though it's sad to see her leave acting behind, if she's following her heart to true love, then that's all any Hallmark channel fan can really ask for.