What We Know About What Meghan Markle's Role In The Royal Family Will Be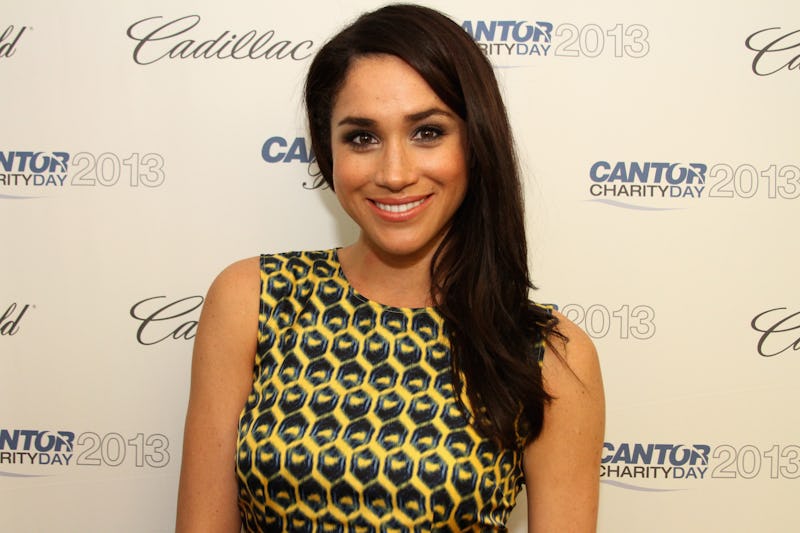 Mike McGregor/Getty Images Entertainment/Getty Images
Prince Harry is officially engaged to American actress Meghan Markle, and everyone following along in anticipation has some questions. To start: What will Markle's role be in the royal family? The engagement announcement says the wedding will take place in Spring 2018, so she only has a few short months to prepare for life in the monarchy.
First, it's unclear what Markle's official title will be once she's married to the prince of Wales. Her fiancé's full title is His Royal Highness Prince Henry of Wales, indicating the possibility that she'll become Her Royal Highness Princess Henry of Wales (or HRH Princess Harry). Alternatively, Queen Elizabeth II could choose to name Harry His Royal Highness The Duke of Sussex once married, making his wife Her Royal Highness The Duchess of Sussex.
As for what her role will be, Markle will likely carry out similar duties to her sister-in-law, Kate Middleton. As the Duchess of Cambridge, Middleton does charity work, travels with her husband, and attends official events, not unlike the way in which a first lady accompanies the president. Middleton was quickly thrust into the spotlight, and continues to be a very public figure within England and abroad as she carries out royal duties assigned to her husband and her by the queen.
However, the one difference between Middleton and Markle (aside from the fact that Markle is American) is that Markle's future husband is fifth in line to the throne, while Middleton's husband is second. As fifth in line, Prince Harry is unlikely to ever become King of England, which takes some pressure off his bride-to-be.
Because Markle won't have an official job, she'll have room to continue the humanitarian work she's already involved in as an ambassador for World Vision Canada and the United Nations Entity for Gender Equality and the Empowerment of Women. She'll also have a larger platform to work on specific social issues she cares about. Princess Diana spent time helping HIV/AIDS and cancer patients, as well as raising awareness around the dangers of landmines. According to the royal website, roughly 3,000 organizations list a member of the family as either a patron or president.
As a whole, the royal family carries out about 2,000 official engagements around the world, entertains about 70,000 people at royal residences, and answers 100,000 letters each year. In addition, the official website also explains: "The Royal Family as a whole plays a role in strengthening national unity. Members of the Royal Family are able to recognise and participate in community and local events in every part of the UK, from the opening of new buildings to celebrations or acts of commemoration."
Markle will certainly be kept busy once married into the English monarchy, and until then, she has a very important wedding to plan. The couple is set to appear outside Kensington Palace Monday afternoon and again in a broadcast interview that evening, so hopefully more wedding details will be revealed soon. If Harry's parents' and older brother's weddings were any indication, their's will likely be a huge public spectacle, with millions of people around the world watching live on TV.
However, because Prince Harry has a contentious relationship with the media, and Markle has been under invasive scrutiny since they began dating, the couple could decide to stay out of the limelight more than other members of the family. Even if their wedding is televised, they might wish to keep her public appearances to a minimum. Still, their official duties as members of the royal family will require them to attend royal events and travel on behalf of the queen, so England should get use to seeing Markle by Prince Harry's side.