How To Watch The Emmys Red Carpet Because You Can't Miss This Star-Studded Event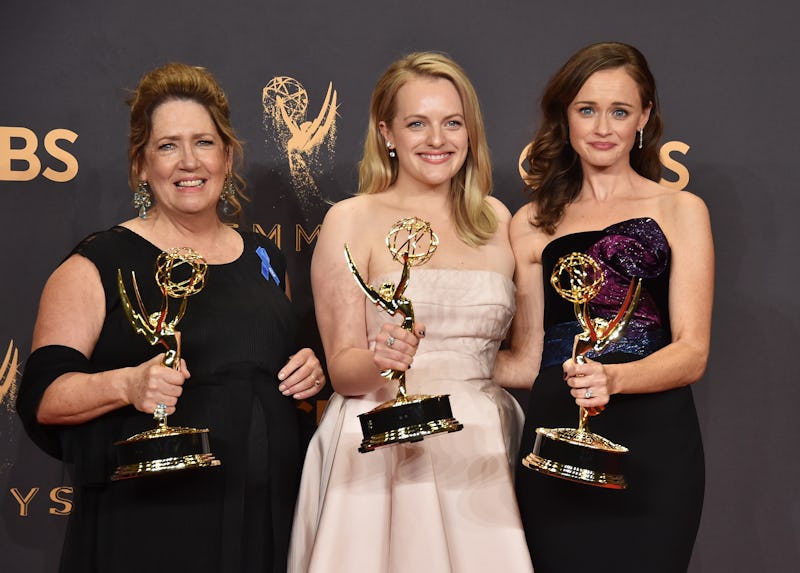 Alberto E. Rodriguez/Getty Images Entertainment/Getty Images
If you have been craving the glitz and glamour that comes with red carpet season, then you're in luck because the Emmys award show season is right around the corner. And there are many ways how you can watch the 2018 Emmys red carpet, so you have plenty of options no matter your TV situation.
The 70th Emmy Awards will take place on Sept. 17 at the Microsoft Theater in Los Angeles, where some of TV's biggest stars and inspirations will mill about the red carpet. E! will be taking over the coverage of the star-studded event as per usual, where this year for the first time ever they will provide coverage across multiple platforms, including on-air, digital, and social. As always, Giuliana Rancic and Jason Kennedy will headline E!'s Live From The Red Carpet: The 2018 Emmy Awards. You can catch it live on TV on E! when coverage starts at 6:00 p.m. ET/3:00 p.m PT.
This year, NBC will be airing the 2018 Emmy Awards, so you can also tune in to NBC to watch the stars glide down in their designer outfits at that same time. So if you don't have cable, you don't have to panic. The actual award shows start at 8 p.m ET/5:00 p.m. PT, so you can expect the festivities to begin before then, just like with any other red carpet.
You can also spot the red carpet on social media, and not just by frantically searching hashtags or following feeds. The network has created the first-ever E! Stream the Red Carpet show on Twitter, which you can access by hopping over to their handle at @enews. This online stream will let you watch the red carpet live and react to all the amazing fashion in real-time.
There are other ways that you can watch the show online, too. For example, you will be able to stream the red carpet through People TV free app, people.com, and and EW.com, so all you need is your laptop or phone and you will be right in the thick of it.
You can also watch the pre-show being streamed on InStyle.com, Essence.com, and Time.com, letting you get settled in and amped up to watch the celebrities walk down.
If you prefer to catch your coverage via apps rather than websites, then you can download the NBC app and watch the coverage that way.
As you can see there are plenty of options to watch the red carpet this year, and for good reason. There is an amazing lineup of actors nominated this year, and you won't want to miss their big moments. The Television Academy unveiled the nominees about two months ago, and you will want to cheer on your favorite actors. For example, Sandra Oh made Emmy history by being the first woman of Asian decent nominated for Outstanding Lead Actress in a Drama; the Game of Thrones cast is rolling through with 22 nominations; and Kenan Thompson finally (finally!) got his Best Supporting Actor in a Comedy Series nom. So grab your phone, remote, or tablet, and get ready to celebrate the red carpet all night long.