Women Are Tweeting Their Abortion Stories & It Shows How Important Roe v. Wade Still Is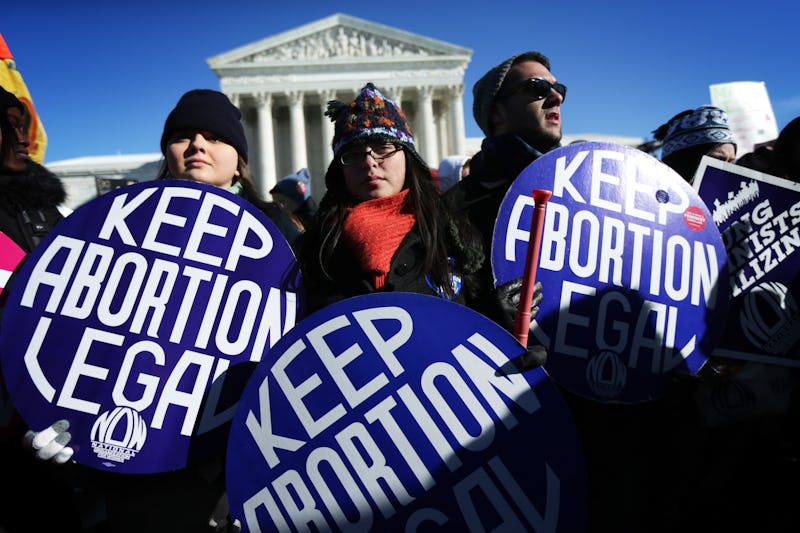 Alex Wong/Getty Images News/Getty Images
On the 45th anniversary of Roe v. Wade, feminists and allies are taking to Twitter to affirm the importance of reproductive rights. Through the trending hashtag #RoevWade, folks of all genders are commemorating the Supreme Court's 1973 decision which legalized abortion across the country. But although the court ruled that the constitutional right to privacy "is broad enough to encompass a woman's decision whether or not to terminate her pregnancy," the fight for reproductive rights still rages on in 2018.
Today, Republican lawmakers and their continual attacks on sexual and reproductive health place the right to bodily autonomy perpetually under siege. Our current president once suggested there should be "some form of punishment" for those who seek abortions, and our vice president believes that the Roe v. Wade ruling should be "consigned to the ash heap of history where it belongs."
Such anti-choice views are also shared by lawmakers at the state level, which has inspired a variety of TRAP laws that make attaining reproductive healthcare much more difficult — if not impossible — for thousands of people in need. In fact, according to a 2017 University of Maryland study, the rate of Texas women who died from pregnancy-related complications doubled from 2010 to 2014, a time during which Texas legislators passed some of the state's most punitive abortion restrictions.
The following are three powerful ways Twitter users are commemorating this historic ruling. (Editor's note: Readers should be aware that the tweets below discuss abortion and sexual assault, and may be triggering for some people.)
1. Sharing Abortion Stories
2. Raising Awareness About Reproductive Rights
3. Revealing Why They Are One Of 7 In 10 Americans Who Support Reproductive Rights
The Roe v. Wade ruling has changed the lives of millions of Americans since 1973, but there is much work to be done to affirm bodily autonomy for all. And if you want to know why abortion restrictions negatively impact vulnerable populations, look no further.