How You Can Support LGBTQ Youth On Spirit Day & Beyond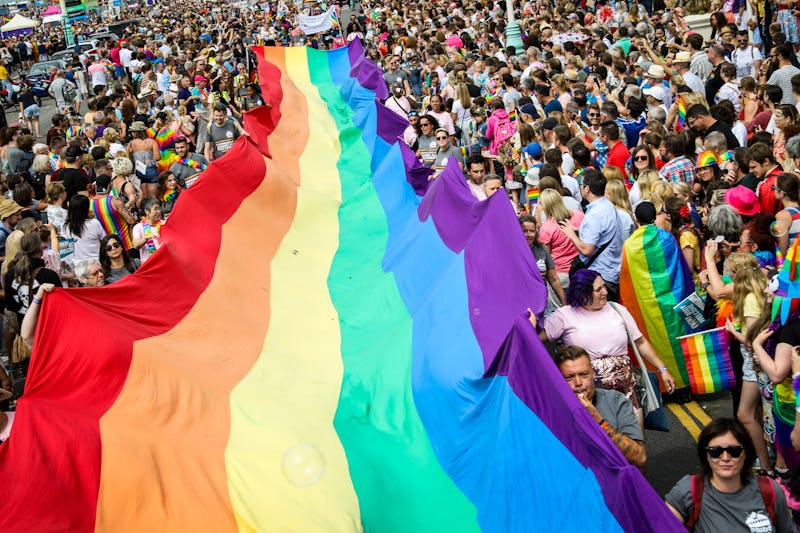 Tristan Fewings/Getty Images Entertainment/Getty Images
Every year on the third Thursday in October, millions of people around the world band together on Spirit Day to show their support for LGBTQ youth and fight against bullying. Canadian high school student Brittany McMillan came up with the idea in 2010 after several LGBTQ youth died by suicide around the same time. Since then, GLADD has worked with her to create a movement that's inspired celebrities, politicians, community members, and entire organizations to wear purple, the color that symbolizes spirit on the rainbow flag, on Spirit Day. In addition to wearing purple, there are many ways to show your support for the LGBTQ community on this day of celebration and throughout the year.
Spirit Day also falls during National Bullying Prevention Month. The number of LGBTQ youth who have experienced bullying in school, at social events, and online makes it clear why this day and the general movement to support LGBTQ youth is so important. According to the Gay, Lesbian, and Straight Education Network's (GLSEN) 2017 National School Climate Survey of 23,001 LGBTQ people between the ages of 13 and 21, 70.1% of LGBTQ students reported being verbally harassed, and 59.5% of LGBTQ students reported feeling unsafe at school because of their sexual orientation. Even when LGBTQ students found the courage to report the incidents, 60.4% of them said that their school staff was unhelpful or simply told them to ignore the behavior.
Living in a country where our highest court has debated whether LGBTQ people can be fired because of their identity or marry the person they love can certainly make LGBTQ youth question their place in society. "Our dignity is not up for debate," Rich Ferraro, chief communications officer of GLAAD, tells Bustle. "And I think that we need more days like Spirit Day. We need to carry that message and that energy and that momentum throughout the year." That is why it's important to come together and support LGBTQ youth who may be going through hard times.
Here are some ways to get involved on Spirit Day and year-round: