Here's How Your Period Is Different When You're On Hormonal Birth Control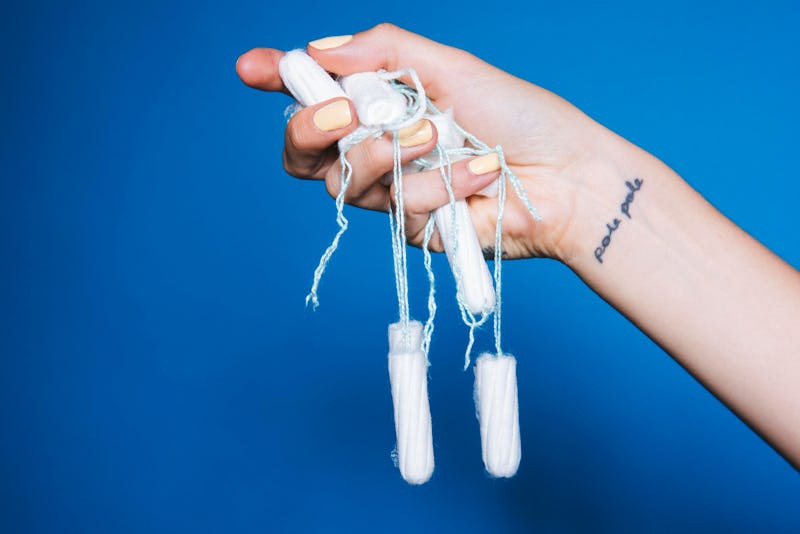 BDG Media, Inc.
Under the category of "things that women have to deal with but don't love," periods would probably make the top 10. For some people, a period involves painful cramps, mood swings, migraines, acne, and more — making it the not-so-great "time of the month".
"With the onset of menstruation at an average age of 12.3 years, most women will experience periods for a significant portion of their lives," Prudence Hall, M.D., gynecologist and founder and medical director of The Hall Center, tells Bustle. "It's important to know as much as you can about this much maligned and misunderstood, yet natural and healthy, body function." And when you add hormonal birth control to the mix, it'll affect your period, too.
Periods are different when you're on hormonal birth control. Of course, several forms of contraception fall under this umbrella, from the birth control pill to certain types of intrauterine devices (IUDs), such the Mirena.
"The period, or menstruation, is regulated by hormones that are secreted by the ovary," Julie Rios, MD, reproductive endocrinologist at the UC Center for Reproductive Health, tells Bustle. "Different forms of birth control can contain different hormones and, thus, affect women's periods in various ways." But some birth control methods can affect periods more than others.
"Period changes are best controlled by the birth control pill, a progesterone-containing IUD, the Depo-Provera shot, and Nexplanon, a contraceptive implant," Dr. Sherry A. Ross, women's health expert and author of she-ology. The Definitive Guide to Women's Intimate Health. Period., tells Bustle. Of course, only you and your doctor or OB/GYN can determine which method of birth control is best for you, if any. However, if you're curious as to how common types of hormonal birth control can affect your periods, here's what experts have to say.