Hurricane Michael's Path Shows A Few States Could Face Destructive Floods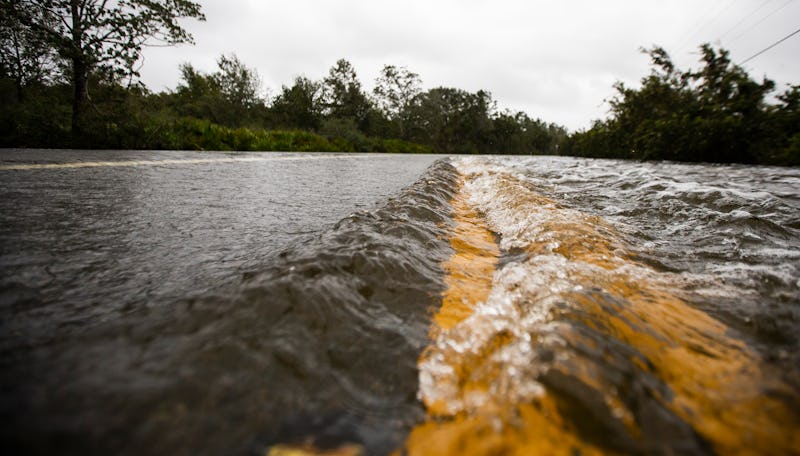 Mark Wallheiser/Getty Images News/Getty Images
After the devastating storm made landfall in Florida on Wednesday, it showed no signs of slowing down. Hurricane Michael's path leads northeast from the Florida Panhandle up to Virginia, signaling that multiple states could be devastated by its strong winds and heavy rainfall.
Hurricane Michael is the strongest hurricane to hit land along the Florida Panhandle in recorded history, Philip Klotzbach, an atmospheric scientist at Colorado State University, told The New York Times. Heavy rain could lead to life-threatening flash flooding in parts of Georgia, the Carolinas, and southeastern Virginia, the National Hurricane Center (NHC) said on Thursday morning. Tropical storm conditions will affect much of the southeastern coast this week, and the NHC issued tropical storm warnings for parts of Georgia and the Carolinas.
Several important Air Force bases lie in Michael's path, as well as multiple active nuclear power plants and oil refineries, as CNN reports. There are also roughly 84,000 homes at risk of storm surge damage, according to CoreLogic Inc.'s analysis. Early estimates put private property damages between $13 and $19 billion, depending on whether the storm made landfall as a Category 3 or 4 hurricane. Michael hit Florida as a Category 4 hurricane on Wednesday.
At least two people have been killed in the hurricane as of Thursday morning, one in Florida and one in Georgia. Florida Gov. Rick Scott tweeted Thursday morning to warn residents to stay off the roads to allow work crews to restore power and clear debris without delay, later adding that "100 percent of our focus is on rescue & recovery from this devastating storm."
The NHC said in a Thursday morning bulletin that Michael's maximum sustained winds were near 50 mph, with higher gusts, though it expected little change throughout the day. The strongest winds will likely hit portions of southeastern Virginia, northeastern North Carolina, and the Delmarva Peninsula.
When it comes to storm surge, the NHC said:
The combination of a dangerous storm surge and the tide will cause normally dry areas near the coast to be flooded by rising waters moving inland from the shoreline. The water has the potential to reach the following heights above ground if peak surge occurs at the time of high tide.
Rain from Hurricane Michael will extend all the way to southern New England. As the NHC notes:
Michael is expected to produce total rain accumulations of 4 to 7 inches from eastern Georgia to the southern Mid-Atlantic states and 1 to 3 inches over the northern Mid-Atlantic states and coastal southern New England. Isolated maximum amounts of 9 inches are possible in North Carolina and Virginia. This rainfall could lead to life-threatening flash floods.
Isolated tornadoes could also potentially develop in parts of South Carolina, North Carolina, and southeast Virginia on Thursday. If you live in one of the affected areas, stay up to date on the storm's movements here, or tune into a local news channel or radio station to ensure you know what to expect as the hurricane progresses.