I Only Used 10 Beauty Products For 5 Weeks & Here's What Happened To My Skin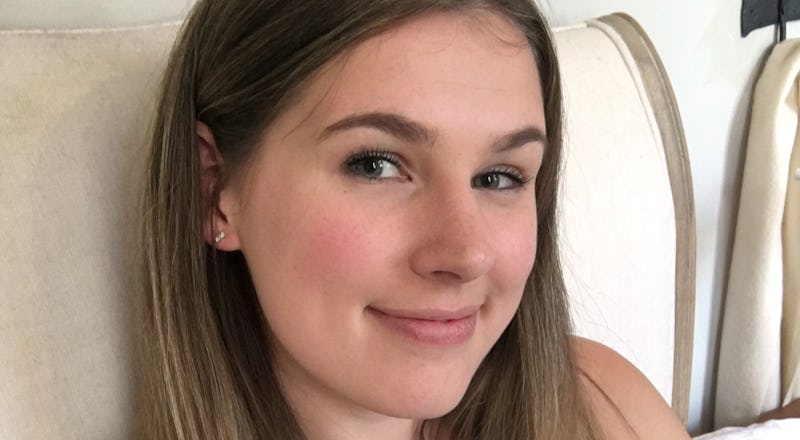 Alexa Tucker
When it comes to my beauty routine, I wouldn't exactly call myself a minimalist. At any given moment, I have about four different cleansers in my regular rotation, a solid selection of toners and serums to test when the mood strikes, and a slumber party-ready face mask selection. And as for my makeup bag, it's more like a dress-up box: endless options to play with.
The trouble is, my arsenal of beauty products isn't exactly mobile — at least not with a TSA-friendly 3.4-ounce liquids bag and a backpack that had to hold five weeks of my life. Hence, my dilemma before a recent trip through Europe.
Living out of a backpack meant my usual routine wasn't going to fly (literally), and in order to pack strategically, I had to make deep cuts from my cosmetics bag. By the time I'd edited it all down, I had only 10 beauty products making the trip that I'd deemed absolute essentials — five skin care, five makeup.
Which, I admit, doesn't sound like that low of a number. But for someone who, for example, uses a dedicated primer for everything that can be primed (from lips to eyelashes), I had to make some tough calls.
I figured things could go one of two ways. Option A, my skin would backslide into breakouts and congestion without my go-to assortment of products. (I like to think my diligent skin care routine at home actually pays off — I'm lucky to have a pretty clear complexion.) Or, option B, my skin would look fresher than ever as a result of my streamlined product lineup and less makeup.
Ultimately, the result was neither — but also both. Here's what I learned about my skin and my beauty routine by living on 10 products for five weeks.
Compared To My Usual Routine, This 10-Product Lineup Was Nothing
A rundown of the products that make my usual skin care routine: An oil-based cleanser, a creamier cleanser, eye makeup remover, a mask, a chemical exfoliant product (with ingredients like salicylic acid or glycolic acid), a toner, eye cream, moisturizer, facial oil, antioxidant lip cream… the list goes on.
As a visual, here's what my bathroom cabinet looks like — and these are just the things I use on a regular basis (my makeup and back-up skin care goodies live elsewhere).
It's a lot, and I'm sure some derms would argue that it's too much, but it works for my skin. (And, hey, at the end of the day, my skin care routine winds me down — for me, it's a self-care ritual.)
So cutting back to five skin care products was drastic. Here's what made the cut: A travel bottle of Cetaphil (classic and effective), Neutrogena makeup wipes (to take the place of double cleansing), Mineral Fusion Intense Hydration Face Cream (thick enough to double as an eye cream), a mini bottle of cult-favorite Kate Somerville ExfoliKate (an incredible last-minute addition), and a teeny jar of Vaseline Lip Therapy (not pictured because it lived in my purse, but my lips thanked me).
My makeup bag also took a major hit. To be fair, in my usual routine, I try to give my skin a break from makeup when I'm not leaving the house, so it's not like I do a full face of makeup on the daily. But when I'm going out for drinks with a friend or a quick coffee meeting, I don't skip steps. (Like I said, I prime everything.) I also like to mix things up, whether it's going for powder-based makeup instead of cream, a new eyeliner, or a locked-in lip look.
But for the purposes of my trip, I was going to have to live without the makeup wardrobe (and learn to, y'know, go to a bar without highlighter on).
I settled on my trusty Revlon ColorStay foundation (because pump dispensers are my favorite to travel with), Clinique Chubby Stick Cheek Colour Balm (I used it on my lips under the Vaseline as well), IT Cosmetics Waterproof Tightline (which is like a thin mascara brush that works as an eyeliner, a lash primer, and a mascara), ARROW Endure Water-Resistant Mascara (seriously, that ish does not budge), and Glossier Boy Brow (because, y'know, it's amazing and super little).
I was a bit hesitant about what didn't make the cut: No eyeshadow palette, no setting powder or spray, not even concealer (which was risky, considering I didn't bring any spot treatment, either).
But, it was going to have to do.
I Expected To See Drastic Changes In My Skin — For Better Or For Worse
During the first week, I'd hoped that my skin would look glowier and smoother — and feared that it would go the opposite direction. But the most surprising thing that happened was, well, nothing. From the day I left to day eight, my skin looked and felt almost the same. Here's a look at the (minimal) difference — although the day one airport lighting was admittedly worse than the lighting in a bright Berlin apartment.
Truthfully, my skin's even-keeled pattern continued until the end of my trip, for the most part. But that's not to say there weren't a couple of low points — around week two in Lisbon, my lips started to look and feel worse for wear (I'll chock it up to air travel and not drinking enough water). There's not much I hate more than dry, chapped lips, so I DIY'd a mini scrub from olive oil and table sugar I found in my Airbnb to replace my Fresh Sugar Lip Scrub back home. A few nights of scrubbing and religious Vaseline application later, problem solved.
My skin also hit a low point around week three. I stupidly forgot to pack sunscreen and got burned for it — literally and figuratively — so I snagged some from the Budapest equivalent of a drugstore. Using it on my face turned out to be unwise (and I knew I was playing with fire), as evidenced by some teeny chin breakouts on my makeup-free skin.
Nothing particularly noticeable to the naked eye, but I know what I'd done, and a few extra nights of ExfoliKate on my chin helped clear things up.
It wasn't all downsides, though. Around this same time, I started to notice my skin tone evening out — I have mild rosacea (so my nose often looks a little Rudolph-ish), and maybe it was the good lighting in that particular Airbnb, but I could swear that the redness was slightly calmer than usual. (That said, in general, the less I exfoliate my nose, the calmer the redness is — but the more clogged pores I end up with. You win some, you lose some.)
Up until the last few days, it was smooth sailing. Towards the end, I could feel a couple of painful cysts under my skin threatening to make themselves known — which, honestly, was probably the result of not-so-great eating and drinking habits with friends in Croatia. If I'd been at home, I would've started using Renée Rouleau's Anti-Cyst Treatment religiously (it's one of the few specific products I absolutely swear by, and I regretted not bringing it in that moment).
But all-in, my skin's behavior over the course of five weeks was pretty much exactly what it'd usually be. (And if I'd made the same skin mistakes at home as I did abroad — see: heavy sunscreen and arguably too much sugar and wine — I likely would've had the same breakouts.)
While I'd worried that my skin would suffer from my streamlined routine, I discovered that skin care really doesn't have to be as complicated as I make it (although next time around, I'll definitely bring face sunscreen and that Anti-Cyst Treatment). With just five products, I had almost the exact same skin care results as I do with, well, upwards of 50 at my disposal at home.
As For Makeup, I Got Used To My Low-Maintenance Line-Up Quickly
While I didn't necessarily notice any observable changes from cutting back on my makeup routine, using only five products forced me to come face to face with some of my deeper hang-ups about makeup.
Sure, from a practical standpoint, my morning routine was seriously quick — I could do my makeup in four minutes flat. But what really struck me was that I just worried less about what I looked like when I knew that I didn't have the option to get all done up. My minimal makeup felt comfortable, easy, and fresh.
While I do love the playful, creative element of doing my makeup, I also use it as something of a security blanket at home. Before my trip, there's no way I would've put on only five products for a night out (OK, plus a lipstick I discovered in my purse along the way, which was a nice extra touch on a couple occasions).
And there's definitely no way I'd let my picture be taken without "full" makeup. Aside from demonstrative selfies for stories (like this one), I don't love getting my picture taken — I almost always hate the result, and what I think is a "bad" photo of me can put a huge damper my mood for an entire day or night. So, I tend to avoid them altogether, and if I am going to take them, I need my makeup to be as photo-ready as possible.
But while I was traveling, I had to let that go. I'd go get a drink with a friend without stressing about how much time I needed to do my makeup, and if that drink rolled into a spontaneous night out, it was NBD that I didn't have "real makeup" on. Because hey, I was in Europe, and it wasn't an option anyway. And when we came across, say, an incredible waterfall, I wasn't going to not take a photo in front of it because my makeup wasn't done.
To put it bluntly, I had to get over myself, and it felt freeing.
Now That I'm Home, I'm Back To My Normal Beauty Routines — Because I Want To Be, Not Because I Need To Be
Now that I'm home, I'm back on my BS in some ways. I was excited to get back to the products I'd left behind, and I re-embraced my long, soothing skin care routines. And digging through my makeup now feels like I'm shopping in Sephora, which is fun.
But at the same time, I don't feel like I need as much. I've been catching up with friends over dinner with minimal makeup on, and in a weird way, my new DGAF attitude about being in public without "full" makeup actually makes me feel more confident.
So now that my backpacking adventure is over, my new project is a serious purge of my skin care and makeup collection, and creating an edited-down collection of my absolute favorites (which, I mean, will still be far too much to travel with — but it'll be closer).