How To Rock Neon Liner In 3 Easy Steps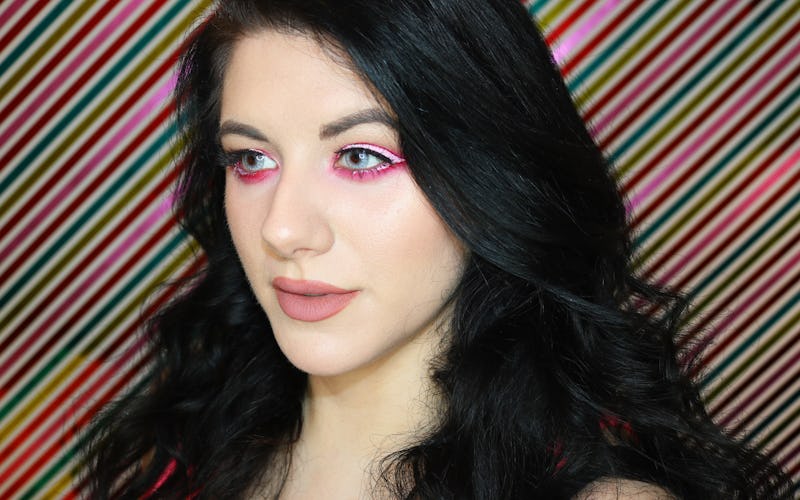 Neon liner is everywhere lately. From YouTube to Instagram to Bustle itself, the glowing goodness has taken social media by storm. Luckily, this look is easier to achieve than it seems. Follow these simple guidelines and you too can learn how to rock neon liner in three easy steps.
Urban Decay Original Eyeshadow Primer, $22, Sephora
Of course, there is some prep involved. I applied Urban Decay Original Eyeshadow Primer from lashline to brow bone so my labor-intensive look would last all day long. I have extremely hooded eyes, so I did need to contour my crease a bit to give my eye socket some shape before starting the liner. Prime at your own discretion.
Before you touch any neon shadows, decide what liner shape and color you want. Because I'm hooded and any cut creases don't really read on my bone structure, I opted for a classic winged liner shape. If you want to see some other examples, you can check out this open winged crease look and this defined lid shape.
Finally, pick your neon liner color. I'd be seeing a lot of blue and yellow looks circulating on Instagram, so I opted for a pink-red tone instead. As long as your shadow shade is truly neon, you'll be good to go. If the shadow is too pastel, it won't create that neon haze.
Ready? These three steps are going to make the neon liner trend seem too easy — but your eyes will be surrounded with electric glow in no time.
1. Sketch Your Shape
Urban Decay Electric Palette, $24, Nordtstrom
First, I started by carving out the shape of the liner with a very small smudge brush and the neon pink shade Savage from the Urban Decay Electric Palette (which is on sale for $24 on the Sephora website, just saying). If you don't own a small smudge brush, you can even use an angled liner brush or a lip brush instead.
This color will act as a guideline or the "sketching" before the painting. It works better if it looks a bit hazy, so if your lines aren't 100% clean, that's even better. The most important part of this step is making sure the blurry neon shapes are symmetrical. If the shapes are symmetrical, it will make the next two steps much easier.
Once you have your shape down pat, take a fluffy flat eyeshadow brush and run it across the electric line to make it even more hazy. This first color should really look like a puff of smoke: richest at the lash line, more diffused as it gets further and further away. Don't forget, what goes up, must come down. Be sure to repeat all these steps on the bottom waterline.
2. Add Saturation
Sephora Collection Cream Lip Stain, $14, Sephora
Next, I added depth to the liner, by using a thin pointed brush to go over the shape with Sephora Collection's Cream Lip Stain in Flame Red. Pick a liquid liner or a liquid lipstick that is a darker or more saturated version of the color you just used. The contrast between the saturated color and the white liner we'll utilize in the next step is what makes the liner appear to be glowing like neon.
After I drew my liner shape, I tapped on top of it with my finger to make it hazy, just as we did with our shadow color. The most important part of this step is that you still see a halo of your electric shadow color around the liner.
3. Create The "Neon" Light
NYX White Liquid Liner, $7, NYX
Finally, I went over the liner shape one last time with NYX's White Liquid Liner. However, this round I aimed to be as precise as possible. Once again, we still want to see all of the colors we've previously used peaking around the liner as well.
If you accidentally make a mistake with the white liquid liner, don't panic! It happens. Just use your pointed liner brush and the saturated liquid color to fix any little mistakes.
For added flair, you can apply some generous coats of mascara and false lashes. Because the lashline is so white from the liner, it's easy to loose the shape and definition of the eye. Mascara is definitely a necessary step in achieving this look.
See, it's just as easy as 1-2-3.
And it truly does pop from across the room.
So go on my glamorous gals and get your glow on. Get ready for everyone to be mystified by your magical makeup skills. Let them think it took you ten years to achieve. The simplicity will be our little secret.