I Tried The Royal Cheese Kate & Will Served At Their Wedding — And Yes, It's Amazing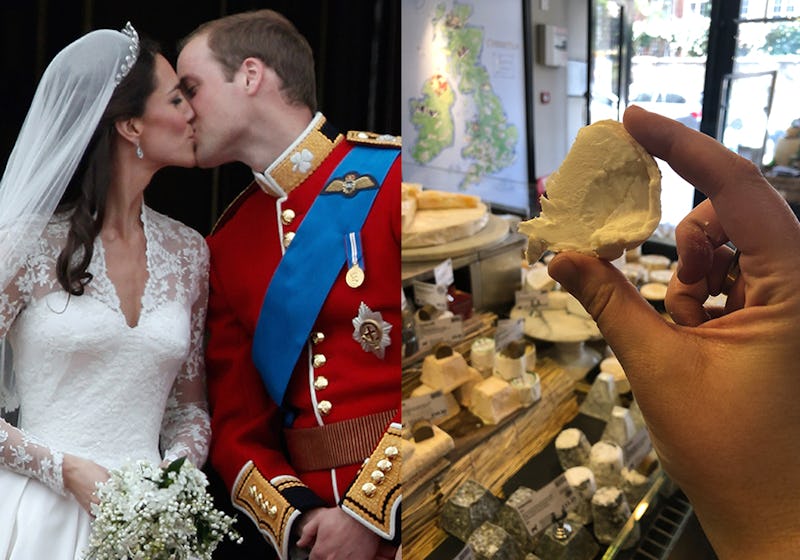 Christopher Furlong/Getty Images Entertainment/Getty Images; Tanya Ghahremani/Bustle
With Meghan Markle's wedding to Prince Harry happening on May 19, there are many things worth getting excited about. But, there is one detail in particular that I am dying to find out above everything else: what will the royal wedding cheese selection be? After all, the best part of any wedding is usually the food, and who doesn't want to eat cheese just like Meghan Markle? While we probably won't know what will be served at the royal wedding until after it actually happens, it might help to look back at previous royal wedding menus for clues. And you know who had cheese at their wedding in 2011? Prince William and Kate Middleton. It seems like a no-brainer to check out what cheese was at the last royal wedding. It's totally plausible that Prince Harry would take advice from Prince William about what he should serve. They're brothers!
With assistance from London's official visitor's guide, VisitLondon.com, I headed over to the city's most historic, respected cheese shop, Paxton and Whitfield on Jermyn Street, to meet with cheesemonger Dan Bliss to get a taste of what cheese Prince William and Kate served at their wedding. Paxton and Whitfield holds a royal warrant from Queen Elizabeth II herself, meaning it's an official supplier of cheese to the royal family — and that it's extremely good. The royal family doesn't settle for mediocre cheese, after all.
As was reported by various outlets during Prince William and Kate's royal wedding excitement, the couple served goat cheese from Paxton and Whitfield during their big day — but I was curious to know which one, exactly. The store carries all kinds of goat cheese, and while I'll take pretty much any kind of cheese you put in front of me, I was there for royal wedding cheese — the cheese Kate and Will had chosen for their special day. Thankfully, Bliss was able to point me in the right direction.
Tanya Ghahremani/Bustle
Tanya Ghahremani/Bustle
"This is the cheese that Will and Kate served at their wedding," he told me, pointing out a goat cheese option that was displayed front and center in the store's main cheese display: An Aldwych goat cheese log, hailing from the Somerset region of South West England. This, I'm told, gives the cheese a richer taste. Had the cheese hailed from a northern region, it would likely taste different.
All things considered, it's actually a fairly classic goat cheese; it features a soft, aged rind, with a creamy, younger interior that melts the second it hits your tongue. It's a surprisingly versatile goat cheese; it tastes just as good served cold as it does when it's cooked into meals. According to Spruce Eats, the goat cheese was used as one of the ingredients in canapés served during Kate and William's wedding festivities; it's likely that the cheese was chosen for its smooth, yet not overpowering taste.
Tanya Ghahremani/Bustle
Tanya Ghahremani/Bustle
Though I didn't consume the cheese as part of a royal wedding canapé, I can attest firsthand that the Aldwych goat cheese was one of the most delicious goat cheeses I've had in my life. And, at £11.25 a log, it's really not unaffordable for the general public — something that's not a common sentence when we talk about things the royals like.
The cheese unfortunately isn't available for export with online purchase, but you can order it within the UK online, or you can just visit Paxton and Whitfield at one of its many locations around the UK. Whether or not Markle and Prince Harry will feature this goat cheese at their wedding remains to be seen — but if they do, they've definitely made a delicious choice.