I Wore 'Dad Shoes' For A Week & They Were SO Much Cooler Than I Thought They'd Be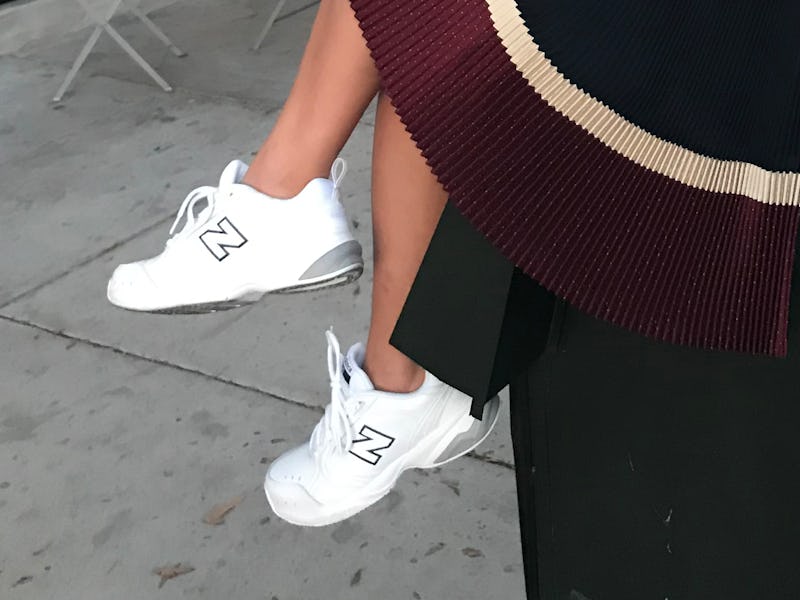 Dale Arden Chong
It's no secret that fashion loves a good polarizing trend. Not too long ago, Birkenstocks made their high fashion runway appearance at Céline and Crocs followed suit on the runways of Christopher Kane and Balenciaga. Now, it's time for the "ugly" sneaker to shine, also known as the "dad shoe." To my confusion, the footwear trend has become everything that my idea of high fashion is not: a chunky, bulky, comfortable sneaker. Naturally, to my friends' objections, I decided to incorporate the look into my own wardrobe.
Nicknamed for its frequency among middle-aged fathers (my own included), the dad shoes have grown in popularity since Balenciaga brought them back as "high fashion." If I've noticed anything about the industry, fashion likes to borrow style notes from dads. See: dad hats and the rise of camouflage. If those can be dubbed chic, well, then these shoes can too, right?
This isn't my first "ugly-cute" shoe rodeo. I'm an avid wearer of Birkenstocks, so if I can seamlessly add one normcore item into my wardrobe, surely I can add another.
My two reference points for the perfect dad shoes were a stylish Ryan Gosling throwing Steve Carrell's character's New Balances off a ledge in Crazy Stupid Love and, well, my own father. After I spent some time studying the look, I felt I was ready to take on the trend.
Women's New Balance 624, $75, New Balance
I ended up getting a pair of the New Balance 624 and 990v4 for this fashion challenge.
Women's New Balance 990v4, $175, New Balance
Seeing that my dad and I are a lot alike (personality-wise), I figured I could wear these shoes without a hitch, but to be completely honest — it was harder than I thought.
Day 1
To ease into the trend, I started off with a safe look. A leather jacket, a white T-shirt, and boyfriend jeans are what I would describe to be my uniform. I simply swapped out my white Converse for the New Balances. I didn't think the outfit looked too bad, I just couldn't get past how bouncy these shoes made me feel. I'm also surprised that my low arches couldn't handle them at first — I definitely need to get inserts.
This happened to be a morning after I spent the night at a friend's house and as soon as I revealed the blinding white sneakers from my bag, she shook her head and said, "No."
You win some and you lose some, I suppose.
Day 2
For Day 2, I went with a similar idea and wore an outfit I'd normally wear with a pair of black booties — a chunky knit sweater and black skinny jeans. I couldn't get past the reflective strips or the gray accents on this black pair, but alas, I committed to the experiment.
Simply put, this was probably my least favorite look. If there's one thing I learned about this trend, despite all the extra bulk, they made my already small feet create the illusion that they were disproportionately small. I took these babies out for a spin as I walked to the drugstore. Every time I passed by a store window, I couldn't help but insecurely look and check my outfit out.
Day 3
Knowing that this was a polarizing trend, I took to Instagram to get a poll on what people thought of my outfit for Day 3. The results were surprisingly positive. I even received a message that said, "NORMCORE YAS PLS." I'd say I was doing pretty well.
At this point, the shoes were teaching me how to be a little more creative with what I was wearing for the day. I ended up pulling a blazer from the back of my closet and wearing a vintage printed shirt with it. What resulted was an outfit that looked as though it came from the '80s. While I probably won't pair those two together again, I will say I was pleased with the overall look.
Day 4
The weather in Los Angeles was unconventionally warm, and all I wanted to do was wear a pair of shorts and a T-shirt. I looked like every other person going for a run that day, except for the fact that I wasn't running.
After noticing that all my looks were more or less the same, as well as a little boyish, I became uninspired. I felt so blasé. I wanted to be done with this experiment and started thinking about what these shoes would become afterward. Of course, I had three more days left and shook myself out of this negativity. Could there be an outfit formula that would make these sneakers actually look appealing and — dare I say it — chic?
Day 5
On Day 5, I did a complete 180. With a newfound determination to make these sensible shoes look like Fashion with a capital F, I looked to Instagram to find new inspiration. What I found were looks juxtaposing the shoe's chunkiness with flowing skirts.
Initially I was apprehensive — I thought I might look like a young person with a grandma aesthetic. However, after throwing together my own iteration, I found myself really liking this outfit. I would say I was even proud. This was the first time this week that I actually entertained the idea of these shoes earning a permanent spot in my closet.
Day 6
After the previous day's successful outfit creation, I started to have more fun with it. Knowing that dad shoes are the at the crux of normcore, I knew I couldn't miss the opportunity to put them with an outfit they were born to be paired with — denim on denim.
As this is a particularly simple ensemble, I layered a rhinestone and rainbow choker on top of each other to add a bit of excitement. I would easily wear this outfit with these shoes again.
Day 7
For the last day of the experiment, I knew I wanted to try the look with a mini skirt. Luckily, the weather had been pretty good. I had a few errands to run and while my first instinct was to reach for the white pair of New Balances, I wanted to give the black ones another try to see if I could make them more wearable.
I stuck with an understated camel sweater since the black skirt combined with the black shoes were already enough of a statement for me. I took a trip to the library and once again was more distracted by the general bulkiness of the shoe than anything else.
My Final Verdict
When my friends first learned about this experiment, they expressed how "terribly ugly" my shoes were, but I think I might've changed their minds. After the first few days, my attitude toward wearing dad shoes evolved from subtle resentment when getting dressed each day to genuine excitement. Once I got used to the look, I made sure that I wore the shoes rather than let them wear me.
Finding the right proportions for these outfits was key. I found that I didn't love the look with fitted pants, since the trend made my legs look oddly thin compared to the clunky shoe. I was also surprised to learn how well these shoes (specifically the white pair) looked with most of my wardrobe. As for the black ones, they might become my new hiking shoes.
As challenging as the experiment was, I remain optimistic about the dad shoe trend. At the end of the week, I found myself wanting to create an entire new look for them. They might not be my new go-to shoe, but they'll definitely be in the rotation.