I Wore See-Through Pants Around NYC Like Bella Hadid & Here's What Happened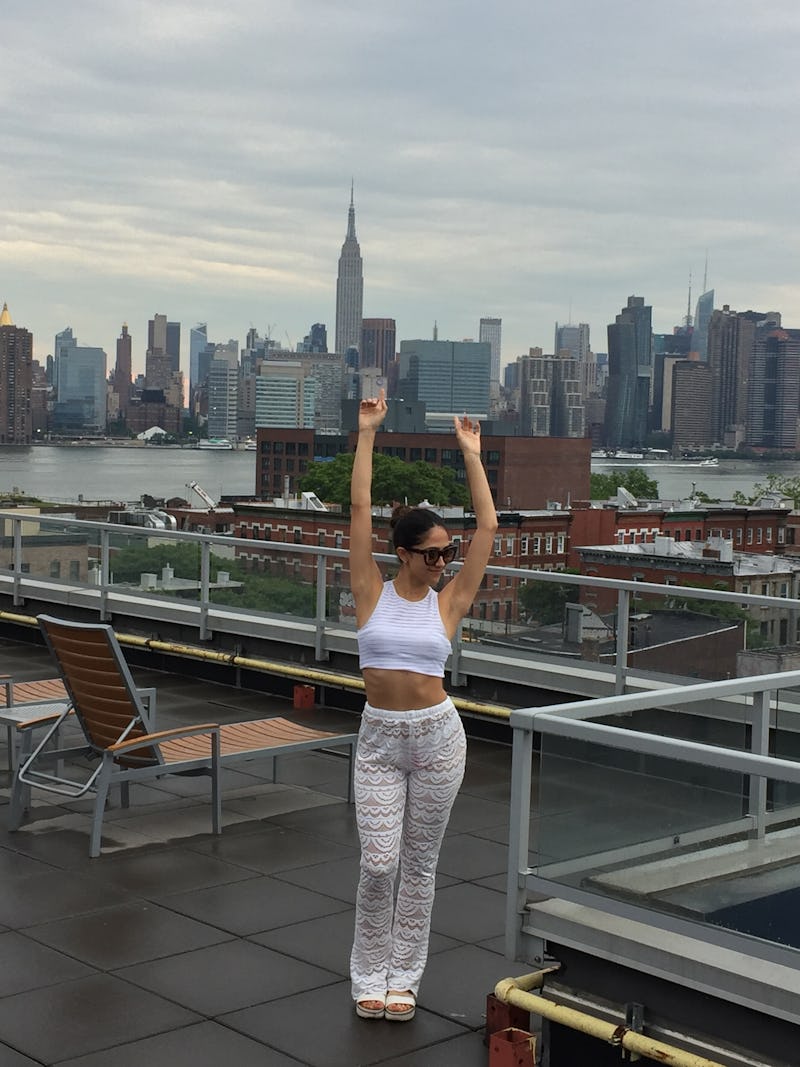 You can always count on Bella Hadid to wear the most outrageous trends and pull them off in the most impeccable and stylish ways. Remember her crystal dress at Cannes? Such goals! I've always wanted the opportunity to pull off a Hadid-inspired look, so when the opportunity arose, I jumped on it. I wore see-through pants like Bella Hadid and here's what happened.
Two weeks ago, Hadid stepped out into the streets of New York City wearing one of her skin-bearing outfits, but as opposed to many of the others she's worn in the past, this one really stood out to me. Instead of the model's more common street style outfits, Hadid headed out in a head-to-toe white crochet look. Because it looked out of context, this ensemble really took me by surprise, and that's how I knew that this was the look of hers that I had to try ASAP!
Hadid's crochet pants are currently available for pre-order, but when I set my mind to doing something, I like to do it as fast as possible. I settled for a pair of look-a-likes instead and set up a date for my style experiment (I'm also a bit of a planner). However, sometimes plans don't go the way they were meant to be and you get stuck with a bit of a plot twist. That's how I ended up wearing transparent crochet pants on a rainy Sunday.
If you didn't catch the youngest Hadid's outfit, take a look below.
She took this beachy outfit to the concrete streets of New York City. OK, so she did end up wearing them to a helicopter that maybe took her to a beach, but the point is that she wore these crochet pants around a city where people wear pants that tend to be, well, true pants.
Wearing them around the apartment wasn't difficult at all. My friends and boyfriend definitely did poke a joke or two, but I was amongst loved ones and the outfit almost felt like gym clothes in a strange way — like leggings with mesh inserts. The hard part came when we had to go outside. People were actually going to see me.
Gulp.
I'm always one to try crazy trends and do things for the sake of a story. Heck, I even went to a naked yoga class once just so I could say I did it, so obviously, I didn't think that wearing see-through crochet pants would be a big deal for me. However, the crazy things I tend to do are typically in context with the situation I find myself in, so I'm not likely to stand out too much. But on the day I decided to wear crochet pants, it was cold and raining.
Gulps again.
However, in the name of journalism, I persisted.
The Experiment
It was cloudy when I decided to head out for a bite to eat and as you can see above, my outfit clearly contrasts the weather. People took notice.
First came the side-eye from the doorman of my building who asked if I had checked the weather app. I answered that in fact I had, to which he raised his eyebrows and chuckled.
I threw on an oversized denim jacket that tactfully covered my derriere. Had it been a warm and sunny day, I would have walked out with my buns out, but alas, it was cold, and so I caved.
As we walked to the restaurant, I observed people walking dressed in rain boots, jackets, long-sleeved shirts, and actual pants. What they observed was a young woman who had clearly missed her flight to Florida.
At the restaurant, my boyfriend encouraged me to take the jacket off and commit to this social experiment I had insisted on doing. If it hadn't been for the blasting A/C, I would have channeled Hadid from dumplings to pad thai. I settled for wearing it over my shoulders and took it off whenever I felt warm enough. I noticed that not too many people were looking my way.
Once the meal was over and we were on our way out, we bumped into my neighbor who actually complimented the pants upon sight.
"What do you really think of them though?" I asked, squinting at him almost daringly.
"I think they're nice."
Hm. Maybe these weren't as out of context as I initially thought. It is New York after all.
The Reactions
That thought lasted for only a brief moment as I turned around to a group of elderly people walking past me. They shot me very indecisive side-eyes, but side-eyes nonetheless. This sentiment echoed as we continued to walk. I received a few more stares around the area and by the bodega man who called them "quite daring" upon being questioned for input.
"Are you embarrassed to be walking around with me while I'm wearing this?" I asked my boyfriend as we made our way back to my apartment. What I had been perceiving as negative, indirect feedback was starting to get to me and I was starting to feel self-conscious.
"No," he answered as he gave my hand a squeeze. "I think it's so cool that you have the guts and confidence to do this."
The Verdict
Maybe walking around in transparent pants isn't for me, but I have a newfound respect for women like Hadid who dare to push the limits of personal style and don't care what other people think of them.
What's important is feeling comfortable in what you're wearing and surrounding yourself with people who make you feel great. As for me, I'll be saving the crochet pants for the beach, but I applaud everyone who has the confidence to wear and stand out in clothes that may not be the norm. You're an inspiration, Bella Hadid!