'GoT's Ser Jorah Mormont Is About To Be ALL OVER Your TV Screens & Here's Why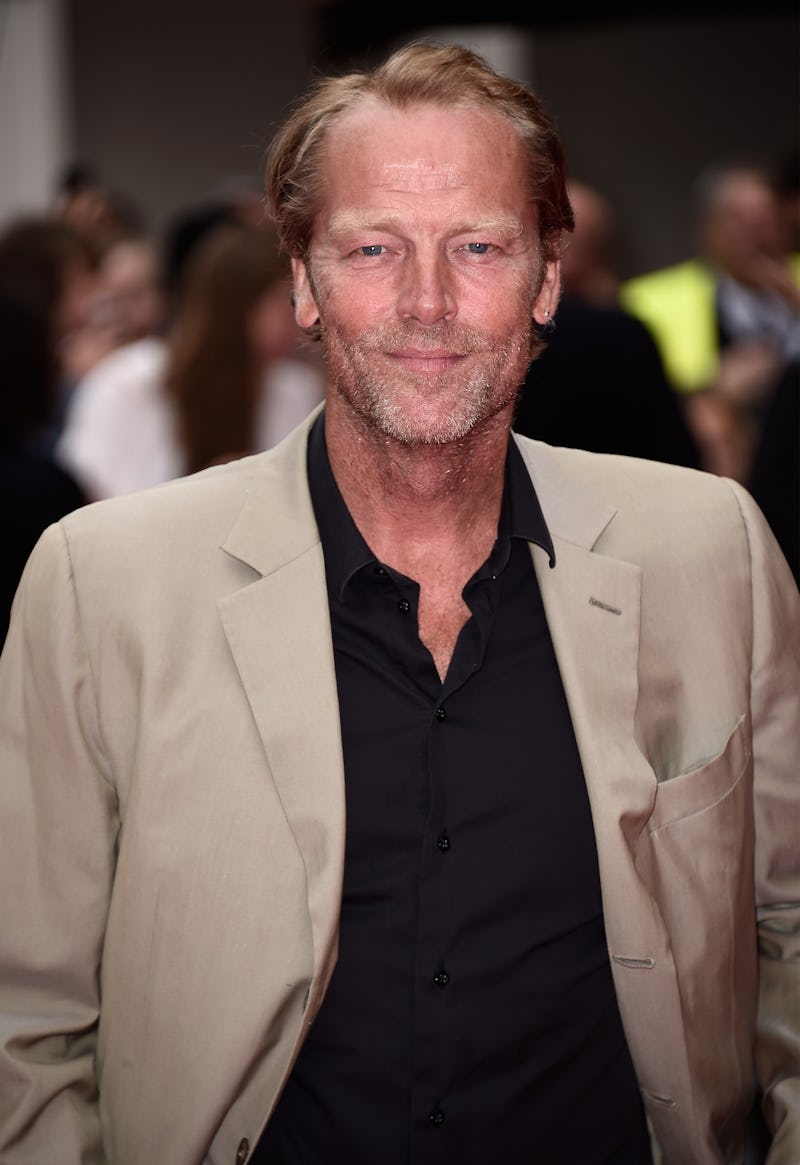 Ian Gavan/Getty Images Entertainment/Getty Images
For the last few weeks I have mourned the loss of an addictive TV show to entertain me of a Tuesday night. There has been nothing to fill the gap the Great British Bake Off left. That is, until now. Mrs Wilson starts on Nov. 27 starring Luther's Ruth Wilson as her own grandmother, Alison Wilson. In a tale of adventure and espionage I wouldn't be surprised if you recognised the actor who plays opposite her. As it turns out Iain Glen, who plays Alec in Mrs Wilson, has been in loads of popular shows. From BBC mini series, movies, and blockbuster TV shows, he has done it all in his extensive career. His CV is seriously impressive.
Mrs Wilson will premiere on BBC One at 9 p.m. on Nov. 27. The period drama will tell the tale of Alison Wilson. Inspired by true events, lead actor Ruth Wilson is actually playing her IRL grandmother, who was a victim of husband Alec's bigamy. While Glen looks incredibly dapper as the Mi6 agent Wilson, fans may be more accustomed to seeing Glen wielding a sword than a suit. Recently, Glen has perhaps most notably starred as Ser Jorah Mormont in the fantasy phenomenon Game of Thrones. Glen is one of the last of the original cast who has seen the GoT series from Season 1 all the way through to Season 8, which premiers in 2019. As anyone who has watched at least one episode of GoT will know, that is no mean feat: characters drop like flies in King's Landing and beyond. Joking with the Express about why he thinks Jorah has survived he said, "I've been sucking up to the writers when I've met them. Those of us who have survived, and Ser Jorah has teetered close to demise for quite a few seasons, do feel very lucky to have staggered to the final act."
Whilst Glen's stint on Game of Thrones would be career defining enough for most actors, he isn't about to be typecast because of his time as Jorah. With a career spanning back to the '80s, Glen has played quite a collection of characters in TV and film over the years. In 2009, he starred in the BBC One five part miniseries of The Diary of Anne Frank, playing Anne's father, Otto. A year later he played Vaughn Edwards in Season 9 of Spooks. He landed the lead role as Jack Taylor in the self-named show, playing a hard as nails ex-cop-turned-private investigator taking on the cases that the police won't tough.
In 2011, Glen swapped his gun but kept his bad boy ways, donning a coat and tails to star as Lady Mary's love interest, Richard Carlisle, in Downton Abbey Season 2. And before Matthew's untimely demise (I am still not over that Christmas Special) Glen thought his character had every chance with the Lady of the house. He told the Daily Mail, "in my opinion, Lady Mary and Sir Richard would have been rather well-suited. They'd have had quite a sparky time together. And being a baddie gives you a little bit more room to play with. But I wanted him to be a genuine threat to Mary's feelings for Matthew. The audience had to believe that the relationship could have had legs."
So which character will Glen be taking on this time? Speaking about taking on the role of Alec Wilson, in a BBC press release Glen said, "he was fundamentally a good soul. Whatever was going on, I think he had a good intent, he had a good heart. What seemed important to me was to play somebody who you couldn't dismiss readily as a cad, as bad. I think he had a really profound belief in his country, a profound belief in the war and what he could do to help the cause. That, I think, was probably his central most motivating quality." This is promising to be seriously, dramatic and I can barely contain my excitement.
With a leading role in relationship drama, Delicious on Sky One right now and Mrs Wilson starting on Nov. 27 Glen is going nowhere. Already demonstrating that he can play a massive range of characters and isn't afraid of taking on a character with deep secrets, I can't wait to see him as Alec Wilson. You can watch Mrs Wilson on BBC One at 9 p.m.