Idris Elba Is Reportedly Being Considered For The Next James Bond & Fans Are Freaking Out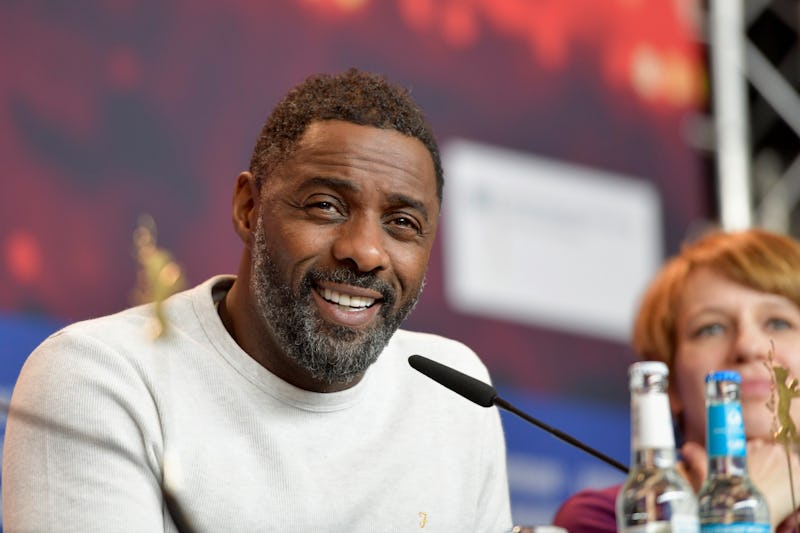 Thomas Lohnes/Getty Images Entertainment/Getty Images
Well, this news has left everyone shaken — and stirred. After years of speculation about who would take over playing 007 when Daniel Craig steps down as the legendary spy, a new report states that the Internet's dream boyfriend, Idris Elba, is the current frontrunner to play James Bond.
According to Esquire, a new report in the British newspaper the Independent indicates that Bond producers are "leaning towards" Elba for the role of the iconic British spy. The paper claims that director Antoine Fuqua spilled the beans when he spoke about a conversation he had with producer Barbara Broccoli. Fuqua said that Broccoli feels it is time for a non-white actor take over the mantle of 007 and that she sees Elba as the frontrunner for the position, the Daily Star reports.
This news comes after years of rumors and fan campaigns to get the Bond producers to consider a non-white actor — and, specifically, the ultra-suave and charming Elba — as a replacement for Craig. And it's important to note that this is all pretty speculative. Nothing has been confirmed, and Craig isn't done playing Bond just yet.
Elba, for his part, has long maintained that he hasn't been approached for the role. In 2017, he told Esquire that "no-one is seriously considering" him to play James Bond, and he even told Variety that a woman take over the role instead of him. (He named Thandie Newton and Naomi Harris as his ideal picks.) However, that hasn't stopped the internet and Elba fans at large from insisting that he is the only person smart, sexy, suave, and talented enough to become the next James Bond.
So, naturally, when the reports surfaced on Friday morning, social media erupted with emotion over the possibility of seeing their long-awaited cinematic dreams come true:
The debate over who should play James Bond after Craig has raged on for years, and it seems as if every British actor of note has thrown their hat in the ring for the role. In addition to Elba, the people's choice, Tom Hiddleston was rumored to be a contender back in 2016, after declaring himself to be "a huge fan" of the series, and David Oyelowo — who voiced James Bond for the audiobook Trigger Mortis — was reportedly considered as a possible option as well. Most recently, Henry Cavill declared his interest in playing the legendary role, and considering he was once on the shortlist to play Bond, it doesn't seem to far out of the realm of possibility for him to take over after Craig.
With all of those possibilities for a new 007 available to us, it seems that some fans consider Elba to be the safest choice for the newest iteration of James Bond. In fact, some feel, like Elba himself, that it's time for a woman to take over the role:
As for whether or not Elba will take the role of Bond if it is, indeed, offered to him, well, that's still up in the air. Craig has stated plans to step down from the franchise many times in the past, only to change his mind and agree to make one last Bond film. There's no way to know for sure that the upcoming movie, the 25th film in the Bond franchise truly will be Craig's last. At least fans now know that Elba is being seriously considered to take over if and when Craig finally decides to step away from the role.
After all, in the words of Mindy Kaling, "they gotta pick a Bond already or like stop talking about it," since fans have been on a roller coaster of casting news for the past few years. Here's hoping that final decision does end up being the suavest man in Hollywood.