Here's What You Can Do Now If Brett Kavanaugh's Confirmation Made You Furious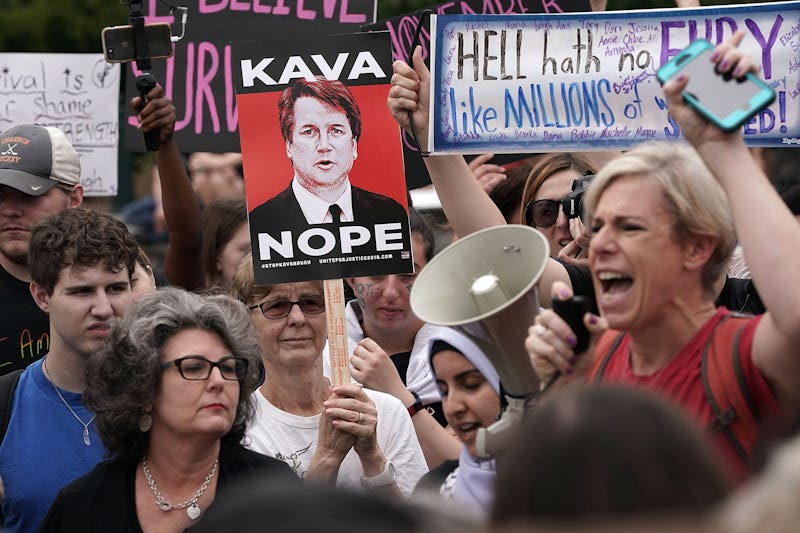 Alex Wong/Getty Images News/Getty Images
After weeks of hearings and controversy, the Senate voted on Saturday to confirm Brett Kavanaugh, making him the second justice appointed to the Supreme Court by Donald Trump. Kavanaugh was confirmed by a margin of 50 to 48, with one absence and two senators voting against party lines. In response to his confirmation, protests around the country continued to escalate, with progressives making it clear that they would not stop fighting for justice. For those who are angry about Kavanaugh's confirmation, there are several ways to make a concrete difference.
After Trump nominated Kavanaugh, many on the left warned that his appointment to the Supreme Court would endanger reproductive health care access, LGBTQ rights, immigration reform, and other progressive efforts. Moreover, in the weeks before his confirmation, sexual assault survivors and their allies called on their elected officials to oppose Kavanaugh's confirmation, in response to sexual misconduct allegations made against him by three different women. Kavanaugh denied all of these allegations, but the testimony provided by Christine Blasey Ford compelled other survivors to tell their own stories and denounce Kavanaugh.
There are several ways to continue fighting for critical rights in light of Kavanaugh's confirmation. For example, there are numerous organizations fighting for survivors and for reproductive justice that could use support, while different efforts to hold elected officials accountable continue to be crucial.