These Photos From Outside The Kavanaugh Confirmation Vote Show The Full Force Of #MeToo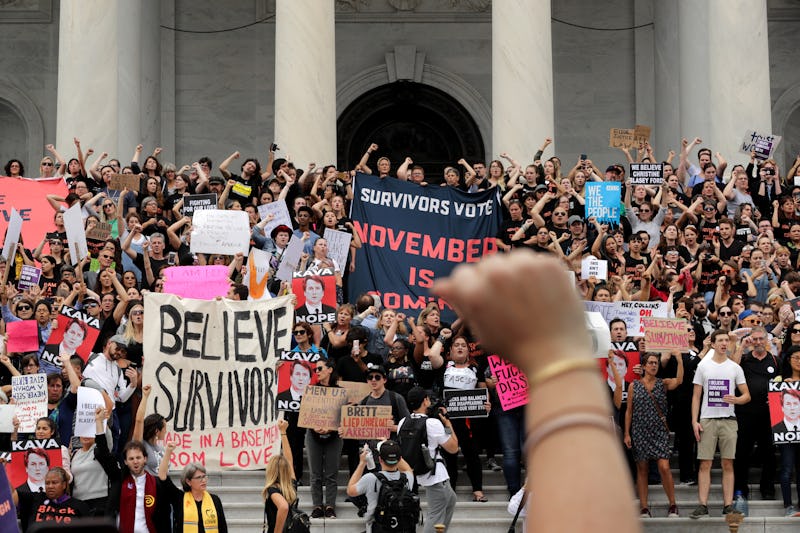 Chip Somodevilla/Getty Images News/Getty Images
After weeks of intense debate, the Senate on Saturday voted to confirm Brett Kavanaugh to the Supreme Court. Kavanaugh was confirmed with a 50-48 vote, with one absence and two senators voting against party lines. However, Kavanaugh's confirmation was met with large protests on Capitol Hill, with sexual assault survivors and their allies condemning the new Justice.
Kavanaugh has faced resistance ever since Donald Trump nominated him back in July; activists across the country believed he would pose a threat to reproductive health care access, same-sex marriage, and immigration reform. Protests further intensified after three women came forward to make allegations of sexual misconduct against him, all of which Kavanaugh denied.
Most Democrats strongly opposed Kavanaugh's nomination and confirmation, with the exception of West Virginia Sen. Joe Manchin — a Democrat running for reelection in a state that Trump won back in 2016. Democrats accused their Republican colleagues of rushing Kavanaugh's confirmation process, and argued that the FBI investigation into Kavanaugh was a "sham."
But it wasn't just Democrats who fought Kavanaugh's confirmation. Survivors, activists, and progressive groups across the country denounced Kavanaugh, and photos from Saturday's protests in D.C. made it clear that the #MeToo movement will continue to hold those in power accountable. Indeed, Christine Blasey Ford's testimony against Kavanaugh prompted numerous survivors to come forward with their own stories — and to continue fighting.
Protesters gathered outside Capitol Hill long before the vote even began, carrying signs denouncing Kavanaugh, Trump, and the senators that supported the confirmation.
According to CNN, protesters started assembling outside the Supreme Court and on Capitol Hill as early as 9 a.m. ET. More continued to join throughout the day as the vote drew closer.
Protesters outside the Capitol were initially contained behind barriers, but according to NPR's Scott Detrow, they eventually broke through to the main steps of the building.
As the senators cast their votes, protests also erupted in the gallery, interrupting the vote on more than one occasion.
"Where is my representation?" yelled one protester from the gallery. "I do not consent!"
Once it was announced that Kavanaugh had been confirmed to the Supreme Court, the crowd outside the Capitol started chanting "shame!"
According to NBC News, Capitol Police arrested 164 protesters on Saturday — both outside the Capitol and inside the Senate building.
Protests continued to escalate after senators voted to confirm Kavanaugh.
In fact, Mike Pence left the Senate amid protests following the confirmation vote. He reportedly considered exiting in a different direction, but ultimately chose to walk past and wave to demonstrators.
But Kavanaugh's confirmation did not make protesters any less resilient. They continued to gather outside the Capitol, calling for accountability and urging people to vote.
One common slogan in the crowd of protesters was "November is coming," alluding to the upcoming midterm elections.
Although Kavanaugh was ultimately confirmed to the Supreme Court, survivors and their allies have made it clear — with protests both in D.C. and across the country — that they will not stop fighting.
If you or someone you know has been sexually assaulted, call the National Sexual Assault Telephone Hotline at 800-656-HOPE (4673) or visit online.rainn.org.
Read More About Brett Kavanaugh's Confirmation
The Reason Supreme Court Justices Serve For Life Is Right In The Constitution
This Is How Your Senator Voted On Brett Kavanaugh
SCOTUS Justices Can Be Impeached, But That Doesn't Mean It'll Happen To Kavanaugh
Opinion: "Believe Women" Means Nothing If You're Not Doing Anything About It