If You And Your Partner Have These 7 Habits Before Bed, They're "The One"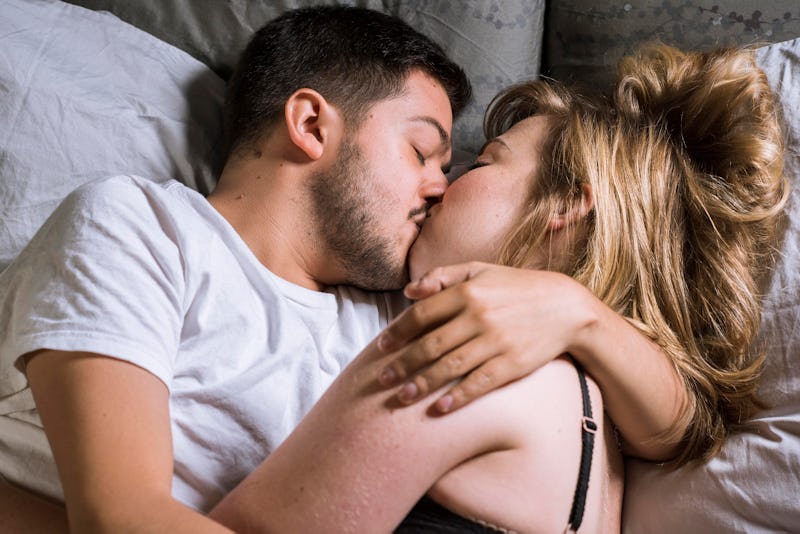 BDG Media, Inc.
If you want to know whether or not your partner is "The One," your bedtime habits as a couple can clue you in. According to experts, successful long-term couples have similar habits before going to bed. "When you are going to bed, you are in your most vulnerable space," Rori Sassoon, Relationship Expert and CEO of VIP elite matchmaking service Platinum Poire, tells Bustle. Although you may not realize it, the simple and sweet things you do with your partner before bed can help strengthen your relationship, whether you live together, or are just spending the night together.
Life can get super demanding sometimes. We all have commitments to work, family, friends, our health, and our relationship. Sometimes, those commitments outside of your relationship can have a way of putting your relationship on the backburner. "This can lead to couples going to bed at different times," relationship therapist, Tavi Hancock Hawn, LCSW-C, tells Bustle. "Before you know it, days have gone by without a meaningful conversation, without real connection and yes, without sex. This can take a real toll on a relationship."
That's why it's important for couples to intentionally build new bedtime routines and rituals, especially if they live together and are often neglecting each other before bed. "When a couple spends the time right before bed just catching up, cuddling or touching in some way, it can make a huge difference," Hawn says. "This ends the day with emotional, spiritual, and maybe even some physical connection. I know that's how I want to enter dreamland at night."
How can you tell if your bedtime habits are strengthening your relationship? According to experts, if you and your partner do the following things before bed, they just might be "The One."