'4:44' Is About So Much More Than JAY-Z & Beyoncé's Relationship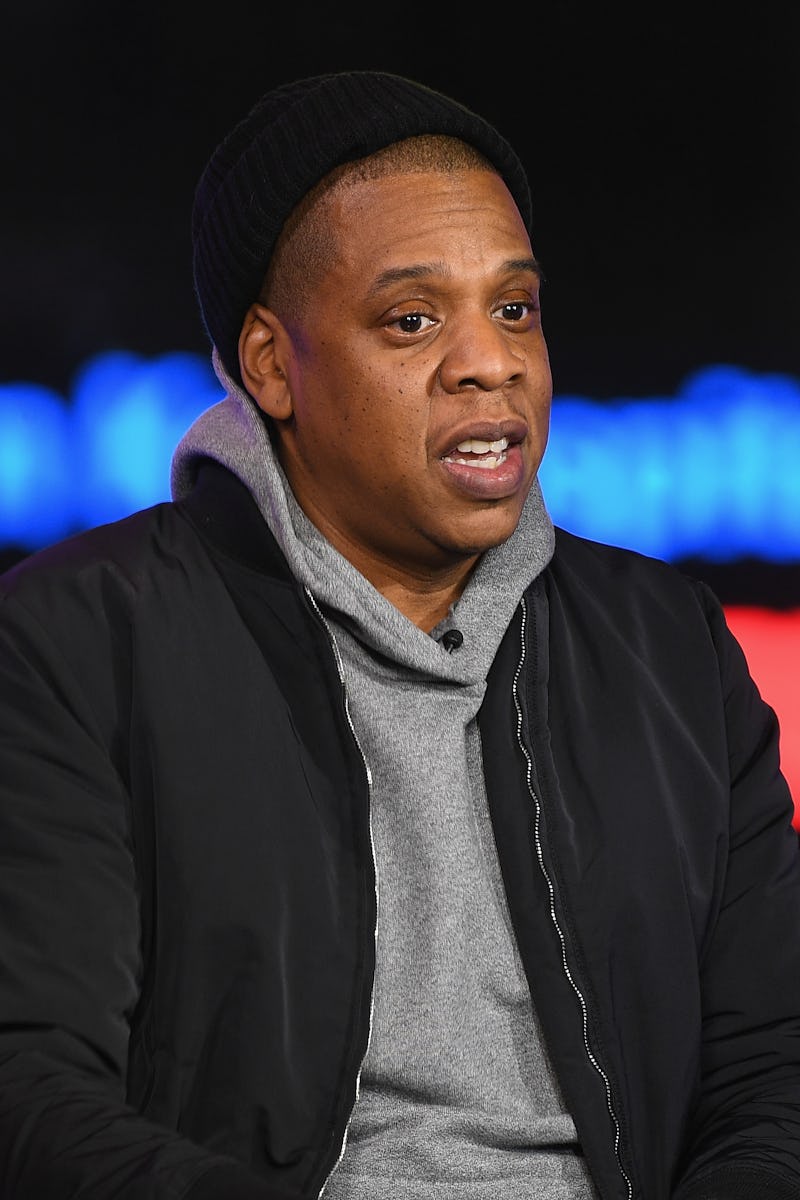 Dave Kotinsky/Getty Images Entertainment/Getty Images
The Carters are currently breaking the internet — again. Instead of another pregnancy photoshoot or world tour announcement, fans have been blessed with new and revealing music about the power couple. JAY-Z's 13th album 4:44 is basically a tell-all about his family life, his new understanding of success, and his thoughts on the current state of rap. However, many people seem to be more transfixed on Jay seemingly admitting to cheating on Beyoncé and rejecting "Becky with the good hair," than on the myriad references he makes about supporting the black community and overcoming his own ego to become a better father, husband, son, and friend.
Of course, it's fun to gossip about celebrity couples and imagine goofy conspiracy theories about what caused them to separate or stay together. But, what pop culture lovers tend to forget is that these larger than life personalities are actually real people with real lives. They make mistakes just like we do. And, just like us, they have more going on in their lives than their relationships.
JAY-Z took a four-year hiatus from rap in which he spent time raising his daughter, Blue Ivy, endured public scrutiny for getting into a scuffle with Beyoncé's sister Solange, saw a change in his relationship with friend Kanye West, went through growing pains running TIDAL, and watched as other up-and-coming rappers came for his throne. In that time, as he shares on the opening track to 4:44, "Kill JAY Z," he had to "let go [his] ego."
The new and improved Shawn Carter who has emerged is more refined, more experienced, and more knowledgeable than ever about not only the rap game but also how the game of life should be played. As a "business, man," JAY-Z reflects on poor investments he made in his past life as a drug dealer on the track, "The Story of O.J." "Financial freedom my only hope/ F*ck livin' rich and dyin' broke."
Instead of blowing money frivolously or flaunting riches, JAY-Z says that building credit will lead black people toward financial stability. He specifically raps to light, dark, faux, real, rich, and poor blacks on the song's chorus, while also using slavery terms to call out "house blacks," who are sometimes distanced from the black community due to their lighter complexion and "field blacks," who are often discounted due to their darker skin tone. All shades and socio-economic statuses are still black and deserve their piece of the American Dream. Now, isn't that is far more aspirational and provocative than wondering how long JAY-Z's been in the dog house?
Another fascinating non-Beyoncé-related fact that JAY-Z shares is that his mother, Gloria, came out as a lesbian. On the track "Smile," Carter cleverly rhymes that she "had to pretend so long that she's a thespian." Given the long, sordid history of homophobia in rap music, hearing that JAY-Z, one the biggest names in rap music, doesn't care if his own mother is gay or straight but instead admits, "I just wanna see you smile through all the hate" is nothing short of amazing. More over, on "Smile" JAY-Z reveals that he sees a therapist. Again, Carter breaks another stereotype about the black community not seeking treatment for mental health with his lyrical wizardry.
The Brooklyn rapper also doesn't miss a beat when it comes to speaking up about injustice. On the same song, he raps about the disparity between black and white marijuana dealers. "Take a young n*ggas freedom over some dirt/Yet it's legal in Colorado/ Yeah, we deny/ black entrepreneurs, free enterprise." In four bars, JAY-Z critiques the criminal justice system for not only targeting black people and charging them for minor drug possession but also calling out how white-owned weed dispensaries exist in the state of Colorado. Despite reaching the pinnacle of success, having the "hottest chick in the game wearing my chain," and becoming a father of three, JAY-Z still has time to reflect on the state of black people in America and offer advice on how to persevere as he did.
If you're still debating whether or not "Becky" is a concept or a real woman or are waiting for Solange and JAY-Z to give a full transcript of their heated elevator exchange, then you've missed the entire point of 4:44. JAY-Z's newest album is more than a quasi-response to Lemonade. It is a compilation of reflections from a man who knows he has left a legacy that is greater than himself. His devotion to his family, his loyalty to and hope for the black community, his personal growth as a man, and professional development as a lyricist should be given more attention than his marriage.