IHOP Just Launched A Massive Grinch-Inspired Menu That Will Make '90s Kids Drool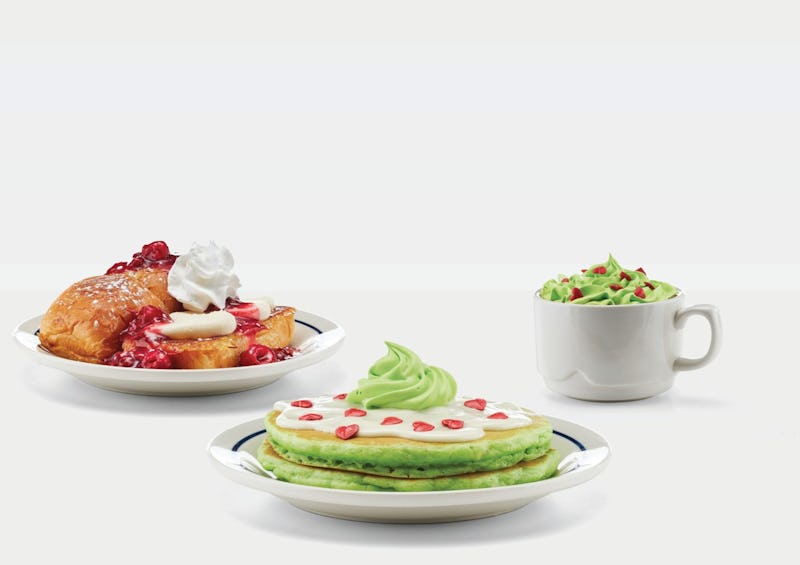 IHOP
Delicious news out of the restaurant formerly known as IHOb; in celebration of the movie's upcoming release, IHOP launched a Grinch-inspired holiday menu, just in time for the release of The Grinch animated movie set to hit theaters on Nov. 9. The menu features a whole slew of themed items that would make Sam-I-Am's mouth water: green pancakes, green hot cocoa, enough green things galore that it honestly puts the Nightmare Burger at Burger King to shame.
The themed menu features six different options, all of which will be available at participating IHOP locations until Dec. 31. The first is Minty Who Hot Chocolate, which, per the press release, is "hot chocolate with mint syrup topped with creamy green whipped topping and red candy hearts." Basically, the Peppermint Mocha at Starbucks better watch its back, cuz a greener, meaner version just hit the scene.
The second and third items will definitely appeal to any Whos with a sweet tooth; first is the Grinch's Green Pancakes, which are "two Grinch green buttermilk pancakes topped with sweet cream cheese icing, red candy hearts, crowned with creamy, green whipped topping." If you have room to spare, you can also order and/or peer pressure your fellow diners into ordering the Whoville Holiday Cheesecake French Toast, which is "two King's Hawaiian rolls, French-toasted and layered with creamy cheesecake filling, raspberry topping and creamy whipped topping."
If the green sounds unappealing, then please behold this picture that makes it look a little TOO appealing, in my honest opinion. My blood might be running green for the rest of the holiday season.
On the less-sweet end of the spectrum, there's also a Who-Roast Beast Omelette, comprised of "shredded beef, Monterey Jack and Cheddar cheeses, sautéed jalapeños, onions and golden hash browns topped with tangy BBQ sauce, more shredded cheese and a Serrano pepper," and served with three buttermilk pancakes. That is, unless a certain green outcast descends from his lair and steals it off your plate to sabotage your holiday, so stay vigilant, y'all.
For the littlest Whos, IHOP has two kid's menu offerings as well: a Young Grinch Minty Who Hot Chocolate that comes in a smaller size, and the Mt. Crumpet Kids Combo, which includes "one Grinch Green buttermilk pancake topped with sweet cream cheese icing, red candy hearts and green whipped topping," as well as a scrambled egg, and either a slice of bacon or a pork sausage link.
Plus, bonus: with the purchase of an adult entree (Who-Roast Beast Omelette, anyone?), kiddos under 12 eat free from 4 p.m. to 10 p.m. And to think nobody even had to rob Whoville to make it happen!
The new version of The Grinch hit most of our eyeballs when the new animated version of the iconic green grouch made an entrance during the Olympics Opening Ceremony back in February; and although it may be hard to believe the year has gone by so fast, the movie's release date is a mere two weeks away. Although it will be hard for '90s kids to make room for a new iteration of the Grinch in their hearts, perhaps, with IHOP's help, we can make some room for him in our stomachs.