Why Ilana Glazer Decided To Direct A 'Broad City' Episode Herself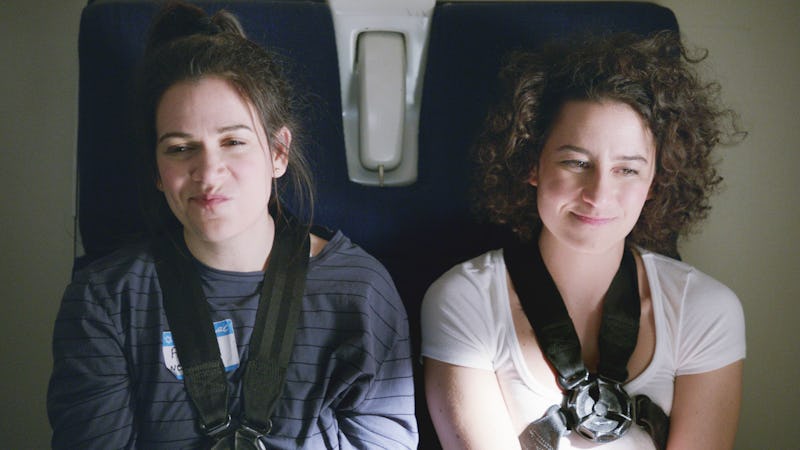 Comedy Central
There will be a few differences when Broad City Season 4 premieres on August 23. Throughout Season 4, for example, the show will bleep President Trump's name. On top of that, Broad City's creators and stars Ilana Glazer and Abbi Jacobson will be directing a couple of episodes, a first for the two women. When she stopped by The Late Show With Stephen Colbert, Glazer explained that the decision to start directing was actually a pretty simple one. "It was actually just more efficient for us to direct," she explained. "All these conversations end up with us anyone. so it eliminated many email chains you know we would be CC'd on anyway." She may have been joking, but the idea that directing allowed the Broad City stars to cut out the middle man is very much in line with a show that has always made it clear these broads are doin' it for themselves.
This decision may have been more efficient — Glazer pointed out deciding to direct "really condensed the work" — but it's also empowering for Glazer, Jacobson, and all the women who look up to them. It's another aspect of the show that they can have control over. As the stars and creators, they know what they want to see on this show, so why wouldn't they just get behind the camera and shoot it themselves?
The answer to that question, honestly, may have been because it wasn't something they had done before and therefore didn't feel qualified. It's a Catch-22 that affects so many women who have the drive and vision to direct, but don't have the experience, so they just don't get the chance to try. After three seasons, Glazer and Jacobson took that chance without asking anyone for permission. The fact that they've worked with women like Amy Poehler, who helmed the Season 1 finale, and Lucia Aniello, a writer and director on Broad City who just directed Rough Night starring Glazer and Scarlett Johansson, probably didn't hurt.
According to The Daily Beast, Glazer and Jacobson each directed two episodes in the new season. One of Jacobson's episodes premiered at Clusterfest, a comedy and music festival in San Francisco, and, according to website, it's "one of the most overtly political of the season" and one of the most sex positive. (It's all about Ilana figuring out how to pleasure herself during this administration.)
That doesn't mean directing for the first time was easy. Glazer admitted to Colbert that the experience made "gray hair grow out of my body." But that's a small price to pay for having full control over your own project. And, honestly, fans should get excited to see what these two do not only in front of the camera this season, but behind it, too.