I'm Poly, And Here's Why I'm Deleting My Dating Apps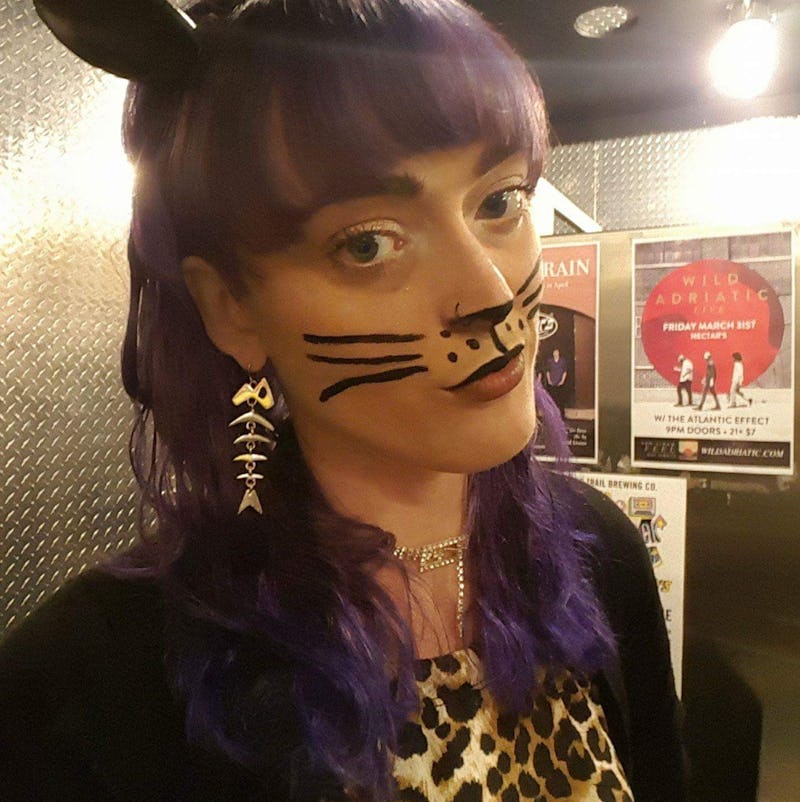 Author's own
Whether dating apps are causing a "dating apocalypse" or are merely the easiest way to get a date, there's no denying these tools have been total gamechangers in the dating scene within the last few years. And even though dating apps are most popular among Millennials, according to a recent Bustle survey with dating app Happn of over 1,000 dating app users, 78 percent of women and 85 percent of men still want to meet people IRL. That's why for the second year in a row, Bustle is deeming April, "App-less April" and encouraging our staff and readers to delete their dating apps for 30 days and meet people the old-fashioned way: offline. With participants tracking their progress and tricks and tips from dating experts, we'll be helping you feel empowered to meet people IRL all month long.
I've been on OkCupid for over 10 years. It's a little ridiculous to consider. When I first started using OKC, I met a lot of great people, some of whom I may not have met otherwise and am still friends (and occasional lovers) with today. For the last few years, though, I've been pretty bored on dating sites and have recently been wondering: why even am I? I'm solo poly, which means that I have deeply committed, intimate, and lasting relationships with more than one person but choose to live alone, maintain my own finances, and generally don't entwine my life with my partners in all the ways we normally expect in serious relationships. Although I'm pretty happy right now and not currently searching for a new partner, I never reject the idea, so it never occurred to me to close my accounts.
Then I realized: aside from the below-mentioned FOMO, I'm mostly on dating sites to mock the sh*tty messages I get with my friends (bonding experience!), or take out my rage in my responses to prospective suitors' asshattery (seriously, it's therapeutic). Which, let's be honest, is probably not a great reason to spend hours a week swiping on my phone.
So here's why I'm deleting my dating apps for App-less April, Bustle's 30-day challenge to delete your dating apps:
Like most other things that I do on the internet or my phone, dating apps are a total time suck. Bustle and Happn's dating survey of over 1,000 dating app users in their 20s and 30s found that most people use their dating apps daily — and check them all throughout the day. Swiping left or answering questions for my profile feels productive, despite being easy and brainless. It's an illusion, though — it's just a time-filler.
Related to the time issue: I am polysaturated and just plain burning the candle from both ends. The *last* thing I need is another partner, and my "I just wanna be friends" line is not getting me a lot of messages (nor do I really have a lot of room for more friends in my life right now).
Most of my relationships develop out of years of friendship, participating in the same activity or group, or running in the same social circles. Online dating feels forced, rather than natural. People want to know right away if you're into them, and especially as a demisexual, it takes me a while to figure that out.
Maybe if you live in NYC or San Fran, one of those poly-focused dating apps yields reasonable results. Me? I live in Burlington, VT. There's like three people on there. And the regular apps don't really cut it for ethically non-mono folk.
I know, I know. There are plenty of adorable stories of people getting married after meeting on Tinder. But let's be honest: plenty of people on dating apps are looking for hookups. Especially from someone they think is "easy" because they date multiple people. Cue eye roll here.
The biggest reasons I've stuck with the dating apps all these years is fear that I'd miss out on a great connection. Yeah, if I'm not on OKC, I might miss out on that amazing match who can complete my every sentence (or whatever), but no matter what I choose to spend my time on, the things I'm not doing are things I will "miss out on."
Clarissa Silva, a behavioral scientist and author of the relationship blog, You're Just A Dumbass, surveyed 500 dating app users from 25 to 40 and found that FOMO is quite common among singles. "60 percent of Millennials reported feeling FOMO as one of the primary reasons they were overactive online daters," she tells Bustle.
So these days, I'm more excited to focus on the things that I really get joy out of and the connections those bring, rather than the dozens of vaguely-entertaining-but-ultimately-not-worth-my-time activities that might, maybe, yield an interesting friend or more.
At the very least, I am DEF not gonna miss the dick pics.
Join the campaign and share your stories with #ApplessApril and ​by ​tagging @Bustle.