Here Are The Most Important Dates To Know For The 2020 Election Cycle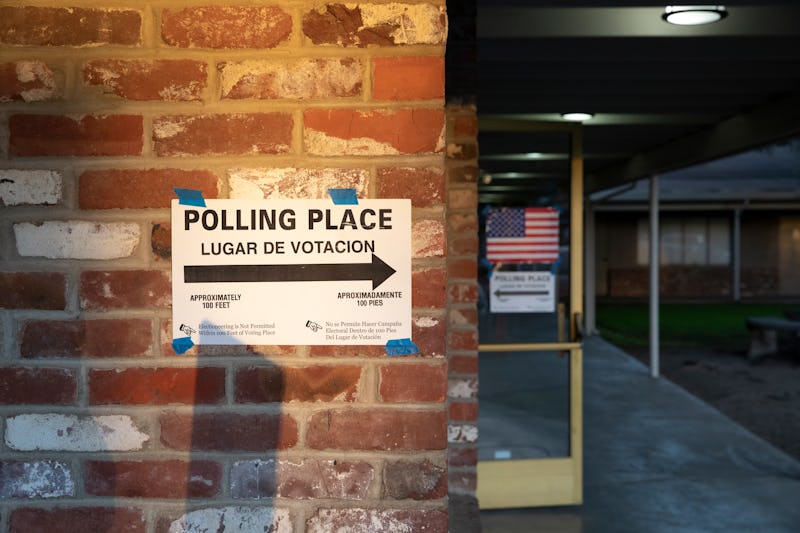 Alex Edelman/Getty Images News/Getty Images
We made it through the midterms. Now, we must set our eyes on the next presidential cycle (and Senate races, and congressional races). As we head into 2019, here are important dates to know for the 2020 election cycle. Let's start with arguably the most crucial date: The presidential election is scheduled for November 3, 2020. But there is so much before that.
There isn't a specific deadline for when candidates must announce their presidential campaigns — President Trump filed his re-election campaign on the day he was inaugurated. But a campaign has to have a certain amount of name recognition and get-out-the-vote effort in time for the caucuses and primaries. That's how you win the party nomination. First up is Iowa, which hosts the first Democratic caucus of 2020 on Feb. 3, 2020, according to the Des Moines Register.
After that, throughout the month of February, Democratic primaries will take place in New Hampshire, Nevada, and South Carolina. Then, it's Super Tuesday on March 3. This is a rally day where at least nine states will hold presidential primaries. For the first time, California will be included in Super Tuesday, according to NBC News. At least 10 other states will hold presidential primary contests throughout March.
According to McClatchy, April 15 is the first big financial deadline of 2019. It's when candidates must submit the first quarter's campaign finance reports to the Federal Election Commission.
Politico reported it's possible the first Democratic presidential debates could come in the spring or summer. In 2016, the Democratic debates started in October 2015. The final Democratic primary will be in Washington, D.C. on June 16, according to McClatchy.
Then comes the Democratic National convention, which is scheduled July 13-16, 2020. The Democratic National Committee will decide in early 2019 where the national convention will be held. At the time of publication, the potential location for the Democratic national convention was narrowed down to three cities — Milwaukee, Houston, and Miami — each of which have been visited or will be visited by DNC chairman Tom Perez in December.
Though the Republican National Convention will likely be more predictable (Trump is likely to be the party's nominee again), the convention isn't scheduled until August 24-27 in Charlotte, North Carolina, according to McClatchy.
When it comes to voting, t's important to keep an eye out on your state's registration deadlines. Vote.org keeps a rolling deadline list, and some are earlier than others depending on the state's voting laws. For example, at the time of publication, 15 states and Washington, D.C. had same-day voter registration, while reliably blue-state New York was pushing to update its voting laws, including adding an early voting period as well as expanding absentee voting and the dates for declaring your affiliation for primary voting.
Because Julián Castro, former Housing and Urban Development secretary, has already formed an exploratory committee, and Cory Booker said he'll be considering a run over the holiday, among other potential candidates, it's unlikely that this campaign season will be shorter than 2016. Buckle up, y'all.