In The Bustle Booth With Beth Dover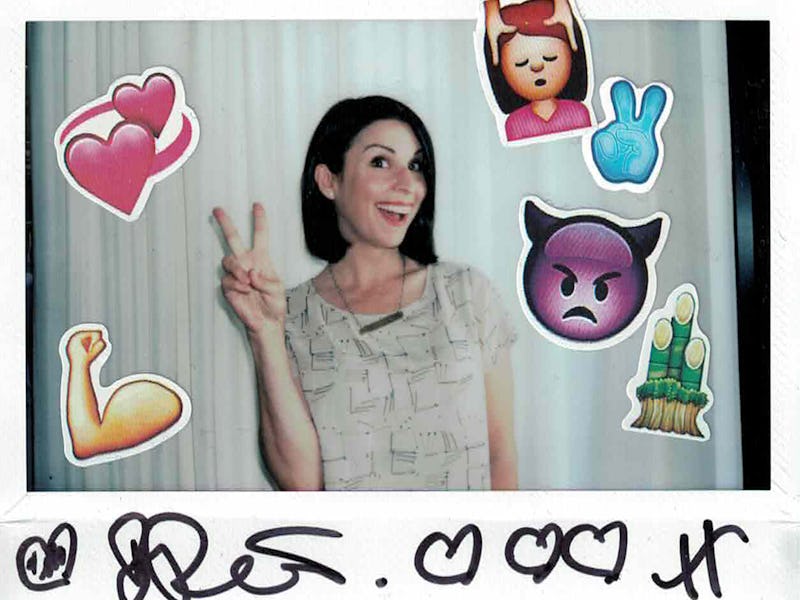 When celebrities come into Bustle HQ in New York, whether it's for a photoshoot, videoshoot, or a Facebook Live, we want to give them the chance to leave their mark. Literally. So we hand them a pen, a piece of paper, a few questions, and ask them to get creative. The rest is up to them. This time, actor Beth Dover is leaving her mark in the Bustle Booth.
If you love quirky comedy, then it's likely you love Beth Dover, too. The actor starred in the hilarious Bachelor spoof series Burning Love, which is a must-watch even if you aren't a Bach fan. She's also part of the great ensemble cast of Children's Hospital, another amazing parody show about hospital dramas, starring just about all of your favorite comedians like Rob Corddry, Megan Mullally, and naturally, Henry Winkler. And, special fact, she's married to Joe Lo Truglio, which is fantastic, because the best kind of celebrity couple is a celebrity comedian couple.
But Dover didn't stop by the Bustle offices to talk comedy; she came by to chat about one of her biggest roles yet: playing Linda Ferguson on Orange Is The New Black. The fifth season premieres on June 9, and Dover will return to her role as the cold, heartless MCC director of purchasing, Linda Ferguson, who will do anything to save a buck and is sleeping with Caputo.
IRL, Dover and her character at Litchfield Prison are absolutely nothing alike — unless Linda also loves Dirty Dancing.