This Is What An All-Female Congressional Primary Looks Like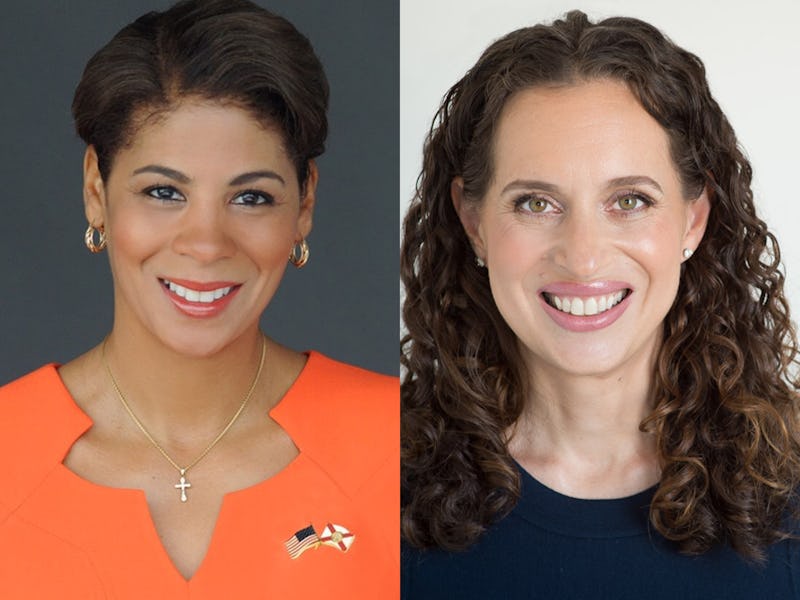 Courtesy of Pam Keith; Courtesy of Lauren Baer
You've probably heard the good news: A historic number of women are running for office this year. In fact, so many women have entered the political arena that we're seeing races like an all-female congressional primary in a Florida district considered crucial to Democrats' efforts to flip the U.S. House. But as finding women to run for office becomes less of a struggle, those that are running must then stand out from the crowd and prove they'll be able to turn out the most votes. In Florida's 18th Congressional District, both a first-time candidate who's racking up endorsements as well as an underdog who lost a 2016 Senate bid are seeking the Democratic nomination.
"I'm glad that it is an all-female primary," Pam Keith, a 49-year-old former U.S. Navy officer who now works as an attorney, tells Bustle. "I'm glad that the Florida voters are going to get an opportunity to vote for a woman for Congress, and I fully believe they're going to choose one. I happen to believe it's going to be me."
Lauren Baer, 36, is also an attorney and formerly served as a senior advisor to Secretaries of State Hillary Clinton and John Kerry, as well as former U.S. Ambassador to the United Nations Samantha Power. She and Keith are two of more than 300 women vying for a seat in the U.S. House in 2018 — a record number that could significantly shrink the wide gender gap in Congress. Just last month, America saw a special election in Arizona between two women competing to replace former Rep. Trent Franks, who resigned from Congress amid sexual harassment allegations in December.
On the surface, Keith and Baer have a lot in common. They both built careers around serving their country and practicing law; they both want Congress to take action to close the gender wage gap; and they both want military-grade assault weapons off America's streets. And they'd each boost an underrepresented group if elected. Baer would become the third openly LGBTQ woman ever elected to Congress, while Keith would join the ranks of other women of color on Capitol Hill. Currently, 38 of the 106 women serving in Congress are women of color, which means they make up just 7 percent of Congress as a whole.
What the primary really comes down to is which candidate can beat the Republican incumbent in November. The seat was held by a Democrat before Rep. Brian Mast took office last January, making Florida's 18th district a real battleground. But Mast, who's raised nearly $2 million more than either of his Democratic challengers, has signaled that he's ready to fight back.
As an Army veteran who lost both his legs while serving in Afghanistan in 2010, Mast's 2016 campaign centered around national security and assisting veterans. He's voted in line with President Trump 93 percent of the time, including voting for the GOP's successful tax reform and a proposed 20-week abortion ban. So far, Baer's strategy has been to focus squarely on defeating him.
"I think it is incredible that so many women are stepping up and running for office around the country. We will all benefit from the diversity that brings," Baer tells Bustle. "Right now, as the only Democrat whose name is on the ballot, I am squarely focused on defeating Brian Mast and bringing the kind of change in leadership that our community wants and needs."
Baer's campaign announced in April that she had collected enough petition signatures from district voters to qualify for the August primary. Keith, who didn't gather enough signatures, says she'll pay the required fee to put her name on the ballot.
Keith is positioning herself as the grassroots candidate up against someone with more establishment support, and she's at a financial disadvantage. Baer pledged not to accept donations from corporate PACs, but got a boost thanks to donations from 15 congressional Democrats and House Speaker Nancy Pelosi's PAC, according to TCPalm.com. The Baer campaign announced earlier this month that it had raised more than $450,000 in the first three months of 2018, surpassing $1 million raised overall. This week, she was also endorsed by Murphy, the former congressman who beat Keith for the Democratic Senate nomination in 2016.
Keith's campaign is trailing behind in terms of fundraising, telling Bustle it has raised $395,000 overall. "My party has a distinct appetite for wealthy candidates who can bring a lot of money to the table," Keith tells Bustle. "It's their favorite flavor."
Baer doesn't see herself as part of the establishment, but rather as a qualified candidate who has experience in national and international policy. Baer tells Bustle in a statement: "Our campaign has received incredible local and national support because I'm a hometown girl with the grassroots backing it takes to win this race and the experience it takes to govern." She adds: "I'm proud that my campaign has been fueled by thousands of small dollar donors."
As Baer and Keith distance themselves from one another and demonstrate to voters why they should be the one to take on Mast, the fact remains that no matter what happens in the August Democratic primary, a woman will represent the Democratic Party on the midterm ballot.
"I've been asked: Can you win because you're a woman? Can you win when you're a mother? Can you win because you're gay?" Baer tells Bustle. "And the answer that I give is always 'yes.'"