Instagram Is Kicking Off Pride Month With Brand New Rainbow Stickers & Hashtags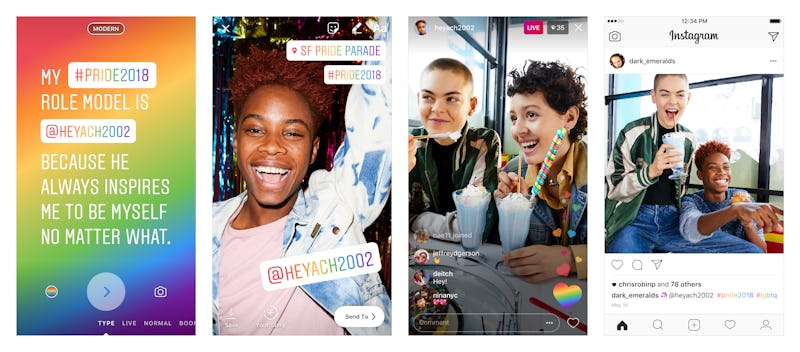 Courtesy of Instagram
If you have an Instagram account, chances are things looked a little different when you logged in this morning. June is officially Pride Month, and like many other sites, Instagram has joined in the celebration of LGBTQ folks with some cosmetic changes. Starting this morning, you may notice rainbow hashtags, rainbow stickers, and a rainbow background text option in Stories, because why not celebrate Pride with all-rainbow everything?
But Instagram's Pride celebration is more than cosmetic changes — it's meant to help members of the LGBTQ community connect with their activist role models. Instagram got the ball rolling by surprising five young LGBTQ community leaders with the chance to meet their activist role models for "dynamic and raw conversations about their lives, their work, and how they inspire people to be open and connect with others," an Instagram representative tells Bustle.
"On Instagram, we've seen young leaders step up like never before, raising their voices and organizing around the initiatives and causes that matter most to them," the representative added. Leader/activist pairs involved in the project include: leader Alok Vaid Menon with activist Sasha Velour, Blair Imani with Bethany C. Meyers, Adam Eli with Hanne Gaby Odiele, Corey Maison with Ryan Stalvey, and Pidgeon Pagonis with Johanna Toruño.
The activist role models in the series have made impacts in all kinds of fields. For example, Velour is a RuPaul's Drag Race winner who publicly refuted host RuPaul after he said he would "'probably not' accept a transgender contestant who had already transitioned," as Vanity Fair reported. Velour was quick to tweet in support of trans people who do drag, writing, "That's the real world of drag, like it or not." Meyers is a wellness advocate and fitness instructor who has spoken out about her open relationship with spouse Nico Tortorella. Odiele is an intersex model who works with intersex advocacy organization InterACT, which supports intersex people of all ages but focuses on providing help and community for young intersex people. Stalvey is a trans and queer activist who advocates for trans and queer youth, and who has shared his story of being abused by his parents after coming out to them as trans. And Toruño is a visual artist and the creator of The Unapologetically Brown Series, "[a] street series empowering POC by POC by any means necessary."
And the young leaders featured have backgrounds that are just as diverse. Menon is a trans performance artist who has recently been speaking up in defense of transgender immigrants, calling to #EndTransDetention now and drawing attention to an upcoming national day of action on June 6. Imani is a Black, Muslim activist and founder of Equality for HER. Eli is a queer activist and writer who works with Gays Against Guns and who founded Voices4, a nonprofit advocacy group that works to "achieve global queer liberation," and has specifically been working to oppose violence against queer people in Chechnya. And Pagonis is an intersex activist and filmmaker who fights for intersex bodily autonomy, urging "#IntersexStories not surgeries." Pagonis recently made the personal documentary The Son I Never Had: Growing Up Intersex, about their experiences.
But these young leaders aren't the only ones Instagram wants to help meet their role models. The social media app is rolling out new Pride-themed features (starting on June 1 for Android users and "via iOS in the coming weeks," a representative tells Bustle) specifically created to help LGBTQ folks interact with the people who inspire them.
An Instagram representative tells Bustle that Instagram worked with GLAAD to identify hashtags that people in the LGBTQ community use to connect with one another. With the updates, these hashtags will appear in rainbow colors. Some of the hashtags that have gotten a Pride makeover include #pride, #pride2018, #lovewins, #queer, and #lgbtq.
Another new feature involves Instagram's Stories function. "[T]here's a new rainbow background in Type mode, as well as new rainbow versions of the mention, hashtag and location stickers in stories so you can share stories of the people who inspire you," an Instagram representative tells Bustle. And on top of that, in Live mode, "each time you tap the heart, you'll see a different color of the Pride rainbow — and holding down will send a shower of rainbow hearts to the person you're watching as well as everyone who's watching along with you."
In places where queer people have fought and won more and more rights, Pride Month can be a monthlong celebration, but it's important that Pride is also a month of education, reflection, and remembrance. As a community, we need to remember trans women of color like Marsha P. Johnson and Sylvia Rivera, who were pioneers in the queer rights movement. We need to remember that there are many queer people in the world who can't reveal their queer identities, much less celebrate them. And, of course, we need to take time to listen to the activists and the leaders who picked up the torch from Johnson and Rivera, and who continue to champion our right to be proud.