Kat Von D's Latest Collaboration Is With A Beauty Icon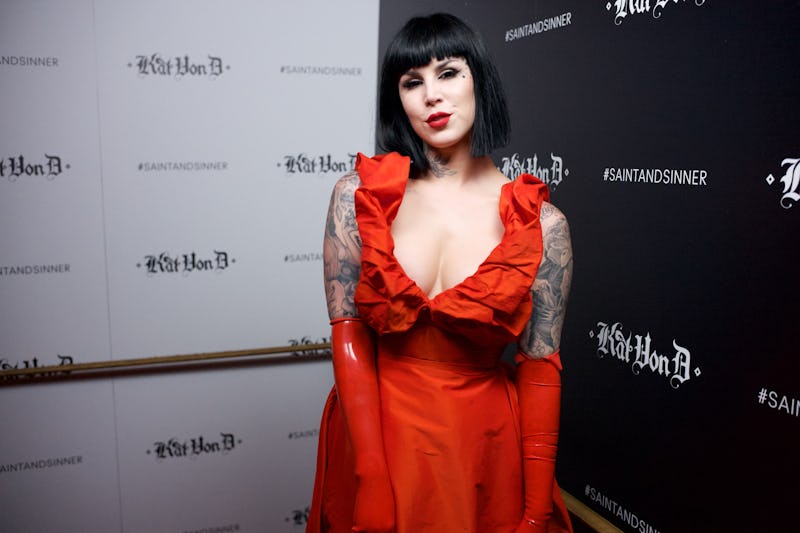 Earl Gibson III/Getty Images Entertainment/Getty Images
Kat Von D Beauty is no stranger to a collaboration. Just last year the brand and its eponymous creator worked with polar opposite brand Too Faced to create a killer split eyehsadow palette. Now, there's a new collab on the horizon, and it's epic. A Kat Von D x Divine palette is no doubt on its way. While nothing has been truly confirmed as of press time, the signs are pointing to the palette launching soon. For Divine lovers, it's a brilliant homage to the drag queen who's iconic look helped subvert ideas of gender-based beauty.
How did the news of a Kat Von D x Divine palette break? The news appeared to heat up thanks to a post from TrendMood —the popular beauty news account run by Sophie Shab. In the post, Shab appears to have reposted images from the account of Cody Carlson, Von D's partner. In the images, Von D and Carlson are both seen holding a palette over their own eyes with Divine's very signature eye look on the packaging. In the original post, Carlson quoted the legendary performer and cheekily asked who wore it best.
Whether or not the palette is coming soon, this is definitely a good sign for fans.
So far, there are few details about the collaboration and palette itself. All fans have seen are the images posted by Carlson depicting packaging. But for those who are still skeptical, this isn't the first time that Von D has made mention of her love of Divine and plans to craft a makeup collection after the legend.
During the summer, the brand's Instagram account to give a bit of a tease about a potential Divine collection. In a caption accompanying an image of the icon, the brand wrote, "What would you guys think if Kat Von D Beauty created a #Divine collection?!" Fans immediately began to react positively in the comments section, calling for a collaboration as soon as possible.
The post itself wasn't even Von D's first time personally expressing her love for Divine. In May, she took to Twitter to express her admiration for the star, calling the drag queen her muse. Clearly, the idea of a Kat Von D x Divine collection has been in the artist's mind for quite some time. Now, it seems to be coming to fruition.
Even Divine's official Twitter account posted the tease photo of Von D. That's basically all the confirmation you need.
Fans have already started reacting to the low-key news online, asking for details stat.
Some fans are calling for some sort of John Waters involvement in the collection. If this comes true, fans may just sob in sheer delight.
Fans who follow Von D or Divine news closely may know that back in August, Von D first confirmed plans for an eventual Divine collab to HelloGiggles.
Now, however, we know the collection is on the horizon, and that it will definitely feature an eyeshadow palette. Keep the clues coming, Kat!
As for what could be inside the palette, there's no way to truly know. However, a blue shadow and some sort of glitter could also make the cut, given the iconic image of Divine from John Waters' Pink Flamingos.
When it comes to a potential collection, a liquid liner should totally make its way into the launch considering Divine's thick, iconic wing.
If a Kat Von D x Divine palette tease has already hit the internet, it can't be long before fans get to see the finished beauty product in all of its glory. Get ready. Your makeup game is about to get extravagant.