If You Loved 'Gone Girl', Taraji P. Henson's New Movie 'Acrimony' Is Your Next Must-See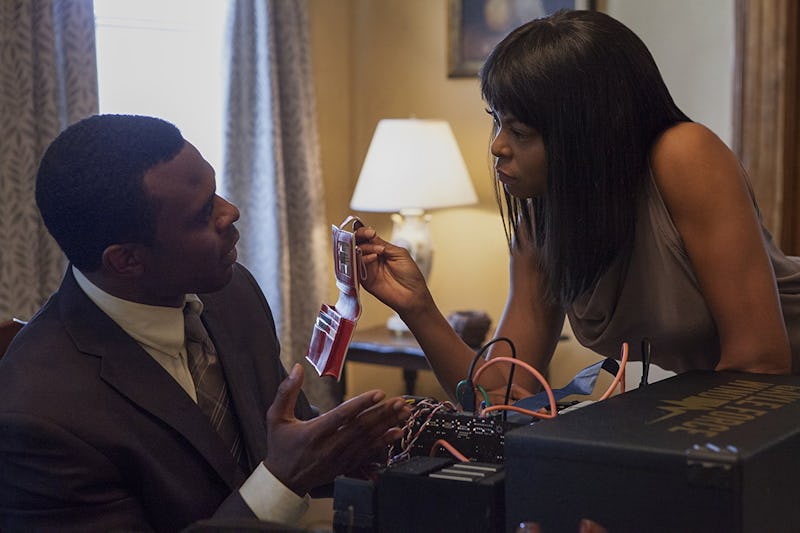 Lionsgate
Tyler Perry makes a lot of movies. This year alone, the filmmaker has three films slated to come out, the first of which is Tyler Perry's Acrimony. The film is a psychological thriller that stars Taraji P. Henson as a woman who discovers her husband has been cheating on her; to the point where he actually becomes engaged to another woman. She then becomes focused solely on gaining revenge against him, no matter the cost. The plot may sound like another example in the long tradition of erotic thrillers, but is Acrimony a true story?
It's not. The movie was written by Perry himself, who also pulls directing and producing duties on the picture. Not only did Perry write the film, he also wrote it specifically for Henson to star in, as he thought the Empire star would do a stellar job portraying a woman scorned by a man and then sets out to get even. "Taraji was the only person I thought could pull this off," the writer-director told Hoda Kotb in a Today Show interview. That turned out to be a great decision, as Henson was able to tap into some of her own — though less extreme — history with relationships gone sour. "Love makes you do crazy things. I've been in situations where I look back and I'm like, 'Oh, I might have been a little off there. What was I thinking?'" the actor told the Today Show. Though she did go on to admit that she's never smashed a car window à la her character from the film.
As for Perry's actual inspirations in creating the film, he appears to have had several. His initial spark came after working on the 2014 film Gone Girl, where he co-starred alongside Ben Affleck and Rosamund Pike. That film's story centered on a woman (Pike) who discovers that her husband (Affleck) is having an affair and decides to fake her own death and frame him for her murder. Perry, who's best known for his comedy work such as the Madea series, wanted to see how well he could pull off his own erotic thriller-type film.
"After doing Gone Girl, I wanted to play my hand in that field," Perry told B&B Theatres. "[Gone Girl director] David Fincher is so brilliant at telling that type of story, and I was talking to him and Ben [Affleck] and just watching the way the movie was shot, I wanted to try my hand at it."
Another source of inspiration was the most iconic of all erotic thrillers, Fatal Attraction. That film stars Glenn Close as a woman who becomes obsessed with a married man (Michael Douglas) after having an affair with him, eventually becoming violent. It was by citing this film, and Close's iconic Oscar-nominated role, that convinced Henson to sign onto the film. "Mr. Perry kinda sold me, he was like, 'Trust me Taraji, it's your Glenn Close in Fatal Attraction moment!' and I was like, 'I'm in,'" Henson said in her Today Show interview.
Finally, in writing the film, Perry got a bit of inspiration from people in his actual life who have gone through similar situations in their relationships. "I have counseled a lot of friends of mine who were going through things, who just couldn't let it go in marriages and I would see both sides and be like, "How are you seeing this from just one side?" Perry told the Today Show. "
Acrimony is not be based on any specific true story, but rather it is a conglomeration of influences from iconic Hollywood thrillers and personal details from real people's lives that was turned into an original story by Perry.