Amy Schumer & Chris Fischer Just Went Instagram Official With This Adorable Pic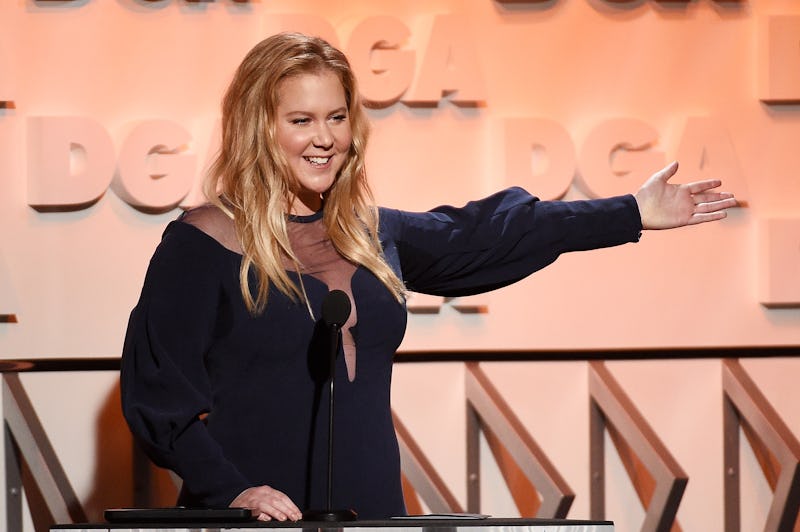 Kevork Djansezian/Getty Images Entertainment/Getty Images
Amy Schumer's career has shown no signs of slowing down. She recently starred in the Broadway play Meteor Shower, and the comedian is now promoting her upcoming movie, I Feel Pretty (director: Abby Kohn) But it looks like, in addition to all of her work, Amy Schumer has a new boyfriend. The actor shared a photo of the pair engaged in a liplock on Instagram Sunday, and Chris Fischer and Schumer look super close in the sweet pic. She captioned the photo, "Happy Birthday @theellenshow thank you for having us!"
According to E! News, the shot was captured in a photo booth at Ellen DeGeneres' 60th birthday party in Los Angeles on Sunday. That means the couple definitely chose a very public venue to make their official debut. And, while Fischer isn't a celebrity in the same way Schumer is, he's made quite a name for himself in his own field, too.
He has worked as a sous chef at Mario Batali's Manhattan restaurant Babbo — and apparently, he met Batali through Jake Gyllenhaal, according to Boston magazine. In addition to having worked at Babbo and London's River Cafe, Fischer has also authored the Beetlebung Farm Cookbook: A Year of Cooking on Martha's Vineyard, which won a James Beard Award in 2016. And even before dating Schumer, he had some pretty high-profile fans. Barack and Michelle Obama apparently considered Fischer's former restaurant, the Beach Plum Restaurant, their favorite place to eat in Martha's Vineyard. But the chef keeps busy even when he's not in Martha's Vineyard, too. As E! News points out, he's also a part-time instructor in the food and wine program at Boston University's Metropolitan College.
Rumors about Schumer and Fischer's relationship have been swirling since long before this weekend's Instagram photo. The pair were seen together in New York City in November, but they didn't comment publicly about whether or not they were dating. Schumer and Fischer were also seen attending Saturday Night Live together in New York last month. Still, it looks like the relationship is officially out in the open: Schumer's Instagram photo gives a pretty clear answer to the dating rumors. Plus, just a few days before DeGeneres' party, the two were spotted together in Los Angeles. Schumer had her dog with her, and it looks like the pup totally approves of Fischer.
When reports about the new couple first started making the rounds, E! News pointed out that Schumer and Fischer met in a pretty nontraditional way. Apparently, his sister is Schumer's personal assistant — and what better way to meet someone than through family? The couple's meeting also sounds like it came at the perfect time. His family owns the Beetlebung Farm in Massachusetts, and I Feel Pretty was filmed in Boston, which means Schumer and Fischer's workplaces weren't too far from each other — at least for a little while.
Back in June, Schumer said that she was "dating this new dude" following her split from furniture designer Ben Hanisch. She and Hanisch broke up last May, after dating for a year and a half. It's not clear if Schumer was referring to Fischer back in June, but her new Instagram post does seem to confirm the more recent dating rumors. Whether the actor will confirm exactly how long she and the chef met — and exactly how they met — still remains to be seen, but this picture is adorable either way.
If you're not from Martha's Vineyard, you might not have heard of Fischer before. But now that Schumer and Fischer's relationship is public, it's safe to say we'll be learning a lot more about the talented chef soon.